Be active in NSW with bikes this Autumn – Cycling in Sydney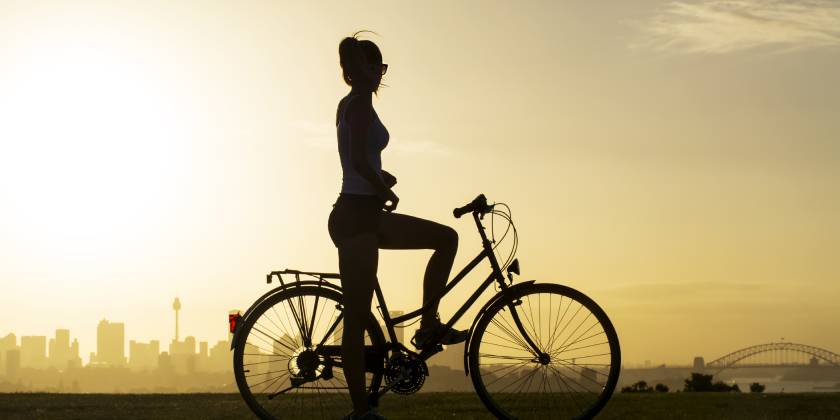 Are you looking to get out more on the weekend in Sydney or wider NSW, by bike?
Here at Real Insurance, while we may not have a full lycra cycling ensemble, we certainly took our training wheels off many years ago. We like the idea of riding a bike through open NSW countryside with the world rushing past but also the adrenalin of racing in a CycleNation event. So we've gone on a hunt to find the best cycling spots in Sydney and wider New South Wales and have discovered that with a variety of cycle path and trails, online apps and events New South Wales has loads to offer every cyclist.
A beautiful and varied state with so much to see, New South Wales is ideal for cyclists of all levels. From joining a cycling tour in inner city Sydney to tandem biking through the Hunter Valley; the variety of landscapes set an exhilarating backdrop to the perfect day out, weekend adventure or training session.
In NSW there are paths, trails and roads stretching through a diverse range of landscapes including national parks, vineyards, coastal and city. Take a tour through the beauty of The Blue Mountains; take a meander through the Snowy Mountains during spring and visit Mount Kosciuszko. There's tandem cycling through the Hunter Valley vineyards or Mudgee wine country or you could take a slower pace on Lord Howe Island or wind back a gear and take in the wonders of the Central Coast.
The NSW government has developed a useful bicycle information resource. To help you find the best places to ride, BicycleInfo has the CyclewayFinder tool so you can track down cycling routes throughout the state. It shows on-road conditions, cycle friendly environments and allows you to print out a map that you can take with you on the road.
Cycling in Sydney offers an amazing way to see the city or discover the wonderful parks and surrounding nature that the NSW capital has to offer. Whilst negotiating traffic through the inner city may be daunting, there is a broad range of places to go riding including Centennial Park, Manly Beach or Sydney Olympic Park which features 35km of cycle paths.
For more spots why not cycle around The Rocks, the Royal Botanic Gardens or try riding over the Sydney Harbour Bridge: the footpath on the western side is reserved specially for cyclists. There are also cycling tours of Sydney which you can join. Check out Sydney.com for a list of different tours. With Sydney being surrounded by bushland and national parks, you can also easily get out of the city for a ride in nature.
For the more serious cyclist, there is an abundance of cycling events happening throughout the year including the annual Blayney to Bathurst. This event is open to the general public for riders of all levels of fitness and is proudly supported by Real Insurance. Check out CycleNation for a full list of this year's events.
Don't have your own bike? You can still ride. There are plenty of options for hiring a bike for the day or weekend but aren't ready to commit to bike ownership. This is a great option if you want to go cycling whilst on holiday but are venturing to a place far away from home. Make sure to Google bike hire in your destination. If you do own a bike, we understand how much it may mean to you. You can make sure your bike has the best insurance coverage at Real Insurance.
To keep up to date with the latest bike news, follow @bicycleinfo_nsw on Twitter. This is another great government service which gives safety updates and information.
We think it's time to take to the paths, roads and trails!
23 Apr 2013
Real Insurance is an award-winning provider of bike insurance.