Income Protection advantages for young Aussies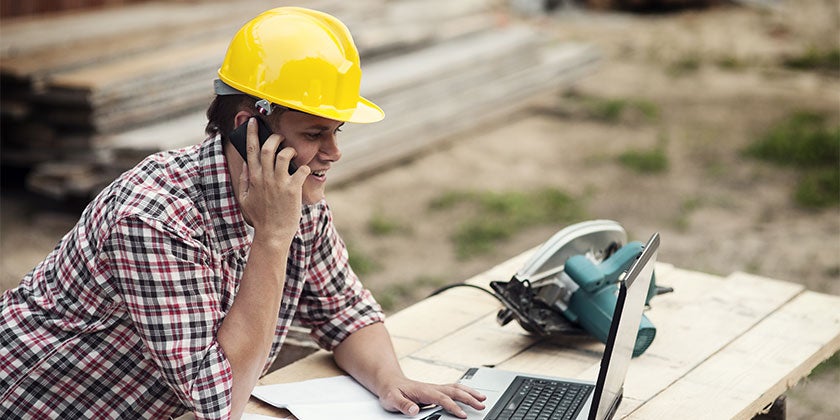 You've got a stable job, so why do you need to worry about not being able to earn money? Unfortunately, life's uncertainties can strike at any time, and it won't matter if you're a fit, healthy person in your 20s or 30s. Whether it's due to illness or injury, being unable to work can cause serious hardship and disruption to you and the people around you. That's where Income Protection Insurance comes in.
What is income protection insurance?
Income Protection Insurance is designed to allow you to meet your expenses if you're unable to work for a period of time due to sickness or injury. Whether you're self-employed, own a business, or work as an employee, Real income protection covers you for up to 75 per cent of your pre-tax income or up to a maxmium of $10,000 per month, for a fixed period of time.*
Why have income protection insurance if you're young?
Income Protection cover offers considerable benefits no matter whether you're well progressed in your career or a young person fairly new to the workforce. It gives you a level of protection against life's uncertainties, and if you end up unable to work for a period of time, it can help you meet your financial commitments whilst you recover until you get back into the workforce.
Life's uncertainties
It is tempting to not think about it, but statistically illness or injury could happen to any of us. Over 100,000 Australians are diagnosed with some form of cancer every year, and 146 out of every 100,000 people are seriously injured on the roads each year. As much as we may aim to stay fit, healthy, and safe –good goals to have – some things in life are outside our control. Careful planning and sensible behaviours can reduce life's uncertainties, but they can't completely eliminate them.
Fortunately, insurance cover offers an affordable way to deal with life's uncertainties. But even among those of us with income protection insurance, underinsurance is usually the case, and the median level of cover offers only 16 per cent of income requirements if the policyholder needs to claim.
Maintain living standards
Have you thought about what would happen to your living standards if you were to become sick or injured? Being able to pay your mortgage, rent, utilities, and everyday grocery bills is something we might take for granted, but without your regular wage or salary coming in, meeting these obligations becomes a major challenge.
With most income protection insurance paying you up to 75 per cent of what you earn, you can get on with life, recover more quickly, and maintain a similar living standard. This makes for an easier transition back to your pre-injury or pre-sickness lifestyle. In addition, the peace of mind knowing you'll be able to access your income protection benefits is invaluable.
Avoid financial hardship
If you don't have substantial savings or a generous emergency fund, your injury or illness could result in financial hardship. You might need to turn to friends or family for help cover your expenses at a time when you can least afford to worry about financial issues. With the help of income protection benefits, you can avoid financial hardship and focus on recovery and getting back on track.
Focus on recovery
If you're sick or injured, the last thing you want to worry about is not being able to meet your monthly bills. Income protection insurance protects you from these concerns and allows you to concentrate on getting better, so you can get back to work sooner rather than later.
Get protection for areas not covered by workers' compensation
Workers' compensation covers you only if you're injured at work or become sick due to work-related matters. If you're injured on the road or develop an illness unrelated to work, you'll be left without coverage as far as workers' compensation is concerned. Furthermore, workers' compensation may not pay out the level of benefits you need as it might be based on disability levels, medical costs, and other considerations. In this situation Real Income Protection can supplement your workers' compensation benefits, so long as your combined income replacement is no higher than 75 per cent of your pre-disability income.
In addition, income protection insurance can give you a better level of protection by offering coverage for out-of-work situations. Common conditions such as heart attacks, stroke, and cancer can affect young people as well as older people, but they're not covered by workers' compensation unless they occur as a direct result of your work activities.
Achieve long-term retirement plans
If you're planning well ahead for retirement, income protection insurance gives you an extra layer of security. An interruption of six months, a year, or longer during which you're unable to work can seriously interrupt your financial goals. Real income protection can provide a benefit period of up to five years and you can choose a waiting period of 30 or 90 days, depending on how much risk you are willing to accept.
By having income protection insurance, you could focus on recovering quickly, and continue to build your wealth without a serious setback or accumulating debt. You could avoid having to sell assets or investments to cover your expenses when you are unable to work.
Boost your income protection with optional cover
Income protection insurance often comes with additional options. Depending on the policy, you could get benefits for rehabilitation, and children's insurance. You can tailor your cover, and increase the level of protection as you like.
Tax deductibility
Tax minimisation is the icing on the cake when you take out income protection insurance. In some cases, your premiums can be deducted from your assessable income, thereby reducing your annual tax bill. Note, if you have income protection insurance through super and the premiums are deducted from your super, you can't claim your premiums as a tax deduction, although in this case your premiums are funded from concessionally taxed contributions to your fund.
Sickness or injury is stressful enough on its own, and the last thing you want to worry about as you recuperate is your finances. When you're unable to work, income protection insurance gives you extra peace of mind and covers losses of income due to injuries and illnesses that workers' compensation won't. By having sufficient income protection insurance as a young person, you can overcome life's unexpected interruptions quickly and get back on track.
Real Insurance provides products that protect the quality of Australians' lives. Our award-winning, value-for-money insurance products include Income Protection cover to help give you financial security against sickness or injury. To find out more, request a quick quote now or contact us for more information.
19 Jul 2018
Real Insurance is an award-winning provider of income insurance.