10 commuter apps to improve your daily work trip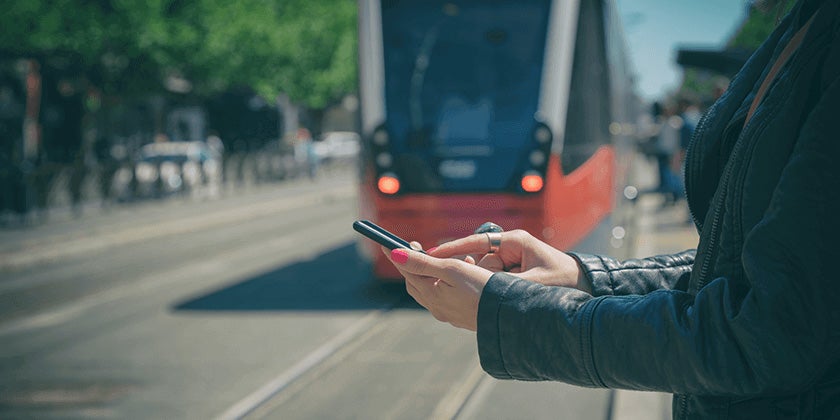 Want to make your trip to work smoother, more efficient, or just more fun? Whether you drive, walk, train or bus to your workplace, these 10 apps will improve your daily commute.
TripView
This handy app has been making public transport bearable since 2009, and commuters continue to love it. TripView displays Sydney and Melbourne public transport timetables on your phone in real time, including a summary showing your next services as well as a full timetable viewer. Additionally, all timetable data is stored so it can be used offline.
Tripview is one of the most popular apps, with thousands of downloads on iOS and Android. The app's latest upgrade includes information about how full your approaching bus is before it even arrives. Brilliant for peak hour, this function allows TripViewers to decide on whether they want to stand shoulder-to-shoulder in a packed bus, or wait for a later, roomier bus.
TripView comes in both a free and paid ($4.49) option. TripView Lite, the free version, has restricted capabilities; trips can't be saved, platform numbers are not supported and it contains advertisements.
Killer features
View times for any saved trip with a single tap.
Real time delay information and vehicle map (Sydney only, subject to data availability).
Trackwork and service interruption information.
Waze
Don't want the Google experience but still need a maps app to navigate your way through life? Waze is more than just an alternative, it's a whole new experience.
Waze has all the features you'd expect from a top tier map app. Things like live routing, voice guided navigation, nearby petrol stations and real time hazard reporting are all there, but it's the way Waze presents the information that makes the app so fun to use.
The bright, almost cartoonish interface adds a playful element to the daily commute, while social features like Facebook friends and the ability track a friend's commute to a shared location make Waze an absolute blast to use.
Use it for:
Navigation, meetups, nearby points of interest.
A good alternative to Google Maps.
Available on iOS and Android.
Audio Books
During a daily commute nothing quite passes the time like an audiobook. They're flexible (you can listen in the car, while you're walking or while travelling on the train/bus), soothing to the ear, and there's that great feeling having done something worthwhile when you finish a book.
Audio Books by Audiobooks.com is a great app that, for roughly the price of a Spotify or Netflix subscription, gets you one paid audiobook a month plus access to thousands of free audio books. With a large library and a constant stream of new releases, it's the perfect antidote for long commutes or for folks who wish they just had more time to read.
Recommended listens:
The Girl On The Train by Paula Hawkins. Narrated by Clare Corbett and Louise Brealey.
Game Of Thrones by George R.R. Martin. Narrated by Roy Dotrice.
The Light Between Oceans by M.L. Stedman. Narrated by Noah Tyler.
Available on iOS and Android.
Spotify
Despite efforts by Apple, Google and others to be the music in our lives, Spotify seems to be the premier music streaming app for your phone or tablet. From its characteristic user interface to the way it combines effortless discovery of new music with a rich playlist maker to keep your favourites onhand, Spotify is a polished, user-friendly app for every music lover.
The free version features ads, while the paid version includes offline listening, no ads, mood based playlists and the Running feature, a new, exercise friendly group of playlists and original songs that match the cadence of your workout. So whether you're jogging to work, rushing for the train, or just decompressing on the home commute, Spotify has you covered.
Killer feature
Spotify's Discover Weekly Playlist is an algorithmically generated playlist just for you. You'll discover new music you've never heard of, but it will be in the same style as other songs you've listened to and enjoyed before.
Available on iOS and Android.
Pandora
Pandora's point of difference is also the feature that you will either enjoy or dislike – it's essentially radio on the Internet.
Instead of building playlists, or relying on your friends lists, Pandora helps you discover new music through its Music Genome Project, an algorithm that surpasses other music discovery apps and is a testament to Pandora's long history in the streaming business.
You'll love Pandora if you like your music experience less like a jukebox and more like underground radio. Though Spotify's library is roughly 20 times that of Pandora, there's still over a million songs available.
Killer feature
The Music Genome Project remained the best music discovery tool out there.
Available on iOS and Android.
ReadItToMe
This Android-only app falls into the ʻone thing, done well' category. ReadItToMe keeps it simple and while you're driving, listening, navigating or streaming, ReadItToMe will read information to you as it arrives on your phone. Got a text from the kids? You'll hear it. Calendar ping? ReadItToMe has got you covered.
Better yet, ReadItToMe also supports hands free replies in Whatsapp, Hangouts and SMS. It supports every language and has a bevy of privacy options.
It's a great little app that makes driving safer and life easier, and hopefully it will be developed for iOS systems as well.
Available on Android only.
Gas Cubby
This iOS-only app is essentially a FitBit for your car. Track your fuel economy, set notifications for services and tire rotations and turn your phone into your own virtual mechanic (kinda).
Developed by Fuelly, LLC, Gas Cubby boasts a 4-star rating and works equally well on iPad and iPhones (you can even install it on an iPod Touch). It communicates in both miles and kilometres, and offers up a lot of graphs, measures and metrics. Great for tax time or keeping on top of those fleet car miles, anyone who does a lot of driving should jump on Gas Cubby today.
Available on iOS only.
iOnRoad
iOnRoad touts itself as an augmented reality driving app, and the app itself is all about safety conscious driving.
Using your phone's camera and sensors, iOnRoad scans the conditions around you for possible danger signs. Using a combination of audio and visual alerts, iOnRoad predicts potential dangers, checks your speed and distance to the car in front, provides speed checks, detailed data on fuel consumption and recommends habits to improve fuel economy.
All in all, iOnRoad is like having a safety conscious passenger in the car with you.
Award Winning App
Unsurprisingly, given its focus on safety conscious driving, iOnRoad is winner of several awards including:
CTIA Wireless E-Tech Award
Best Augmented Reality App for 2011
CES 2012 Design and Engineering Showcase Award
Available on iOS only.
ParkPatrol
ParkPatrol does two things: it's a reminder and location app for your parked car, letting you know when your meter is almost up and where your car is located, and it also has a parking inspector alert system.
The parking reminder feature works really well. ParkPatrol allows you to fine tune the position of your car, making it easy to find when you're in a rush to get back. It's not just useful for expiring meters, but for tracking down your car after a meeting.
The parking inspector alert feature is a great idea, but its value can vary. It's a social system, so it relies on other app users to pinpoint and update the app so others know there are inspectors nearby. ParkPatrol boasts 150,000 active users reporting on inspectors, but that's actually not that many given they are spread around the world. The chances of someone spotting an inspector and updating the alerts is going to vary depending on your location.
Park Patrol is available on iOS only at this stage, but Android users can use this web page until the app is ready for the Play Store.
Stitcher
Regardless of whether you're driving or taking public transport to work, you want to be doing something more productive with your time than just sitting around. Stitcher is a great app that allows its subscribers to listen to interesting podcasts or radio shows on their daily commute.
With over 40,000 podcasts available, there's a topic to suit everyone in this one handy app.
Available on iOS and Android.
Do you have a favourite app to use on your daily commute? Why not let us know what it is and we'll update our article to include the best ones!
21 Oct 2016
Real Insurance is an award-winning provider of income insurance.