The best spots for winter sports in Australia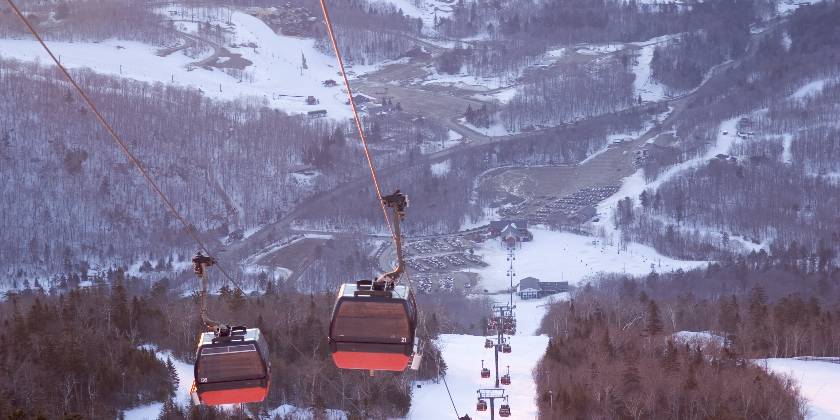 The Australian ski season is open! We have many spots in Australia where you can catch some powder and with the days being shorter, colder and darker, it's the perfect time to head to the snow fields of New South Wales and Victoria.
There's no need to book long expensive flights to Europe, when you can enjoy all that the Australian ski slopes have to offer this winter.
Thredbo
Thredbo located in the Snowy Mountains of New South Wales is situated within the National Park of Australia's highest mountain, Kosciusko. Open year round and offering some of the best and longest ski slopes in Australia, there's a variety of accommodation, restaurants, and bars located within the resort.
Thredbo is about a 6 hour drive from both Sydney and Melbourne and 2½ hours from Canberra. If you're flying, Canberra is the closest airport. There are coach services from Canberra which run once a day to the ski fields.
Mount Buller
Mount Buller in Victoria is located within close proximity to Melbourne and is host to the Victorian Snow Sports Championships every year. The resort features the largest snow village in Australia.
Mount Buller has 24 lifts and typically operates only during the winter season (June–October). Skiing and snowboarding are the main activities but other available options include snowshoeing and tobogganing.
To access Mount Buller, there is a regular bus service that will take you up to the mountains during the winter season.
If you are coming by car there is only one road into Mount Buller and it starts in Mansfield, a town located about 55 km from the ski field. The majority of roads are safe to drive on but it may start to get tricky in some areas on your way up the mountain.
Perisher
Australia's largest ski resort with 50 different lifts, Perisher is located in the Snowy Mountains of New South Wales. Perisher is made up of Perisher Valley, Smiggin Holes, Mount Blue Cow and Guthega ski fields.
With a huge investment in snowmaking technology, Perisher has great snow coverage for the ski season. There are also restaurants, shops and convenience stores located in the resort's vibrant village.
Perisher is about a 6 hour drive from Sydney, 7 from Melbourne and is located close to Thredbo.
Mount Buffalo
Skiing in Australia began in 1861 in Kiandra during the goldrush days with the first ski tow in Australia being built at Mount Buffalo.
Mount Buffalo is located on a mountain plateau in Victoria and is popular for cross-country skiing, with many trails within the surrounding Mount Buffalo National Park. The area also features great facilities for tobogganing at Dingo Dell.
Falls Creek
Falls Creek in Victoria is a 4½ hour drive from Melbourne, the resort is accessed from the town of Mount Beauty. Falls Creek's top feature is a small European like village in the centre, where no cars are allowed to enter during the winter, allowing skiers to ski right down the tree lined roads to the village.
Getting there is easy with an airport in Albury, and flights from Sydney, Melbourne and Canberra. You can also catch a direct helicopter ride from Albury to Falls Creek.
Mount Hotham
Mount Hotham located in the middle of the Australian Alps National Park, had its first ski tow installed 60 years ago. Surrounded by snow gums and mountains, the resort is easily accessible via The Great Alpine Road from Melbourne.
Due to its elevation of 1861m, the mountain experiences a high level of snowfall. The village is located below the summit of Mount Hotham and is easily to get to and around, with transport within the resort.
If you're looking to get to the snow this year, why not check out one of the above amazing spots in Australia. To help you make a plan for your pet, read our article about What to do with your pets when planning a holiday. Or if you're after some fun weekend activities that won't break the bank, then we've got you covered with Free things to do on the weekend in Australia.
22 Jul 2013
Ready to get covered with Real Travel Insurance?