Top 5 short breaks in Australia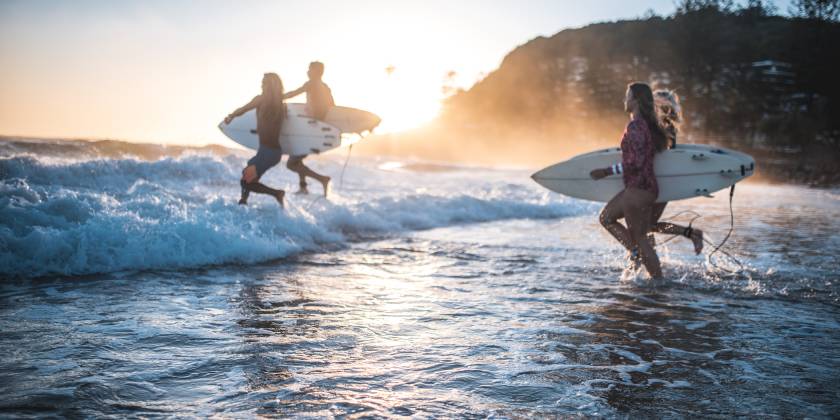 The Easter break is easily one of the best weekends of the year. With 4 days off it's a well deserved break from the daily grind to enjoy some serious relaxation and chocolate eating.
But if you're anything like us, the Easter break has only made you day dream about the next long weekend!
Here in the office, we're already planning our next short break and dreaming of our top 5 places that we'd like to visit in Australia. We are thinking about big open skies, wide sandy beaches, gourmet and delicious food and maybe even a sunset camel ride. These spots below are not only spectacularly postcard perfect, but also easy to get to and within a couple hours from a major city.
After a quick survey of the team at Real Insurance, here are our Top 5 Short Breaks:
The Blue Mountains, New South Wales
Just an hour and half's drive from Sydney will find you deep amongst the amazing natural landscape of The Blue Mountains. Featuring picturesque and dramatic scenery, the area is perfect for bushwalking, exploring or having a picnic.
Take a ride on the Skyway at Scenic World or visit the Three Sisters and learn about the dreamtime legend that surrounds these magnificent rock formations. Rohan says the Jenolan Caves are also worth checking out!
Byron Bay, New South Wales
Two hours from Brisbane and away from the hustle of the city, is the idyllic port of Byron Bay. Renowned for its laid-back residents and white sandy beaches, Byron Bay is the perfect short break destination to unwind and enjoy a slower pace of life.
Featuring many an organic café, dining out for breakfast is a must do activity, also be sure to visit the lighthouse and catch some local grown tunes at the happening pubs and bars. Aaron's all-time favourite.
Great Ocean Road, Victoria
Built by returned soldiers after World War I, the Great Ocean Road is a firm favourite for international travellers, and it's easy to see why. With breathtaking ocean views, you can drive as close to the ocean as is possible without physically being in the ocean.
Admire the architecture along the way as you pass and the interesting ways in which the residents have built their houses to fit their surroundings. The road passes through many fantastic coastal towns including Torquay, Lorne and Apollo Bay and then continues on past the incredible 12 apostles along to Warrnambool. Pick a town and stay for the weekend!
Broome, Western Australia
A short flight from Perth is Broome, a little pocket of paradise on the North West coast of Western Australia. Featuring a combination of cultures, the area has a rich history and a landscape of vibrant colours.
With a perfect resort climate, you can have cocktails by the pool followed by a camel ride on the beach and finish up enjoying the amazing sunset in the big skies of the west coast.
Kangaroo Island, South Australia
No. 9 on Trip Advisor's Traveller's Choice for 2013 – Top 10 Islands, Kangaroo Island is just a short ride from the mainland of South Australia. Being situated on some of Australia's most fertile land makes this island a glorious producer of some of our country's most gourmet food including fish, sheep's cheese, marron, honey and a range of delicious wine.
This is the place to get back to nature and be amongst the wilderness of rocks, sand and countryside. Experience sea lions frolicking in the sun on the beach, koalas chilling out in the gum trees and pelicans catching fish in the local lagoons. Varun says this is his place of choice next long weekend!
Or if you don't fancy our Top 5, Kate says why not check out Killcare on the Central Coast, just a 90 min drive from Sydney or Newcastle.
Happy travels!
12 Apr 2013
Ready to get covered with Real Travel Insurance?