Travel Victoria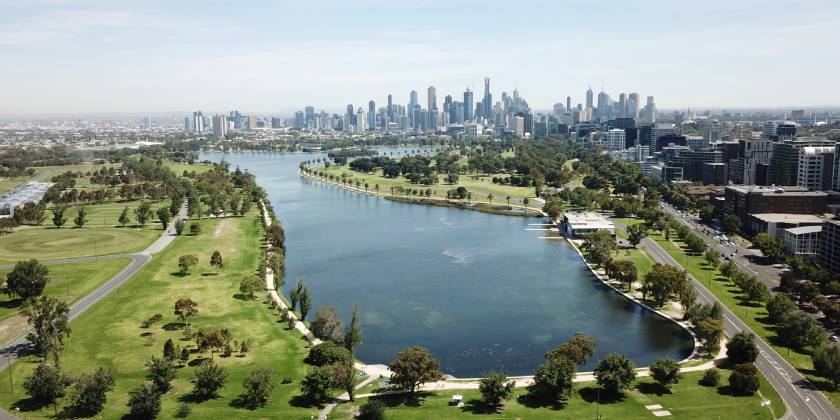 Winter doesn't need to be a time to hibernate. It's the perfect time to visit some inland and southern places within Australia.
Victoria is a diverse state with many places just waiting to be discovered from the Yarra Valley to the Mornington Peninsula.
With beautiful countryside getaways, coastal spots and highland hideaways, there's so much to discover in the southern state of Victoria.
Picture yourself riding in a hot air balloon over the Yarra Valley or waking up in a spa retreat in Daylesford. Here are 4 ideas for a real Australian winter getaway in Victoria.
Grampians
The Grampians are a rocky mountain range in Victoria, set amongst lush green farmland. The area has a diverse landscape with the south receiving much more rain than the north, creating wetland areas and land suitable for farming beef and sheep.
The north has a much rockier landscape, making it popular for rock climbing, as well as having many olives grown within the region. There are a lot of sights and activities in the area. Just some of the possibilities include visiting olive farms, calling into local wine makers or sampling dairy products from nearby producers.
If you are a keen adventurer, then bushwalking at Halls Gap is perfect for getting outdoors and experiencing some of the fresh, country air. For the arty, there is the Hamilton Art Gallery which hosts many local and international artist exhibitions.
Daylesford
Daylesford is a region of pretty lakes, hills, villages and watercourses, and is home to many creative types including artists, writers and designers.
The soil in Daylesford is mineral rich due to extinct volcanoes in the area, producing top quality vegetables. The volcanic activity has created natural springs in the ground and there are now many day spas in the region, making this a popular holiday activity whilst in Daylesford.
On top of this, Daylesford is home to beekeepers, cheese makers and many farmer's markets. If you are visiting the area, check out Daylesford Sunday Market at Daylesford Station every Sunday and Daylesford Farmers Market on the 1st Saturday of the month at Daylesford Primary School. Daylesford is an hour and a half drive from Melbourne.
Mornington Peninsula
Mornington Peninsula, about an hour's drive from Melbourne is a historical area, with the first settlement setting up near Sorrento in 1803.
The Peninsula is a popular area for holidays, due to its seaside villages and many water sport activities including sailing, scuba diving and fishing. If you are visiting, it would be a great idea to fish for snapper and whiting from Flinders jetty, which is on the southern tip of the Mornington Peninsula.
There are many wineries in the area with 50 cellar doors to visit, plus featured are historic landscaped gardens that overlook the vineyards. Being on the coast, the area is kept fresh with sea breezes.
For a great day out in the Peninsula, take your family on the ferry from Queenscliff to Sorrento. The ferry leaves on the hour every hour, takes about forty minutes and travels past some great scenery of the Peninsula along the way. The ferry leaves from Queenscliff Harbour and Sorrento Pier.
Yarra Valley
The Yarra Valley has markets, galleries and amazing land to bushwalk through, but for the more daring, it also has hot air balloon rides!
Hot air balloon flights can be taken over the Yarra Valley early in the morning to watch the sun rise. You can ride high over the amazing winery land in the valley. Check out globalballooning.com.au for prices and bookings.
There are also great options for wine tasting at Oakridge and Yerring Station wineries. For a great daytime activity, try some cooking classes in the area. Some options include Pizzini winery where they teach home cheese and pastry making or Simone's of Bright where pasta making techniques are taught.
So if you're looking to visit to see more of what Australia has to offer during winter, then Victoria is the perfect State for you. Alternatively, if you are looking to escape the winter months on an island with sandy white beaches, then check out Five Great Islands of Australia.
8 Aug 2013
Ready to get covered with Real Travel Insurance?