7 helpful resources for Australian travellers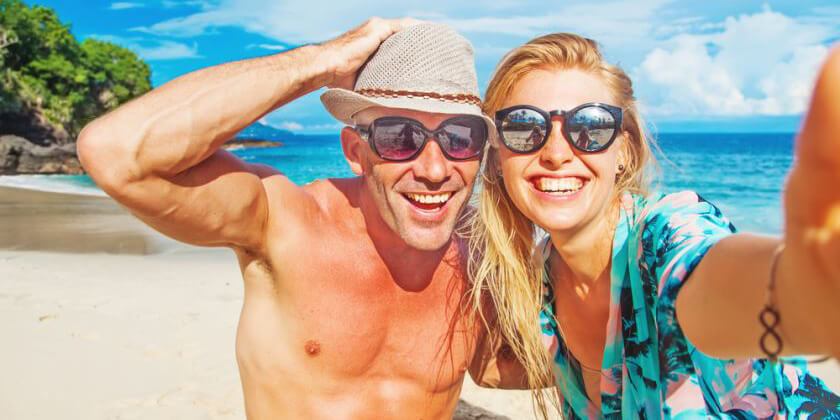 Australians are some of the most enthusiastic travellers in the world. As a traveller, having access to accurate information not only sets the foundation for a great trip but can also keep you safe, help you cut costs, and minimise stress on your journey. This detailed list includes the best sites and resources to find discounts, plan your flight and accommodation, and get help if you have any issues on your trip.
Smartraveller
Smartraveller is the general information site maintained by the Australian Department of Foreign Affairs and Trade for Australian travellers, and it's one of the most valuable resources for those heading abroad. Keep this site bookmarked in your browser for the latest information on specific countries and general travel advice.
This user-friendly resource provides the Australian government's official travel advice for most countries around the world, with ratings such as 'High degree of caution' or 'Exercise normal safety precautions' for individual countries. You can also browse general travel guides for all travellers, stay up to date with official bulletins, or obtain contact details for consular assistance if you're overseas.
Travellers will find the Smartraveller website useful for travel advice, up to date subscriptions, getting more information about choosing travel insurance, and finding out how you can have documents legalised.
Google
Google's Search function will be a familiar site for most people, but it's easy to overlook how useful Google's core product can be for travellers. By typing in basic search terms, you can immediately obtain travel-related information without clicking on any search engine results. These cards pop up under your search term when you click the button:
Weather – Enter your destination and 'weather', and Google shows you the current temperature plus the forecast for the week ahead. If you omit the city name, Google will show you the weather forecast for your assumed location by using your IP address.
Time – If you input 'time', Google will show you the time at your location (based on your IP address), or the time of your chosen location if you enter 'time' and the city name.
Currency – Instant currency conversion to AUD is available when you type in the currency type (abbreviations are accepted) and amount, or you can convert to other currencies by including the monetary amount and the two currencies in your search term. Example – AUD:USD
Flights – Track your flights instantly by typing in your flight number in the search box. Google will bring up the flight time, whether it's on schedule, the departure and arrival times, the cities, and even the terminal and gate information.
Other Google tools to keep in mind include Google Maps and Google Translate. Use Google Maps to get directions by entering your current location and destination. Street View lets you find your way around by giving you a street-level perspective of locations, and for many locations this is 360 degrees. Use the Search Nearby function to find restaurants, art galleries, cafes, hotels, and anything else you're looking for. You can get detailed information about these places, including accommodation rates, opening hours, and even reviews. Also use My Maps to generate custom maps for walking and biking trips.
Lastly, you can use Google Translate to quickly find words and phrases (which the translator can read out loud), or to translate full documents into more than 50 languages. It's also directly accessible in card form from Google Search when you type 'Google Translate' into the search box.
Legal Nomads
The Legal Nomads blog is maintained by ex-lawyer and passionate traveller Jodi Ettenberg, who quit a corporate job in 2008 and has been travelling since then. In addition to blog posts about her travels, the site offers detailed guides and tips for travelling on the cheap, planning your trip, and packing, as well as articles on the psychology of travel.
Ettenberg offers tips on booking tickets, making the most of technology and safe eating abroad. She also shares insights on staying safe as a solo traveller. For those inspired by her travelling blogging journey, Ettenberg has some advice on storytelling, using social media, and building authority on the Internet.
More Travel for Less
Maintained by long-term travelling family Seamus, Cate, and daughter Zoe, More Travel for Less is a blog about travelling on a shoestring budget. While the family settled down in 2011, the Seamus and Cate still updates their website on a regular basis. Filled with useful information and links on house sitting, house swapping, work exchange, and working while travelling, the site is a rich resource for long-term travellers around Australia.
The website also features links to over 30,000 free ebooks and resources for travellers. The blog section covers topics ranging from backpacking, easy travellers' recipes to mosquito remedies and arranging house swaps. There are also links to useful videos and video tutorials.
The Travel Resource List
The Travel Resource List is based on a simple concept: provide a one-stop list of the best online resources that a traveller could ever want. The site certainly offers a well-curated list of resources for travellers, backpackers, and students studying abroad. The list isn't exhaustive; instead, the owners of the site have concentrated on the most useful sites.
Topics covered include accommodation, budget, and hotel booking, which include links to a wide range of accommodation search and booking sites for all budgets. You can find links to the best air travel, discount tickets, air miles, and ground travel booking sites. Links to financial sites, travel community and discussion forums, and work and volunteer abroad resources are also available. There are also links to websites on packing, mobile or tech tools, and travel insurance.
Travel Freak
Travel Freak is a comprehensive blog with pages on specific destinations, detailed blog articles, and travel resources accumulated from over five years of travelling. As owner Jeremy Scott Foster says, he's done the research so readers of his blog won't need to.
The blog features articles on different topics including travel gifts, ideal destinations, and how to quit your job and start travelling. Foster has a travel resource page with his essential online resources for booking accommodation and working abroad. There is also a destinations page with the best places to visit and key attractions. For those looking for straight-up practical advice, the travel tips section is probably the most useful.
TripHackr
TripHackr is a popular blog maintained by self-proclaimed travel hacker Clint, who has visited over 80 countries without ever flying full price for his airfares. Clint, who started his blog because he wanted to share his best travel hacking tips with readers, has an extensive list of the best travel resources for travellers. The list covers all the core elements of travel, including booking cheap flights and accommodations and getting the most out of your air miles.
There are also links to the best travel forums for advice, budget travel sites, and travel insurance. Clint offers advice on using tech for travel and recommends to readers some of his favourite travel gear. He also shares his favourite online resources for getting local wherever you travel.
27 Jan 2016
Ready to get covered with Real Travel Insurance?