The Australian holiday road trip checklist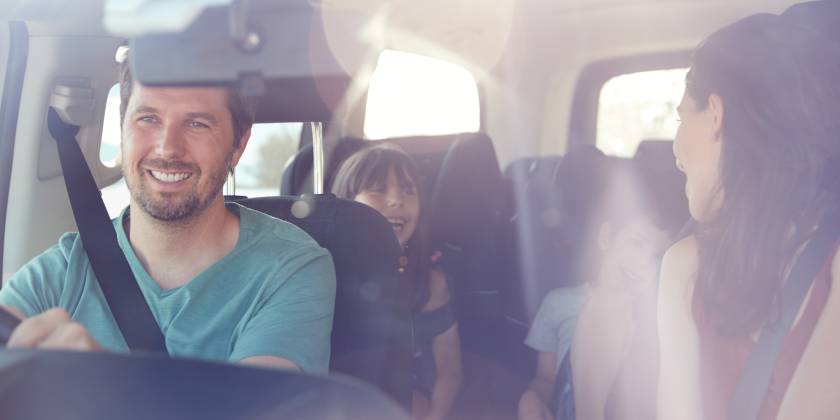 Road trips can be special journeys for the family, and doing some pre-trip preparation can help in ensuring a safe and comfortable journey. Whether you're doing a four-hour drive or a longer interstate trip, follow this checklist of pre-trip checks and on-the-road strategies.
Pre-trip vehicle checks
Don't skip the pre-trip vehicle checks, especially if you're setting off on a long road trip. If you have any doubts, book your car in to be checked by a professional mechanic.
Oil, coolant, and water – Check oil, coolant and water level, and top up if needed.
Battery – Test the battery to make sure it's in good working order.
Lights and wiper blades – Make sure lights and wiper blades are working as they should.
Tyres – Check your tyres with visual and pressure gauge checks. Look at the treads to see if your tyres are close to being worn out, and use a pressure gauge to make sure your tyres are inflated at the right pressure. Properly inflated tyres move as intended over the road and are less likely to lose control even in wet conditions.
Service – If you're close to a service date, get your car serviced before your trip.
Air filters – If you'll be travelling with allergy-prone kids, it might be a good idea to get your air filter changed.
Avoid overloading – When it comes time to pack, don't overload your car as overloaded vehicles can be harder to handle in an emergency.
On the road
You can encounter unexpected weather and road conditions even with the best planning, so keep these tips in mind and stay safe on the road.
Night-time driving
Avoid driving at night if possible, as visibility and focus can be poorer, especially if you're driving during your regular sleeping hours. If you have to drive at night, remember it will be harder to see hazards and to react to them, so drive more slowly than usual. Use your high beams to achieve better visibility, but dim them when other cars are nearby. If you get drowsy or sleepy, stop and rest; don't keep driving when you're tired.
Challenging weather conditions
Check local weather reports and avoid driving in stormy weather where possible. If you're driving in wet weather, make sure your windscreen is clean to help prevent it from fogging up. Check your wiper blades are working as they should, and that you have your lights on to increase your visibility to other vehicles on the road. It takes longer to stop in wet weather, so ensure you leave more than a 3-second gap between you and the vehicle ahead.
Driving in fog
When driving in fog, best practice recommends driving slowly and using fog lights. It's illegal in Australia to use fog lights other than in climate-based circumstances that warrant their use, so make sure you don't accidentally have your fog lights running unless they're necessary.
Driving with attached campervans
If you're driving with an attached campervan, check your blind spots carefully as the campervan can make it harder to see. Your campervan means it will take longer to stop, so maintain a slower speed and keep a bigger distance between you and vehicles ahead. Before you set off and during your trip, regularly check your tyres are inflated at the right pressure.
Emergencies and insurance
Have a plan B in place for emergencies on the road, such as if your car breaks down. Whether it's roadside assistance or emergency contact lines for regional areas, make sure you have a plan in place.6 It's also handy to have car insurance arranged if you don't already have cover.
Safety gear
Pack appropriate equipment and safety gear if necessary. For example, you might want to pack a satellite phone or extra food and water for remote areas. Other items to pack include a first aid kit, tool kit, spare wheels, tow rope, and blankets.
Packing for comfort and enjoyment
Check you've packed for some fun and leisure on the road, especially if you're travelling with kids. Have some easy-to-play game ideas ready so you can play I Spy and Road Trip Bingo with restless or bored children.
Music is also great to keep everyone happy on the road, so ask for playlist contributions from every family member before you set off.
Rest and restore
Split the driving if possible so each driver has plenty of time to rest. Sitting for hours can be tiring, so give passengers lots of opportunity to rest as well, with regular stop breaks so you can get out and stretch the legs. As a general guide, take a break at least once every two hours and avoid driving for more than eight hour a day.
Even a short road trip requires a little planning and preparation, so doing vehicle checks and ensuring you have adequate car insurance should be part of your pre-trip preparation. If you pack smart and stay prepared to adjust your driving habits according to road conditions, you'll be more likely to have an enjoyable and safe road trip.
Real Insurance is a leading provider of third-party and comprehensive car insurance across Australia. To find out more about our competitively priced policies use our online quote tool, and review our Product Disclosure Statement for more information.
7 Nov 2017
Real Insurance is an award-winning provider of car insurance.