A guide to choosing the safest car seat for your child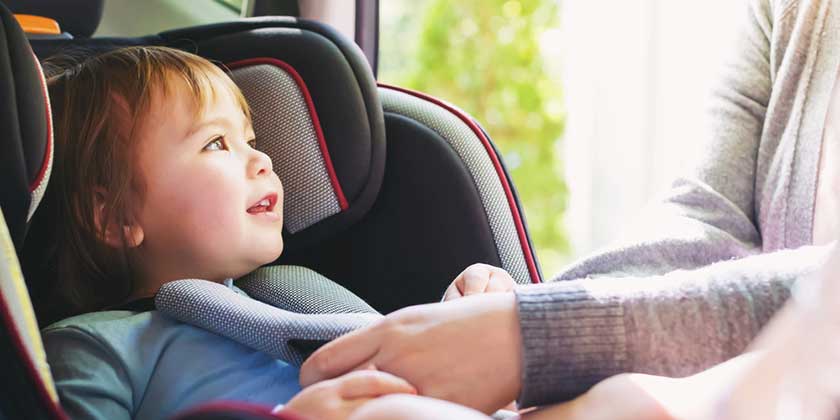 Car crashes remain a leading cause of death and injuries among Australian children. Although fatality rates for child passengers has decreased since the introduction of national laws in 2009 and 2010, it remains critically important that parents ensure their children are seated in an approved and properly secured car seat.
Given the variety of options on market and the legal rules that apply to children of different ages, it can be confusing to know what model is right for your child.
Here we've taken out the guesswork and outlined everything you need to know about choosing a safe, legally compliant car seat for your child, whether he or she is a baby, a toddler, or older.
Car seats: common mistakes made by parents
Choosing a car seat for your child can be confusing, given the myriad choices out there. Some common mistakes associated with choosing and using car seats include the following:
Choosing the wrong seat: Whether it's a rear-facing, front-facing, or lap-sash seat, some parents are choosing the wrong type of seat according to both the legal requirements and the needs of their child.
Use the restraint incorrectly: For some parents, the issue isn't choosing the wrong car seat but using the restraint incorrectly. Failing to use the restraint according to the manufacturer's instructions could lead to the restrain failing to work.
No car seat: Some parents neglect to purchase and install a car seat for their kids.
Choosing the wrong car seat can increase the risk of injury in crash, so it's vital for parents to make sure they pick the right type of seat for their children and use the restraint properly.
Understanding the legal requirements
The legal requirements provide a starting point for choosing the right seat for your child. The national child restraint laws require the following:
Children up to 6 months old
If your baby is six months or under, he or she should be secured in an approved rearward-facing restraint, or Type A in the Australian Standard.4 Type A1 applies for kids up to 70 cm tall and Type A2 applies for those up to 80 cm tall.
6 months to 4 years old
Kids within this age group must be secured in a rear or forward-facing approved child restraint that comes with an inbuilt harness. Type B under the Australian Standard should fit most children up to four years of age.
4 to 7 years old
Kids in this age group need to be secured in an approved, forward-facing child restraint with inbuilt harness, or in an approved booster seat. Type G should fit most kids up to eight years of age.
7 to 16 years old
Kids who fall in this age range and who are too small to be properly restrained by a seatbelt are recommended to use an approved booster seat. As a general rule, children usually need to be at least 145 cm tall or aged 11 or 12 before they can achieve a good fit with a car seatbelt. Type E and F in the Australian Standard apply in this category.
Booster seats
Any child seated in a booster seat must be restrained by a suitable lap and sash type approved seatbelt that is properly adjusted and fastened, or by a suitable approved child safety harness that is properly adjusted and fastened.
Small children
Children who are too small for the child restraint required for their age group should be kept in their current restraint until it's safe for them to move up.
Larger children
Children who are too large for the child restraint specified for their age may move to the next level of child restraint.
Back seats occupied
If all the back seats are occupied by kids under the age of 7, children aged 4 and above can be seated in the front seat. Children under the age of 4 must not be seated in the front seat at any time.
Note – all children's car restraints sold in Australia must fit the Australian Standard, and all models go through testing before they're sold.
Finding the right car seat for your child
The legal requirements provide guidance for choosing a car seat, but you'll need to find a car seat that fits your child's physical size. Children grow at different rates, so ensure the car seat matches your child's needs, whether they're taller or bigger for their age or not.
1. Use the Child Car Seats tool
The Child Restraint Evaluation Program (CREP) maintains the Child Car Seats tool.9 You can use the Child Car Seats tool to find car seat models on the market and the results of any extra tests conducted by the CREP. The CREP may test for frontal impact, side impact, and oblique impact. Once you find a legally compliant car seat for your child's age range, check to make sure the product fits your child's size and weight.
2. Fit the restraint correctly
Always follow the manufacturer's instructions when fitting child car seats.
Rearward-facing restraints: Rearward-facing restraints or infant capsules are usually secured to the seat with a seatbelt or through ISOFIX anchorage points.
Forward-facing restraints: Forward-facing restraints might be held in place by a seatbelt or ISOFIX anchorage point and the top tether strap.8
Booster seats: Booster seats are usually used with the adult seatbelt in the car and a top tether strap. Most models will come with high backs and sides for extra impact protection.
Position: The centre position of your car's rear seat may well be the safest position for your child restraint, since it's located away from the sides. However, follow the manufacturer's instructions for the best position if they recommend something else.8
Assistance with fitting: You can get help from an Authorised Restraint Fitting Station if you have problems fitting your child's car seat, however a fee will apply.
Ensuring your child's car safety can seem complicated, but it comes down to two critical issues: choosing an appropriate restraint and fitting it correctly. Get help with fitting the restraint if necessary, and check regularly to make sure your child isn't outgrowing their restraint.
Real insurance is a leading provider of car insurance, and our products provide extra peace of mind so you can focus on driving safely when you're on the road. Find out more information about our range of car insurance products.
2 Nov 2017
Real Insurance is an award-winning provider of car insurance.