Why you should consider Roadside Assistance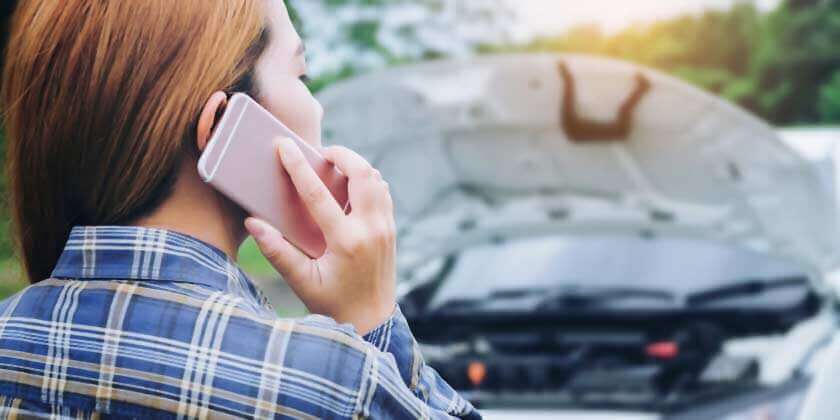 As the old saying goes, "better safe than sorry". And while nearly a quarter of Australia's motorists aren't covered for roadside assistance, there are countless reasons why you should be.
What is roadside assistance?
Essentially, roadside assistance comes to you, helping drivers when they cannot get to a repair shop or tyre shop. Generally, roadside assistance will get you towing, battery service, flat tyre service, fuel delivery and lock-out service. But what does all of this mean?
Towing service – If you breakdown and your car is immoveable, a tow truck will be provided. However, generally speaking, this will only occur if it's clear that nothing can be done on the scene to fix the car, or if a service professional has attended the scene and has failed to make the car drivable or safely driven. Your car will be towed to the nearest mechanic. If you have a preferred repair shop, it's likely that you will be charged for the extra kilometres needed to get there.
Battery service – This entails jump-starting the battery so you can, at the very least, drive the car to the nearest point where you can get a new battery installed. This, of course, is different if you drive an electric car.
Flat tyre – Puncture a tyre? Flat tyres are one of the most common reasons to be called out. A professional will usually attend the scene and change the tyre for you using your spare (usually found in the boot of the car). However, this spare will need to be replaced so as soon as your car is drivable, you should be heading straight to a tyre shop.
Fuel delivery – Some covers will also include fuel delivery. If you run out of petrol while driving, and you're nowhere near a petrol station, a service professional will meet you at your car with enough petrol to get you to the nearest station. The petrol does come at a charge though, usually taken from the price of the petrol in the area.
Lock-out service – This is available when you cannot gain entry to your car. If a professional locksmith is required, your roadside assistance may be able to help.
In Australia, there's also another major reason why it's crucial to think about roadside assistance. Overheating cars are among the most frequent incidents that roadside assistance providers have to deal with, as the intense heat during the Australian summertime often cause engines to overheat.
The extreme summer heat puts pressure on the elements that are under your car's bonnet, such as the radiator, the battery and the rubber hoses that connect the cooling system. And of course, the dreaded situation where a baby or pet is accidentally locked in a car.
Roadside assistance can help if your child or pet is accidentally locked in the car, which people still do regardless of the warnings around why you shouldn't leave a pet or child unsupervised in a locked car. In fact, emergencies such as these are still occurring at a rate of 200 a month, whether it's a baby, a pet or an owner being locked out of a car with a loved one inside. The RSPCA recommends that no pet be left alone in a locked car, regardless of the time of year.
If your child is accidentally locked in a vehicle, or you see a child in a locked vehicle, please take the following steps:
If the child is in a vehicle and you can't unlock the door, and they are in distress or hot, call 000 immediately and ask for police assistance.
If the child is not in distress or hot, you can either call 000 or you can call any roadside assistance provider (even if you are not a member) and they will attend the scene as quickly as possible to safely unlock the vehicle. This applies regardless of whether the vehicle/child is yours.
If the child is in distress or suffering from high temperatures, the police may advise that a window is broken in order to gain access to the child as quickly as possible. Make sure you relay the child's circumstances clearly to the police, as they can then provide the best recommendation for the scenario.
If your pet is accidentally locked in a vehicle, or you see a pet in a locked vehicle, please take the following steps:
If the pet is in a vehicle and you can't unlock the door, call a roadside assistance provider (again, even if you are not a member) and they will attend the scene as quickly as possible to safely unlock the vehicle.
If the pet appears hot or in distress, call 000 and the police will give you further instructions.
Roadside assistance around Australia
What's worrying is that despite the various and important reasons why it's necessary to consider roadside assistance, 23% of Australian's aren't covered. While drivers in New South Wales and Victoria are cautious, with 79% and 78% of drivers taking out roadside assistance respectively, those in Tasmania and Northern Territory are lagging behind with a 60% and 65% uptake respectively.
However, while approximately three quarters of Australians have taken out roadside assistance, the rate varies from state to state. As does the level of cover and which roadside assistance company is most popular, with the majority of motorists choosing their local main state providers.
How to decide whether you need roadside assistance
As per the various reasons already explained, it is generally advised to consider taking out roadside assistance. However, there are some other things you should take into account when deciding whether it's a roadside assistance coverage that you need.
The age of the vehicle is a large factor
A brand-new vehicle may not need roadside assistance in the first couple of years . First, some dealerships actually throw this in with the purchase of the car. Of course, this is also dependent on the state you live in and whether the main state provider offers this. Second, there may be manufacturer's roadside assistance that is available.
Where do you drive?
If you're staying within your local community and area, chances are you'll either be close to a repair shop, a petrol station, or someone who can come out to help you. If your car stays in the garage on weekdays because you're catching public transport to work, perhaps you don't necessarily need roadside assistance because you will not be driving often. However, if you're likely to be driving regularly to places that you're not familiar with or taking road trips around the country, it's definitely worthwhile to consider taking out cover. There's nothing worse than being stuck in an unfamiliar place needing petrol or a jump-start.
If you are an infrequent driver and have a Pay As You Drive car insurance plan, such as that offered by Real Insurance, you may not feel that roadside assistance is necessary as you may not drive often enough to warrant it. In this case, your car mechanic can give a recommendation based on their knowledge of your car.
Peace of mind
If anything, roadside assistance gives you that peace of mind that comes with all insurance. It protects you when you need it most and gives you the peace of mind that someone is just a phone call away to help. Find out more about Real Roadside Assistance™.
11 Oct 2017
Real Insurance is an award-winning provider of car insurance.