Understanding car insurance: types of cover and features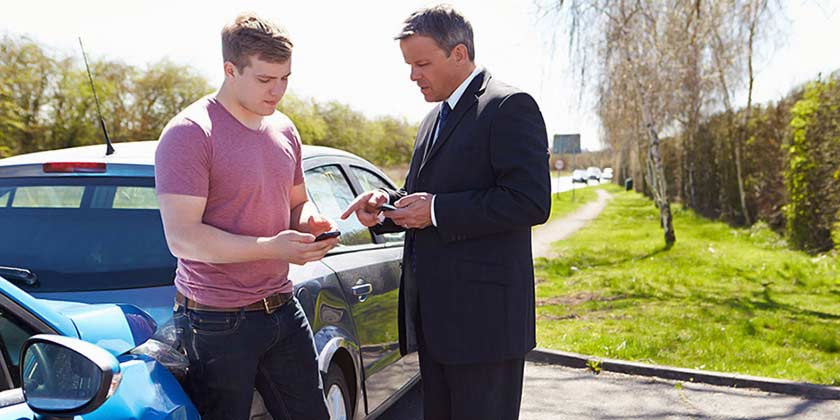 If you're planning on buying a car, you may want to consider having some level of car insurance. Knowing what's compulsory and what's optional or ideal can be confusing, especially for those who are arranging car insurance for the first time. In this article we've broken it down for you to help you make the right choice in your car insurance package.
Third-party property insurance
Third-party property car insurance is usually the cheapest option for car insurance, and the reason being it's the most limited form of coverage. In the event of an accident, you're covered for damage to other people's property – including damage to their car – but not for damage to your own vehicle. You're also covered for your legal costs if you incur any.
Third-party, fire, and theft insurance
Third-party, fire, and theft insurance covers you at the same level as third-party property insurance, but it also includes damage caused to your car through theft or fire. You won't be covered for damage to your car resulting from road accidents, but only for damage originating from theft or fire, along with any legal costs you incur and any damage to other people's property.
Comprehensive insurance
Comprehensive car insurance is the most extensive type of car insurance available. It covers you for damage to your own car and the property of others (including their vehicle) in the event of an accident. It also covers you for loss if your car is stolen or damaged due to fire. Real Insurance also offers Pay as You Drive Insurance, giving you the cover of Comprehensive car insurance, but you only pay for the kilometres you plan to drive.
Compulsory third-party insurance
Known as a Green Slip in New South Wales, compulsory third-party insurance, as its name suggests, is a must-have in Australia depending on the state that you reside in. This type of insurance covers you for any legal liability for injury or death in the event of a car accident where you are responsible, and is designed to pay for the significant medical costs of third parties associated with vehicle accidents.
All cars must have this type of insurance. In New South Wales, you need to have a Green Slip before your car can be registered. In Victoria however, compulsory third-party insurance is included with the cost of vehicle registration.
Other things to know about getting car insurance
Before finalising your car insurance package, keep the following considerations in mind.
Changes and modifications
You'll need to keep your insurance provider updated with any changes to usage and any modifications you undertake.
Changes to usage: Let your insurance company know about any changes involving usage of car (for private versus business reasons), address, and parking. Check with your insurer if you're unsure about what they need to be updated about.
Modifications: You're also obliged to let your insurance provider know about any changes you make to your vehicle. Relevant modifications may include mag wheels, spoilers, and performance enhancements.
Exclusions
Check for any exclusions in your policy, as this can be important to be aware of when you're using your car. An exclusion means what the name suggests: the policy won't apply if the exclusionary condition applies. Examples of common exclusions include the driver being affected by alcohol or drugs, or the driver being unlicensed. Another exclusion could relate to the condition of your car; for example, if you're having a mechanical or rust problem.
Excess
Your excess is the contribution you need to make in the event of a claim. The higher your excess, the lower your premiums usually. Your insurer might give you a choice of excess, and you should make sure you can meet the excess payment in the event you need to make a claim.
Premiums
It's important to be certain you can make your periodic premium payments as they fall due, as failure to pay may mean you're left without cover.
Product Disclosure Statement
The best way to understand prospective insurance policies is to read the Product Disclosure Statement (PDS). The insurer will be happy to provide you with a copy of this.
Confirm details on insurance certificate
Once you've finalised your insurance policy, your provider will give you an insurance certificate. Check your paperwork to make sure all the details and disclosures are correct. If incorrect details are left unrectified, it could affect your ability to make a claim, so check it carefully and contact the insurer to make any necessary changes.
Be informed before purchasing car insurance
When it comes to choosing car insurance, it helps to be informed about your options. Remember, you're required to have compulsory third-party insurance in some states. You may decide to have at least third-party property insurance or third-party, fire, and theft insurance. For extra peace of mind though, comprehensive insurance will give you the highest level of protection against loss and damage.
Real Insurance is an award-winning distributer of insurance. We offer value-for-money insurance products, real savings, and quality customer service to people all over Australia. We offer competitive third-party property car insurance, third-party fire and theft car insurance, and comprehensive car insurance. Read more about our Car Insurance options.
21 Jun 2021
Real Insurance is an award-winning provider of car insurance.