Complete guide to car repairs and maintenance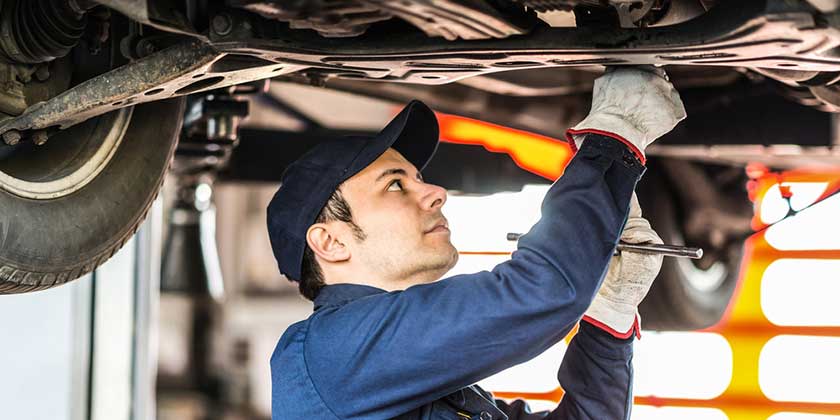 Aussies love to drive, with 18.8 million cars available to our population of 24 million. As a car owner, choosing a reputable, experienced car repairer ensures your car gets the level of quality care it needs, whether you're dealing with accidental damage or a break down.
Choosing a car repairer
When it comes to car mechanics and service workshops, it's often a matter of buyer beware. With limited quality control and industry regulation, consumers need to look out for their own interests. Follow a thorough screening process to make sure you end up with a reliable repairer you'll be happy with. Know what questions to ask of prospective repairers to avoid paying for unnecessary repairs or worse, poor quality repairs.
Identifying trusted repairers
If your car get damaged or breaks down, spend a little extra time finding a reputable repairer. You'll want to work with a trusted repairer who works to high-quality standards and who won't rip you off. If you don't know where to start, try the National Roads & Motorists' Association (in NSW), Royal Automobile Club of Victoria, or equivalent organisations in your state or territory.
These industry bodies typically have approved repairer networks, and the listed repairers adhere to strict codes of practice. If you're already with Real Insurance, we can help point you in the right direction with our network of approved repairers.
Skills and experience
Verify the mechanics repairing your car have the requisite skills, experience, and qualifications. Don't hesitate to check whether it's the supervisor or the relatively inexperienced apprentice who'll be working on your vehicle. Remember, you have a right to know who's doing the repairs and you should feel confident they can do the job.
Licensing and trade memberships
Ensure the workshop complies with local licensing requirements. In New South Wales, for example, car repairers must be licensed with NSW Fair Trading. In addition to licensing, check they're members of reputable industry associations such as the Victorian Automobile Chamber of Commerce. These associations admit members based on strict criteria and require them to follow a code of conduct.
Reputation
Look online for reviews, ask for recommendations, and check their website for verifiable testimonials from happy customers. A number of good testimonials can give you extra peace of mind about the quality of repairs.
Presentation
Take a look around the workshop before booking in your repair job, and pay attention to their equipment and facilities. A repair shop that take pride in its presentation and invests in new equipment is more likely to treat you and your care with the same level of respect.
Itemised quote
You won't want surprise costs appearing on the bill when you pick up your car, so don't proceed without an itemised quote for the repairs. An itemised account should include parts, labour, and estimates of time it'll take. If the centre is reluctant to give you complete details and a firm quote before you give the go-ahead for the repair job, it's probably a good idea to check with an alternative repairer.
Warranties
All reputable repair centres should be happy to provide you with details about manufacturer warranties on parts, along with the repairer's warranty on the work. Check they can offer you a warranty before committing to the repair, and make sure the details are included on your quote and invoice.
Avoiding unnecessary repair costs
Choosing the right car repairer is only half the story. You can keep your car in top condition and avoid unnecessary repair costs with a few basic maintenance strategies.
Get your car serviced regularly
Follow the manufacturer's mandated servicing schedule to make sure your car gets the right logbook servicing it requires. Oil change, brake fluid change, and brake pad replacement are some of the things most cars need to have done regularly. Without them, your car could be more likely to break down or malfunction on the road, making it dangerous for both you and other drivers.
Following the recommended service schedule means your car will continue to be covered under the manufacturer's warranty where applicable. You may also be able to sell your car for a fair market price when the time comes to sell.
Do DIY maintenance
Basic DIY maintenance can help you save money on maintenance and repairs. It could also lower the risk of your car breaking down, keep your car operating at maximum efficiency, and help you save on petrol.
Check your lights and wipers are working and glass surfaces are clean. Make sure the handbrake is in working order, and all seatbelts are locking correctly. Verify your tyres are pumped to the right pressure every two to three times you fill the tank. You can do this at any petrol station offering complimentary pumps. Do a visual check of your tyres at the same time to check for damage.
You should also check your engine oil levels weekly, and do regular checks of automatic transmission fluid, radiator coolant, and brake and clutch fluid levels. In newer cars, you might not need to do some of these checks as sensors will alert you if anything needs topping up or replacing. Check your owner's manual for more information about DIY basics that keep your car in top condition.
By working with only trusted repairers and ensuring your car is serviced and maintained correctly, you could save money, extend the life of your car, and avoid the unnecessary stress of car troubles.
Real Insurance is a leading provider of car insurance, and our policies can protect you from additional car expenses arising from damage or theft. Get a quote in minutes, or find out more about our different types of car insurance. Review our Product Disclosure Statement for more information about the right type of cover for your needs.
31 Oct 2017
Real Insurance is an award-winning provider of car insurance.