Car Series: Tips for trading in your car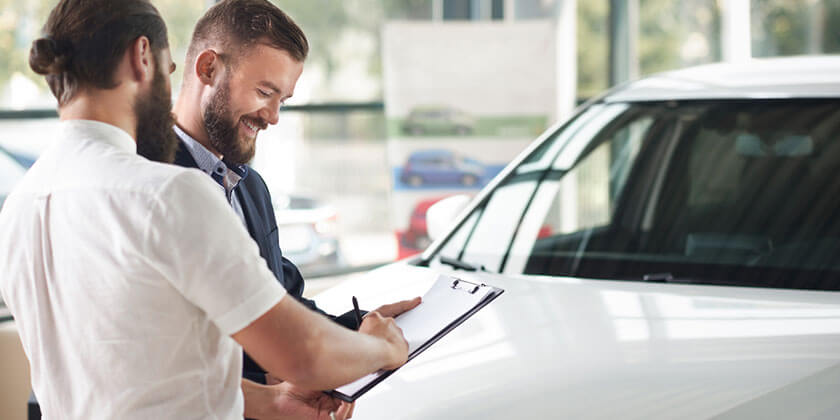 When deciding to sell your car and purchase a new one, it is important to consider trading in your car as an option to take. Although trading in a car could leave you with less money than a private sale, the efficiency of this fast and easy process can out-weigh such factors as the dealer handles the entire transaction. Therefore, following the tips below can help maximise your personal gain from a trade-in and reduce any time wasting, leaving you with a sold car in no time.
Understanding the value of your car
Prior to trading in your car, you need to understand its value and worth. This will enable you to negotiate with car dealerships and find the right price.
Firstly, research is vital in finding your cars value. You must consider all factors such as; the make of the car, its model, mileage and current condition. Although a dealership wants your business, some may try to offer you less than the cars real worth. To avoid this, a recommended strategy is to purchase a direct, printed quote of an 'outright buy' from a local dealership. This can be used as a bargaining tool when negotiating with a potential buyer who is offering substantially less than your ideal price for your car.
You should also research classified advertisements online. This can give you an indicator of the price sellers are asking for with similar make, model, kilometres, condition and age of the car. However, you should note if the seller is a dealer then they will usually have a slightly higher price.
It is important to remember though that after all your valuation and research, there is no guarantee that you will receive the price which you have estimated your cars sale at.
The cars current condition
A clean interior and exterior will increase the value of your car. Any simple repairs that you feel may make a difference to the trade-in offer is ideal to undertake. These repairs could be mechanical and/or cosmetic.
Mechanically it is important to make sure all fluids are topped up such as oil, brake and radiator fluid. Obvious repairs include any oil leaks, signs of a leaking radiator and cracked hoses. Worn tyres might need to be replaced. Spraying the hinges of the door, hood and trunk with penetrating oil can help avoid any squeaky noises. Don't forget to wipe the engine compartment clean with a cloth and engine cleaner spray.
Cosmetic improvements could mean having your car professionally detailed at a car wash station, or if having it serviced by a car body detailer to address any dents, dings, scrapes or chips. Any window or bumper stickers need to be removed and vinegar applied to any tough stains.
However, the dealer will usually fix flaws, such as replacing wheels or larger dents, for a substantially lower price once having purchased your car. For this reason, it is important to consider what maintenance will benefit you and what isn't necessary and weigh up the costs accordingly.
Make sure to remember that when you trade in your car, all personal items are taken out of all compartments including the glove box. There should only be paperwork of a well-kept record or logbook showing evidence of regular maintenance, servicing and repairs in there or other necessary information like car radio manual (especially when it is an after-market radio).
Move around
Visit numerous dealerships, request estimate values of your car and keep printed copies of these quotes as evidence for other buyers.
When is the right time to trade-in?
The offer from a dealership can vary according to a number of factors including when you decide to trade in your car. Waiting for a particular time to trade-in your car may not be suitable for everyone due to time restrictions. However, it is recommended to trade in and shop for a new car toward the end of financial year. This is because dealerships would have received new year's inventory and may be eager to unload the previous year's stock, resulting in a more affordable price.
It is also valuable to keep an eye out for special promotions and deals that are on, such as a better price if a customer pays extra cash as part of a trade-in.
Indecisive?
After you have conducted your research and visited multiple dealerships, you may be stuck between a few places that are offering similar prices and unsure of which to engage with. In this situation, it is also important to factor in where you intend to purchase your new car from. If it happens to be one of these places which you are weighing up, perhaps lean more towards that dealer. This can be a great tactic in leveraging a better price as you are giving them business on both sides of the trade-in and sell-out.
It is also important to factor in the changeover price if you want to buy a new car once traded in your current one. Although one dealer may have the cheapest new car price, it might not be the best trade-in value compared to another dealership. For this reason, it is important not to settle with your first option and get at least three offers to compare.
Negotiating
It is important not to become sentimentally attached to your car as this can lead to overestimating its value. If you keep receiving an offer which you are unhappy with from numerous car dealerships, you may need to lower your expectations. This may just be the market value of your car, and therefore you will have to be flexible to this outcome and decide the dealer right for you.
Furthermore, trying to mislead dealerships by claiming to have high trade in offers in the hope they will try and 'beat it' can also lead to disappointment and embarrassment, as many of these dealers will ask to see actual proof of such claims.
However, know the dealer's tactics! Don't be surprised if they claim your car won't sell easily or they are doing you a 'favour' with their offer. At the end of the day it is your car and your decision which price you negotiate at.
Finalising the trade-in
When you have come to a satisfying agreement with the car dealer, it is important you ensure the following before finalising the deal:
Remove any personal items out of the car, make sure to have checked all compartments, including the ones in the back seats.
Phone or meet with your current insurance company to transfer your car insurance policies to your new car.
Remove the toll account from the vehicle and transfer it to your new car or cancel it.
Conclusion
All in all, trading in your car can be a rewarding, easy experience. Knowing your car's worth, having evidence to back your claims and respectfully negotiating with a car dealer to come to a reasonable proposition will generally result in a sold old car.
13 Jun 2019
Real Insurance is an award-winning provider of car insurance.