How to save money on car repairs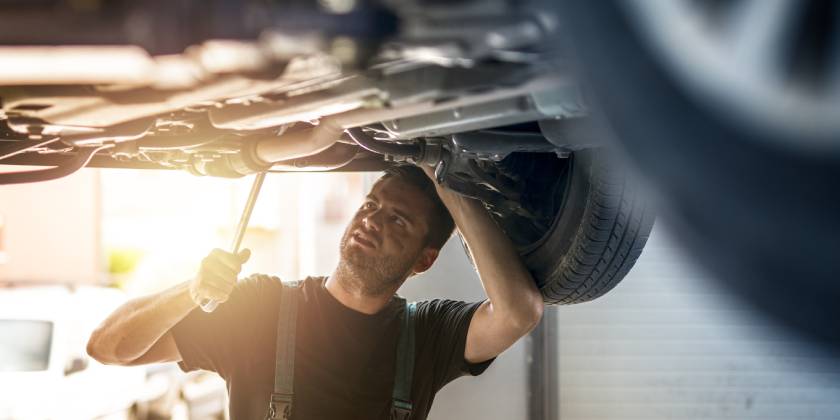 Saving money on car repairs is possible, but it helps if you know your way around your vehicle. Here are some tips on keeping costs to maintain it low while ensuring your car stays on the road as long as possible.
Regular servicing
Modern-day cars are extremely complex machines requiring experienced care, making regular servicing essential to extend vehicle life and improve operation. While manufacturers guarantee that their vehicles will not break down for a certain period of time – typically three to five years – this guarantee only applies if customers keep their cars regularly maintained.
Consumables such as brakes and tyres are designed to deteriorate with use, while without regular oil changes an engine may degenerate prematurely. As well as damaging the car, owners run the risk of voiding the warranty by not doing necessary maintenance.
Remember also, that when it comes time to sell your car, you will get more for a well-maintained and serviced vehicle than a neglected one of the same vintage.
Find a trustworthy repairer
Avoid getting ripped off by finding a trustworthy repairer who you can talk to easily and who is transparent with their costs, including providing a written quote before any repairs are done.
In New South Wales, the National Roads & Motorists' Association (NRMA) maintains an Approved Repairers Network of more than 150 general mechanical repairers and specialists, as does the Royal Automobile Club of Victoria (RACV) in Victoria and the Royal Automobile Club of Queensland (RACQ) in Queensland. These repairers are required to adhere to codes of practice and the motoring bodies can assist in resolving disputes if they arise.
Alternatively, ask your friends and family if they can recommend someone, or find a garage that specialises in your type of vehicle. Before starting, visit the repair shop and check whether it has a high level of patronage, whether it is relatively clean and welcoming, and talk to the staff about their experience and know-how. If you have a good idea of costs, perhaps test them first with a small job, such as a blown taillight, to check on their charges.
Even if you have found a reliable mechanic, you always have the option of getting a written estimate and taking it to another repairer for a second opinion, although cost should not be the only consideration.
Before paying the bill, check to make sure you are not paying extra for duplicate labour charges or parts. You have the right to keep your old parts too, so ask for them to make sure you are definitely getting what you paid for.
Do it yourself
Basic, do-it-yourself car maintenance can save money and reduce the risk of a major breakdown. The RACQ advises owners to run the following regular safety checks:
Check all exterior lights are working, such as when the vehicle is parked at night
Check that glass surfaces, including mirrors, are clean and free of chips and cracks
Check the windscreen wipers and washers
Check the wiper rubbers
Sound the horn
Test the handbrake to ensure it holds the car on steep hills
Check seat belts and make sure they lock
Maintain appropriate tyre pressure and condition – the NRMA suggests checking the air pressure at least once every two to three times you fill up the petrol tank, as well as buying your own air gauge.
Other checks recommended by the RACQ include a weekly check of the engine oil level and if relevant, the automatic transmission fluid, as well as the radiator coolant. The power steering level and brake and clutch fluid should also be inspected on a regular basis, along with the battery.
It is even possible to run your own diagnostics via your smartphone or a scanner. Look for an app that will check the car's health regularly, report issues early, decipher any warning lights, and identify the problem before you take it to the repairer.
By doing basic maintenance yourself, finding the right repairer and knowing what the costs are, you will ultimately save thousands of dollars as well as extend the life of your vehicle.
For those unexpected accidents out of your control, Real Car Insurance can protect you from additional expenses. You can get an online car insurance quote now with Real Insurance. Using our online quote tool, you can compare our different types of car insurance. Be sure to read our Product Disclosure Statement for information to help you decide which type of cover is right for you.
25 Mar 2015
Real Insurance is an award-winning provider of car insurance.