9 great locations for camping and caravanning in Australia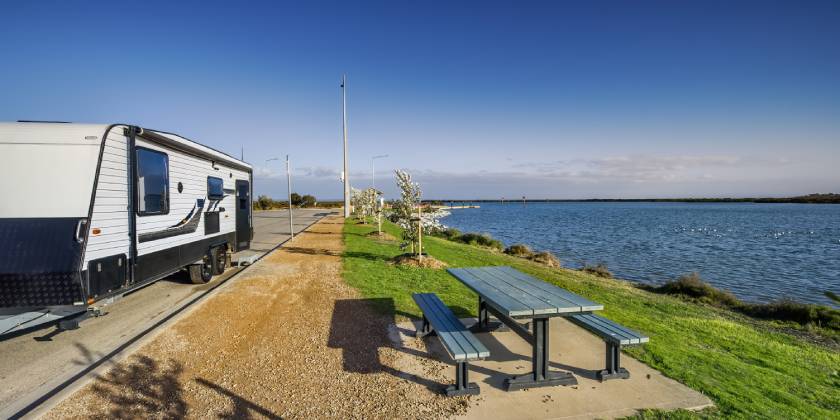 Have you ever dreamed of a great Australian family adventure? Camping and caravanning holidays make it easy to embark on a family holiday of a lifetime. It's a great way to keep the kids entertained throughout the school holidays and a cost effective way to take the family away for a well-deserved break.
Before you go, there are some important things you should consider packing. Along with the usual camping equipment such as a torch, lantern, cooking stove and rubbish bags make sure you include appropriate wet weather clothing in case it unexpectedly rains. You will also need to think about food storage whilst at the campsite to keep items fresh and deter any foraging possums or dingoes.
Now that you're ready to start your family adventure holiday, pack up the car and go camping!
If you're not sure where to go, here are some top spots around the country.
Queensland
Lamington National Park – Stay in a rainforest and pitch your own tent! Alternatively there are safari tents already available. Binna Burra Mountain Lodge and Campsite is a popular camping ground in the park and suitable for families.
Port Douglas – Venture north for family friendly accommodation at Glengarry Holiday Park.
Northern Territory
Bamurru Plains – Just on the boundary of Kakadu National Park is the perfect spot for family camping in the wild outdoors. The area is abundant in bird and wildlife and is great for getting a glimpse of Australia's amazing wilderness.
Litchfield National Park – A great spot to check out on the Adelaide River; Litchfield has camping spots available for tents and caravans, as well as having onsite accommodation available as well.
New South Wales
Booderee National Park – Here the campsites are unpowered, but the park is close to the amazing white sands of Jervis Bay on the south coast of New South Wales. If you travel to Jervis Bay during September to November, you may also be treated to seeing humpback and southern right whales as they migrate with their calves. Alternatively you can also catch the whales when they swim north to Queensland in June or July.
Treachery Campsite – Further north up the coast near Seal Rocks is another great camping spot, where the beach also features white sands and blue waters. Just take a short walk through sand dunes and bush to get to the sea.
Western Australia
Rottnest Island – 'Rotto' is close to Perth, being just a short ferry ride from the mainland. The camping ground on Rottnest is close to the main settlement area and there are facilities in the grounds including lighting, gas bbqs, picnic tables, access to clean water and shower and toilet blocks.
Monkey Mia – The ideal spot for dolphin and animal lovers, Monkey Mia has camping facilities available for the whole family including water and electricity. The dolphin visitor centre has occasional talks given by travelling researchers and marine biologists as well as showing documentaries and nature films. As well as this there is the opportunity to feed dolphins and swim in the amazing surrounding waters.
Tasmania
Arthur River Cabin Park – on the West Coast of 'Tassie' contains an amazing pocket of wilderness with camp sites frequented by wildlife including Tasmanian devils and wombats.
Australia has thousands of kilometres of road to discover, check out the best Australian road trips to discover more amazing stretches of road but before you pack up the car and drive off into the horizon, it might also be a great idea to check that your car insurance is up to date and will provide you with sufficient cover while you're on the road.
3 Oct 2013
Real Insurance is an award-winning provider of car insurance.