Top 10 tips to make your road trip unforgettable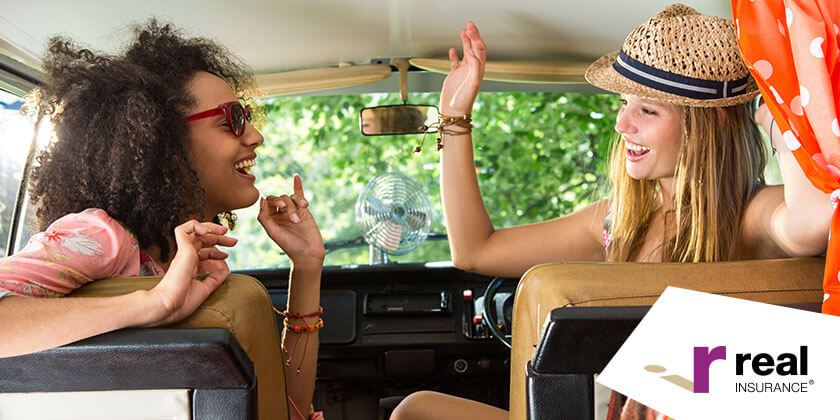 Road trips are an adventurous way to vacation whether you're travelling with family or friends. They allow you to design an itinerary from scratch and move at your own pace as you experience the entire journey to your destination. However, sitting in a vehicle for days with the same people can be exhausting, so it's important to include interesting stops on your trip as well as plenty of snacking and rest periods.
Here are 10 tips to help make your road trip an amazing experience.
1. Plan ahead for stops
Plan your stops as well as your route before your trip so everyone travelling with you is in agreement about what you'll be seeing and how often you'll be stopping. This will save you time on the road as you're not having to think about where you'll be stopping along the way.
Write down a day-by-day itinerary and check distances online to work out realistic travel periods. Allow time for breaks and stops throughout the day, and keep your itinerary in a travel wallet or saved on your phone or navigation app so you can easily refer to it.
At the same time, don't be rigidly attached to your itinerary. Keep things flexible during your trip so you can take advantage of surprise discoveries and allow for unexpected occurrences like changes in the weather.
2. Include rewarding detours
One of the best parts about road tripping is the detours, so make sure you include stops that will please your passengers. Use popular road tripping apps and do research online to find local hotspots, which might include scenic routes, restaurants and eateries, and cultural attractions.
Great detours to include in your road trip are eateries, novel places to bunk down for the night, and famous local spots for some 'extracurricular eating'. If you're travelling through small towns, get to know the local history by visiting museums and galleries.
Busier locales lend themselves well to people-watching, while rural routes might afford you some amazing scenic spots where everyone can enjoy some downtime in silence. Detours and memorable stops allow you to get to know the local culture and make your road trip memorable.
3. Prepare a budget and save on your trip
Whether it's petrol, snacks, accommodation, or meals, expenses can blow out if you don't track your costs on the road. Use a travel budgeting app or a guided calculator to estimate your expenses for the trip3. Work out a daily expenditure goal so you can keep to your budget. If you're travelling with friends and sharing expenses, have someone track costs so you can easily split expenses evenly later.
Actively seek out ways to cut costs on the road. You can research petrol specials in the local area on your phone, and pack or prepare more of your own food rather than eating out all the time.
4. Assign roles
Road trips can be a tiring affair for the driver and the person who's organising the route and stops. You can avoid this by switching it up by assigning roles to get everyone on the trip involved. This will also prevent one person feeling overwhelmed with doing all of the organising.
Tasks to assign might include driving, route reviewing and navigation, organising snacks, managing the budget, buying supplies, and controlling the playlist. You might also assign tasks such as researching petrol specials, local weather conditions, and traffic conditions. Sharing responsibilities ensures everyone feels involved and no one person is tasked with doing everything. It is a good idea to rotate the driving too, to avoid one driver becoming fatigued.
5. Play road trip games
Get to know some road trip games, including games that are friendly to both adults and kids. Fun road trip games that everyone can play include the Singing Game, where one person starts with the first line in a song and the next person has to continue it.
Another game is the Movie Game, where one person names an actor and the next person has to name a movie they were in. 21 Questions is another popular game where one person thinks of something and the rest of the car has 21 chances to ask questions that will help them guess what they're thinking.
6. Stock up on playlists
The music you play will be the soundtrack of your road trip, so you'll want to make sure you have something everyone – kids and adults, friends and family – will enjoy. Fill your phone with a few different playlists that reflect varying 'music moods'. While you'll be able to listen to the radio, having a few playlists handy lets you decide exactly what you want to listen to when you get tired of the radio.
You can design your own playlist, but if you run out of inspiration, check out some popular road trip playlists for extra inspiration. If you're travelling with friends, invite everyone to bring their own playlist.
7. Listen to audiobooks
A great tip for your road trip is to bring some audiobooks with you. Unlike music, audiobooks are wonderful for quiet time, and you can find suitable books for families and groups of friends, and for just about any drive duration. A good story will keep you engaged and makes for a nice change from road trip games, loud music, or general chatter.
Check for the shift in mood when everyone seems to be ready for some quiet listening time, then hit play on that audiobook to keep everyone engaged. If you're going on a long road trip, make sure you bring a good selection with you.
8. Keep the kids occupied
Kids often love road trips but some can get restless or bored very quickly. If you're travelling with the kids, make sure they're stocked up with books, movies, and video games to keep them entertained during the trip. Clean up messy eating with moist hand wipes, and keep a good supply of snacks on hand in case the hunger pangs strike early, before you stop for lunch or dinner.
If you have little ones who get restless quickly, plan to make more frequent stops and look out for places, such as family restaurants that have play equipment. Parks also make suitable stops, as the children can run around and stretch their legs.
9. Snack healthily
It's all too easy to stop at every service station and snack on an endless supply of chips, chocolate, and ice cream, but snacking on junk food can dehydrate you and make you feel lethargic. There are actually easy alternatives that will end up being better for your budget, as well as your health. Wholegrain crackers, popcorn, dried fruit such as sultanas and apricots, and kale chips keep well and make great snacks for road trips.
Stock up on fruit whenever you pass a town and look out for alternatives such as muesli bars, Greek yogurt, and dark chocolate to keep everyone happy and energised during the drive. Don't forget to keep bottles of water topped up to stay hydrated, especially during hot weather.
10. Stay safe on the road
Plan ahead to keep safe since unexpected things can happen on the road. Be prepared for traffic jams, possible flat tyres, or car issues. Make sure you have roadside assistance numbers stored on your phone so you can get assistance if you require it. If you're driving through rural areas, take note of local wildlife that are known to cross the road. In addition, it's best to consider having comprehensive car insurance cover before embarking on a road trip, as this will give you peace of mind that you are covered for any eventuality.
Pay attention to speed limits and signs that keep you informed about changing road conditions, and always make sure whoever's driving is well rested. If you're getting tired, bored or restless with driving, pull over and have a rest or have someone else drive for a while.
Your next road trip
Road trips are a wonderful way to travel with friends or family. Crucial to an unforgettable journey is to make time to stop and explore different places on your way to your destination. Some pre-planning and preparation will help you make your road trip an enjoyable and rewarding experience for everyone.
18 Nov 2016
Real Insurance is an award-winning provider of car insurance.