How to write a eulogy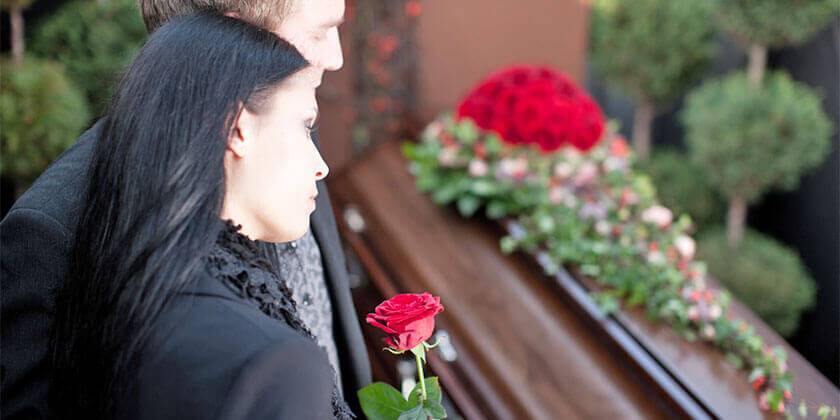 Eulogies are a way of saying goodbye to someone who has passed away by sharing thoughts, memories, and reflections at their funeral. Deciding what to say in a eulogy can seem challenging, but by taking time to plan what you would like to express, you can honour and respect the memory of the person.
These are some ideas for finding inspiration, and writing and structuring your eulogy.
Tips: getting started
Eulogies can be formal, centred on the person's career achievements and history, or they can be informal, perhaps with a focus on sharing memories or stories. Some eulogies combine the two. Consider the type of funeral you will be speaking at and your relationship to the person as you decide on tone and content.
Keep in mind as you write the eulogy that the most important thing is to be genuine about what you say. Focus on what matters to you most when it comes to the person who has passed away, and how you can best honour them in light of your relationship. Note that you can find inspiration from many things around you.
Finding inspiration
There are many ways to find inspiration as you prepare the eulogy. Draw on photos, letters, emails, social media accounts, and other resources to trigger your memory. You can also visit the person's house if appropriate, and walk around to better remember them. Talking to their friends, relatives, and other loved ones can also inspire you to remember your shared experiences and times with the deceased person. Make a list of memories and review these for inspiration.
You can also draw on facts about your loved one to find inspiration.
For example:
Where were they born?
What was their early life like?
What were their hobbies?
What were some of their key achievements or special qualities?
What music did they like?
What were their favourite quotes?
Even random facts can help you identify what you want to say. Write down everything you know about your loved one and use the list to trigger memories and anecdotes that can be included in your eulogy.
As you review resources, make notes and jot down any ideas that could help you express your thoughts and feelings in the eulogy. Finding inspiration is as much about remembering as it is about deciding what you really want to say about the person to honour their memory.
Create a rough draft
Aim for a rough draft at the beginning as you write down your ideas. Don't worry about editing it too much at first; it's more important to record your ideas so you can refine them later on. If you are worried about the first draft being perfect, you may find it difficult to get started, which can block the flow of ideas and memories.
Structure
An opening and a conclusion gives you an opportunity to introduce yourself and summarise what you want to express. Eulogies typically last for three to five minutes, so as you plan what you're going to say, keep your time frame in mind.
The opening - In the opening or introduction, state who you are and outline your relationship with the person to give context to your eulogy.
The body - This is the substance or the core of your eulogy, and this is where you tell your stories, recount memories, recite a poem, or say what you wanted to say in some other way. Start with an opening sentence that will catch the curiosity and interest of those attending the future.
The conclusion - The conclusion of your eulogy is where you tie up what you said and sum up what the person means to you. You can include a simple thank-you to the person and how they impacted your life, or you could end with a favourite quote that expresses how you feel.
Theme, format, and mood
You could follow a basic timeline of their life events to highlight the impact of their life on others. Telling an amusing or moving story could be another way to set out the body of your eulogy. You could focus on their family life, or focus on character traits you admire and use anecdotes to illustrate these. Your theme could be as simple as to focus on how your loved one impacted your life.
Also consider the mood you'd like to convey as you draft your eulogy. Would you like to deliver a light-hearted eulogy, or is a solemn tone more suitable for what you want to say? A slightly humorous eulogy could better reflect your memories of your loved one than a serious, solemn one.
There is no right or wrong approach when it comes to what you say in a eulogy. What matters most is that you share something that honestly expresses what the deceased person means to you, and that what you say helps you honour their memory with others at the gathering.
11 Mar 2016