How to plan a funeral during social distancing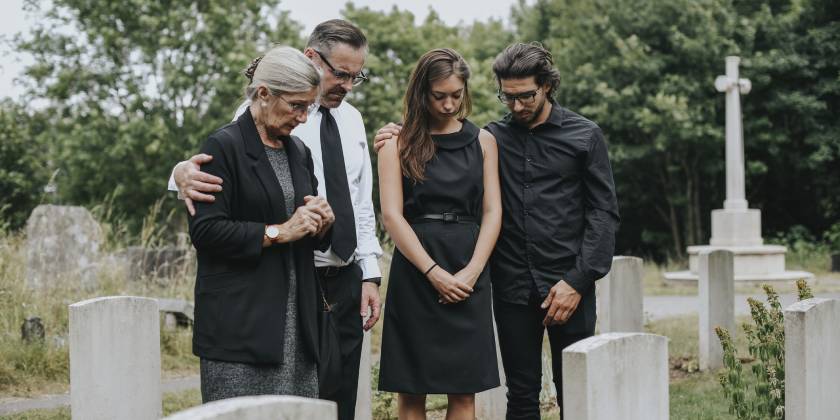 In May 2020, the Australian government announced new regulations for funerals taking place during the ongoing social distancing measures around COVID-19. The new rules allow for funerals of up to 20 people indoors and a maximum of 30 people for outdoor events, which is a slight increase over the previous limit of 10 people per service.
While these restrictions can make it difficult for some families to host a large send-off for their loved ones, it's important to remember that they are only temporary and will likely be lifted as time goes on. However, if you need to organise a farewell over the coming weeks or months, here are some helpful ways to stay within the guidelines while still making the event a memorable one for close family and friends.
Reduce the number of hired officials
It's important to remember that the attendance limit on funerals also includes pallbearers, caterers, celebrants or other hired personnel. This means that for every hired official at the service, there will be one less family member or friend who will be able to attend.
Cutting back on hired staff will leave more room to invite loved ones without exceeding the 20 or 30-person limit. While it may not always be possible to forego a celebrant or spiritual advisor, other duties like pallbearing or catering can be performed by guests and loved ones instead. This could even be a great opportunity for the family to bond and feel closer to the person who has passed.
Make the most of technology
Many workplaces have led the way in using technology to assist with social distancing, so why not consider doing the same for a funeral? While a virtual or 'e-funeral' may not offer the same emotional connection as being there in person, hosting the service online lets you share the experience with friends and family anywhere in the world.
Free platforms such as Facebook Live, Skype, and Google Duo can be set up in just a few minutes, and you don't need any expensive equipment either (any smartphone with a data plan will do). Video sessions can be set to either private or public so you can have full control over who watches the service.
This option also allows you to get creative with the choice of location. Instead of being limited to a hall or function centre, you can hold the funeral somewhere smaller or remote, such as the deceased person's home or another meaningful spot without worrying about logistics or seating capacity.
If online streaming isn't feasible, you can simply film the event and share the video with loved ones later. Speak to your funeral director for options.
Delay the gathering until a later date
For those who still prefer a traditional funeral with a full guest list, there's always the option to delay the gathering and memorial until the restrictions are lifted. In the meantime, you can still go ahead with the burial or cremation, as well as any spiritual or religious processions, with a smaller number of people present.
You can then organise a larger event with the eulogy, condolences, and other rituals at a later date. This means the body won't need to be stored or preserved and also gives you more time to plan the service instead of rushing it. It can also make things easier if you're facing financial hardship as you won't need to spend as much money upfront.
While some may choose to delay or cancel the entire service during these restrictions, many of us may not have this option. With some careful planning and workarounds, you can still host a meaningful send-off for your loved one while following the government's social distancing and gathering measures, which means you'll also be doing your part in protecting the wider community.
For all the latest information and changes around social gathering restrictions, visit the Department of Health.
Check back on our Discovery Hub for more information and helpful articles on funerals and estate planning.
20 May 2020