Wills, probate and what to do when someone dies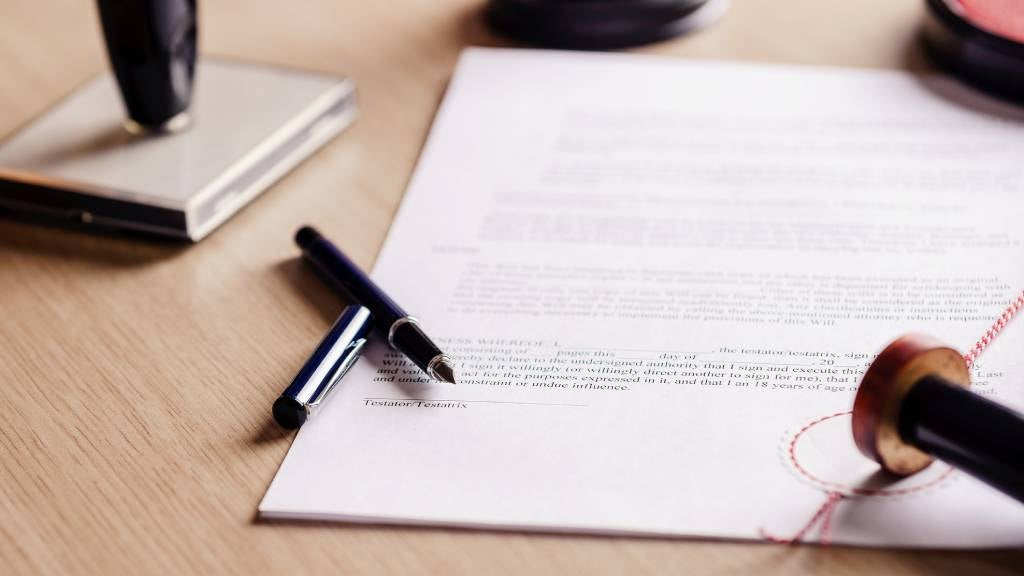 When someone dies, there are many things that need to be done – from notifying loved ones, to managing the person's property and making funeral arrangements.
If you're the executor appointed to administer the estate, it can be overwhelming to know where to start and what your responsibilities might be, especially when it comes to probate.
In this guide, lawyer Christine Page, Director and Accredited Specialist in Wills and Estates at David Landa Stewart, reveals what you need to know.
What is probate?
Probate is essentially a legal process that allows the terms of a will to be carried out – it's an order from the Supreme Court that's also known as a 'grant of probate'. The person who is legally authorised to carry out the probate is known as the executor.
"Probate confirms that the person has died, they had a valid will and the executor is entitled to stand in the deceased's shoes and collect the assets, pay off the debts, pay any tax and distribute the assets in accordance with the will," says Page.
Probate also protects the executor as it shows that the executor has told the court what the assets are, she adds. "It also gives the beneficiaries the confidence that the estate is being properly administered. However, the beneficiaries won't receive anything from the estate until probate is granted and the executor is given the authority to administer the estate."
She adds that while a lot of people think probate also means paying death duties (ie, inheritance tax) , this is inaccurate. "There are no death duties to pay," says Page. "And there should be no out-of-pocket expenses for the executor. The solicitor is paid once probate comes through and all the executor's expenses should come out of the estate."
Why would probate be needed?
Probate is only required if the deceased had assets – so if they owned a joint property (as joint tenants) with a spouse, the property would simply pass to the surviving spouse and probate wouldn't be required, explains Page.
"However, if the person owned real estate or a share of real estate on their own in NSW, they'd need a grant of probate in NSW. And if you had a bank account in your name with over $60,000 in it, or you had shares in your name, you'd need a grant of probate."
The deceased's family may not need a grant of probate to claim life insurance, and they don't need probate if dealing with a deceased estate in which there isn't a legal will in place, either.
But not having a valid will in place doesn't make things simpler – far from it, in fact. An estimated one in three Australians die intestate (without a legal will in place), says Page, and instead of probate, their loved ones need to get 'letters of administration', which is a similar type of grant from the court. "They'll have to work out who'll be the administrator of that person's estate, who the next of kin are, who the beneficiaries are, and what proportions of the estate they're going to take."
How do you apply for probate?
Your first step is to go and see a solicitor – and generally, a person's will would be lodged with their solicitor anyway, and he or she will be able to steer you through the process.
"You can make an application to court yourself [for probate] but you have to know the legal process," says Page, "which includes swearing an affidavit, which attaches a copy of the death certificate and explains why the executor believes the will is valid. A list of assets has to be compiled and it needs to be verified, then lodged with the court as well. If you have a solicitor helping you, it can take away much of the legwork."
How probate impacts funeral planning
Given it can take 3-6 months to get a grant of probate – and funerals generally happen just weeks after someone has died – it's difficult to have probate before a funeral. So how does the family pay for it, especially if the deceased's bank accounts have been frozen? There are a few ways, says Page.
"Firstly, someone can pay for the funeral out of their own pocket and get reimbursed once probate comes through," she explains. Or, a bank will let you pay for the funeral out of the deceased's bank account once you've got a copy of the funeral account and the death certificate."
Don't forget to check if there's a funeral insurance policy in place also, which could help cover the costs. The great thing about this option is that claims are usually paid quickly after receiving all the required paperwork, so there are no delays when making plans for the funeral.
Seeking legal advice over probate should be your first step if you're the executor of a deceased estate, to determine if it's required and what you need to do to apply for it. If you have the help of a solicitor, it'll be a much more seamless process than trying to do it yourself.
And if you're dealing with a deceased estate where there is no legal will in place, it's important to seek legal advice to determine what you need to do.
Ultimately, it's so important for everyone to make a will, says Page. "Do it even if you think your affairs are simple. It makes it so much easier for the people who are left behind."
Also consider insurances such as life insurance or funeral insurance that can help your loved ones with the costs in case you were to pass away unexpectedly.
Looking to get your affairs in order and want peace of mind for you and your family? Talk to us about your options.
28 Sep 2021