The Australian Family Travel Survey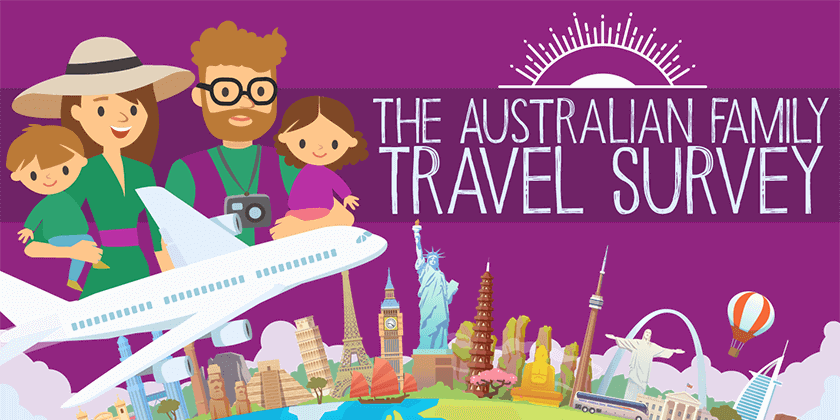 29 Sep 2017
The annual family holiday is a ritual eagerly anticipated by many Aussie families, but the typical face of holidays is changing. Australian families are spending more than $34 billion on holidays each year and with the costs of enjoying a happy and safe holiday sky-rocketing, affordability has emerged as a significant concern for holiday-makers.
The Real Insurance Australian Family Travel Survey explores the attitudes and behaviours of parents wanting to take their family on a holiday, along with the roadblocks that have changed how Australian families are travelling, including financial restrictions and security concerns. While they may be considered a worthy investment by many parents, there is no denying that taking the whole family away can be expensive. Australian parents are paying an additional $23.6 billion each year to take their children on holidays when compared to solo trips or trips with their partner. Costly flights, accommodation, tours and entertainment, and experiences are why three-quarters of Aussie parents agree that holidays are getting more expensive (77.4%). Close to half of parents surveyed endure a few months of penny-pinching to afford a trip with the whole family (47.1%), and two in five save for an entire year (43%).
Parents are putting their money where their mouths are when it comes to ensuring the safety of their loved ones, paying a whopping $4.6 billion more per year to ensure safer travel trips for their family. Breaking it down per family, this equates to an additional $630 every year on safer accommodation and activities while on holiday. But by no means do parents begrudge this, with four in five agreeing they are happy to spend more to better protect their family.
When it comes to booking a holiday, mums and dads usually have their kids' preferences at the forefront of their minds, but family trips are for parents just as much as they are for their children. The survey shows the increasing cost of travel activities is preventing eight in ten parents from experiencing everything they would like to during a family vacation (79.9%), and is stopping parents from taking their family on holiday as often as they would like (81.6%).
With this in mind, it comes as no surprise that eight in ten Aussie parents are downsizing their travel aspirations and are letting their budget, rather than dreams, dictate the destination (86.8%). And while luxury escapes to Milan or Mauritius might seem out of reach for many, this is an excuse for Aussies to do more exploring of their local spots and surroundings. Local holidays also provide a secondary upside, as the findings show two-thirds of parents are more likely to opt for a local holiday option rather than travelling overseas (68.2%).
Affordability may be a bump in the road for some family holidays but these days many parents are considering "staycations" as a solution to cost concerns. In fact, the survey shows two-thirds of Aussie parents are opting for staycations over overseas trips (65.1%), and three-quarters of parents feel some pressure to favour a family staycation over international getaways (77.7%). Staycations are gaining in popularity as Aussie parents acknowledge that they are a less expensive way to enjoy quality family time, while having the experience of trying something new, with two in five parents agreeing they would like to try a home holiday (39.3%).
For those who do still wish to travel abroad, almost all Aussie parents plan ahead to ensure they get the best deal, with 93 per cent spending a considerable amount of time scrolling through countless offers and deals online. And with each family spending an estimated $4,280 on holidays with their loved ones each year, it seems entirely sensible to invest time to ensure they're saving where possible.
This survey truly demonstrates the love Australians have for their family as well as their "at any cost" attitude to safety when it comes to loved ones. Whether en route to paradise or in a backyard blow-up pool, quality family bonding time enables parents to create magical moments with their children and that really is priceless.
Download full research report