Car series: Purchasing guide for new cars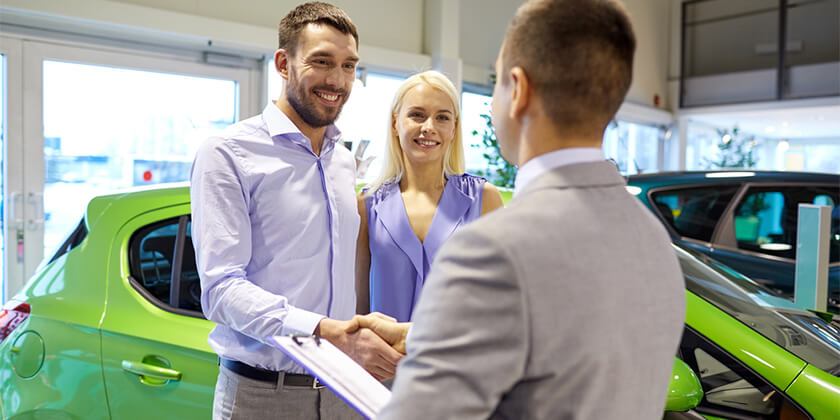 Buying a car is a big decision that involves many considerations. Whether you've already found the right car to buy or are just thinking about upgrading your vehicle, you'll want to do plenty of research before making the decision that will see you driving away in your brand new vehicle.
Patience, research, and a little bit of negotiation are essential to you finding the best car for your needs and budget.
Find the right car
There are a few things you need to consider when buying a new or used car, to ensure you make the right choice for you and your individual needs. Here are some key questions you should ask yourself before you buy:
New or used? Buying a new car offers owners peace of mind, as new cars are considerably more reliable and covered by stricter warranties that last for a longer period of time (usually from three to five years, or up to a fixed kilometre travel amount). On the other hand, used cars are much more affordable.
What's your budget? Before you start searching for your new car you need to set yourself a budget, and make sure you stick to it. This will help you narrow down your search and ensure you don't break the bank when making your purchase.
Have you done your research? Review manufacturer's websites, car buyer guides, surveys, studies, online reviews and ANCAP ratings on the model(s) you are considering. This will help you find a car that is safe and reliable. You may also want to consider investigating the car's fuel consumption, resale value, insurance costs and warranty.
What are the maintenance costs? Find out whether or not the manufacturer offers capped price servicing, and what you'll generally be expected to pay for ongoing maintenance, servicing and running costs. Also find out whether a new model of the same car is about to come out, as this may influence not just the cost of the car, but also what extras the manufacturer will include.
Do you want any special features? There are plenty of nice-to-have options offered by car manufacturers, which can sound essential when you're looking for your new car. However often they're not necessary and add on serious bucks to the total cost of your car. Narrow down features that truly match your needs and steer away from unnecessary extras.
Find out the best time to buy
The next step is to figure out the best time to buy. Whether it's the end of the month, the last week of the financial year, or end of the calendar year, check whether the manufacturer or dealership is likely to slash prices at certain times.
End of the financial year: almost every dealership will offer incentives to make quick sales during this period of the year. Expect to see prices slashed, reduce interest on finance and offers for free servicing.
Christmas: at this time of year dealerships are busy trying to take advantage of the 'spending frenzy', and are usually trying to clear out any left over stock. It's more difficult for dealers to sell cars with the previous years build plate, so you'll usually be able to negotiate a great deal on a new car.
March: this is the time of year dealers become a little desperate trying to get rid of any of last years stock. This is the perfect time to grab a great deal, as well as get a few extras like free servicing thrown in.
At the end of the month: many dealerships calculate their sale results at the end of the month, so they may be more willing to give you a better deal at this time to bring up their monthly sales average.
And don't forget about the weekend! General Manager at one of Australia's biggest Toyota dealerships, Tim Barret, says
"There's a lot more activity in the dealership on Saturdays and Sundays. The salespeople are pumped up, and dealers always want to record a good weekend result"
Don't skip the test drive
Make sure you test drive every car on your shortlist. When visiting dealers, ask to drive your own route rather than one they may recommend, so you can get an accurate sense of how the car performs under different road and traffic conditions.
Always test drive the same model of car you're interested in rather than a similar one as you'll want to know exactly how the car will feel.
Research dealerships
While online reviews can be highly subjective, and at times unreliable, it's still a good idea to research particular dealerships. If you can get firsthand advice from friends, that is all the better.
It's always best to find out about a dealership that has a poor history with customer service before you enter the negotiation stage, rather than after.
Contact the dealerships and ask for the drive-away price, which includes the purchase price as well as stamp duty, registration, and dealer delivery fee.
Arranging finance
Once you have a shortlist of vehicles, you can start looking at financing. At this stage you'll know approximately how much you need to borrow (unless you're paying cash). Dealerships earn a commission on financing, so they might have a vested interest in offering certain financing packages over others. Going with the dealership for financing limits your options, so it's usually better to shop around yourself for a more competitive package that suits your purchase requirements.
The Internet is a great place to start. Get to know the meaning of common car loan terms, and carefully compare rates, terms, and conditions. Borrow within your means, and make sure you have pre-approved finance before you begin negotiations. If you're finding the financing side of purchasing a car hard to understand, it's a good idea to get advice from a financial advisor.
Check the built-date plate
The built date is different from the compliance date. The built-date plate shows you the actual model year of the car, which is when it was built. The compliant plate shows you when the car was approved for sale in Australia. As such, the built date is more important for resale value, so always be clear about the built date of your vehicle and take that into consideration when making your decision.
Negotiate with the sales manager
Make an appointment to see the sales managers of the dealerships you've shortlisted and start negotiating. You might be visiting three dealerships with a view to purchase. When negotiating, never feel pressured to take an offer only on the basis that it will end shortly. If you're trading in your existing vehicle, make sure you're obtaining a fair price for the trade-in as well as the new car.
You have room for negotiation when it comes to dealership fees and extras, even if other components of the drive-away price such as stamp duty and registration are fixed for dealerships in the same state. Dealership fees are technically a fee covering the costs of delivering the car from factory to dealership and preparation before sale. They can vary and in reality, this component of the total price is in part an extra margin for the dealership that you might be able to negotiate on.
If you've requested extras for your quote, focus on these as well during your negotiation. Good negotiation can save you hundreds or even thousands of dollars.
Review the paperwork before finalising
Carefully review the paperwork before you finalise the contract and pay your deposit. Check everything from model specifications and extras to delivery date and cost breakdowns. If you have any issues understanding the terms and conditions, ask for advice.
In NSW, a one-day cooling-off period may apply if you're buying from a dealership and the dealership organises the financing or the transaction involves a linked credit arrangement. In other states such as Victoria you have a cooling-off period of three business days, while other states offer no cooling-off periods for new cars that have not been registered before.
When you're picking up the car, have the contract handy and do a thorough inspection for all optional features and extras as well as paintwork and scratches.
Arranging insurance for drive-away date
Last but not least, make sure you have insurance finalised before you pick up your vehicle. Compulsory third-party insurance is mandatory, but with a new car you might want to consider Comprehensive car insurance for that complete peace of mind. Real Insurance offers competitively priced policies across a range of coverages, from third party property damage cover to comprehensive.
Checklist
Here's a handy checklist to ensure you've ticked all the boxes before signing for your new car:
Research the right car

How many seats do you need?
Will the primary use of the car be for city or country driving?
What car body type do you prefer?

Find out the right time to buy
Test drive
Research dealerships

Who has the best deals?
Who has the best reviews?
What extras do they offer?

Arrange financing

Which loan provider should you use?
How much can you afford?

Check the built-date plate
Negotiate a price with the dealer
Review the finance and car paperwork
Organise car insurance
16 Aug 2016
Real Insurance is an award-winning provider of car insurance.