How to DIY safely at home this weekend!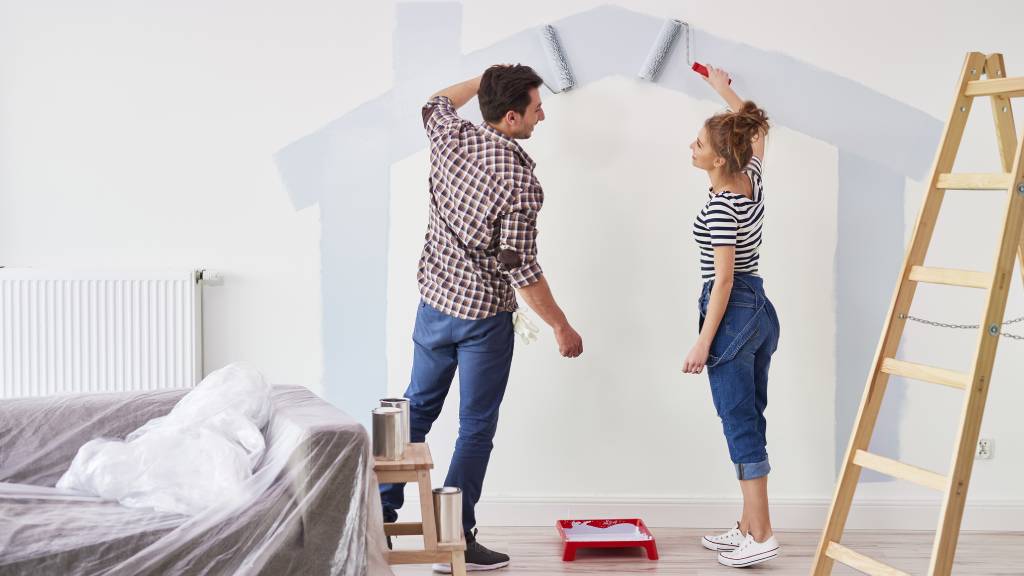 Whether it's the thrill of creating something from scratch or trying to emulate contestants on The Block, there's something very enticing about do-it-yourself (DIY) projects. They are a great way to spend time with friends and family – or for some much-needed alone time – and give you plenty of problems to solve, which keeps the mind active and happy!
If you're looking to spend some time working with your hands and creating something the whole family can enjoy, here are some projects to get you started – as well as helpful DIY safety tips to make sure you don't injure yourself!
Your DIY indoors guide
When you hear 'DIY' you probably imagine working with expensive, complicated tools out in your huge backyard shed. But DIY doesn't have to be so intimidating – or expensive! Here are some quick indoor DIY projects to fill your weekend
DIY #1: Easy-peasy picture ledge
This one is great for DIY rookies or experienced hands who just want a relaxing project to tend to. For a basic DIY picture ledge, all you'll need is a few pieces of wood, some basic supplies (handsaw, screws, glue and sandpaper) and paint if you want it to match your interior.
Once it's done, it can be installed pride-of-place in your living room and stocked with some fantastic photos of your loved ones.
DIY #2: Make your home's interior sparkle again
Is the colour of your walls looking a little faded? Bathroom tiles a bit rundown? Then pop on your DIY hat and get to work!
Whether it's giving your favourite room in the house a fresh coat of paint or making your bathroom spark by re-grouting the tiles, it doesn't require too much equipment and you can get the whole family on board to help out. The most important thing is plenty of elbow grease!
Your DIY outdoors guide
Prepare for the warmer months by starting your outdoor DIY projects today. Here are some ideas for any skill level.
DIY #3: Build your very own backyard theatre
Technically you don't need any handyman skills to create your own backyard theatre. A few chairs from inside, a white sheet for the projection screen and a cheap video projector with a built-in battery (so you don't have to hook it up to a huge extension cord!) will do the trick.
If you want to make things a bit more special though, think about trying your hand at crafting a DIY table. It doesn't have to be complex – or even the most eye-catching! A simple DIY table can be perfect for eating dinner while watching a movie outside – you can even create one from old wooden pallets.
DIY #4: Bring beautiful wood back to life
Timber can make for a stunning centrepiece outside your home – whether it's a wooden deck, timber furniture or even a cubbyhouse for the kids. But left out in the elements, wood tends to warp, split and even absorb water, which turns it damp and rotten.
So take some time this weekend to maintain your beautiful outdoor wood, whether that's giving it a deep clean with a pressure washer, or recoating the surface with oil or varnish to protect it against harsh weather. If you have the patience to learn a new skill, you can even repair rotten timber – which is much cheaper than getting that expensive wood replaced!
DIY disasters: Beware of what could go wrong!
As with all things, getting good at DIY takes practice. So don't be discouraged if a project doesn't turn out perfect the first time. What is most important is staying safe and knowing the obvious pitfalls to avoid. Here are some common DIY disasters and how to avoid them:
Hitting your hand with a hammer – wear protective gloves.
Missing the nail and hammering a hole in the wall – always keep your eye on the nail head!
Getting your fingers stuck together with glue – wear gloves and be careful not to pour out too much glue at once.
Measuring something wrong – remember to measure twice, cut once!
Spilling paint all over the floor – put down an old sheet or towel underneath the paint bucket.
Not using the right screws for the job – do your research and match the right screws for the job.
Top safety tips for your next DIY project
When you're working with your hands – and especially power tools – safety is of paramount importance. After all, you don't want to injure yourself and end up with having to go to the doctor, or worse, the emergency room!
Here are some top DIY safety tips:
Know how to use your power tools: Always read the manual that comes with your tools. And if you haven't used something for a while, make sure you remind yourself of all the recommended safety guidelines before starting the project.
Be aware of your surroundings: Is that paint can sitting precariously on a ladder? Are there electricity lines in the wall where you're drilling? Have you switched the water off before working in the kitchen or bathroom? Always take stock of your environment first. Where in doubt – don't attempt, and get a professional in.
Always keep a first-aid kit handy: No one sets out to injure themselves during a DIY project, but it happens more often than you think. Avoid the risk of injuring yourself and not having the right medical equipment on hand by always keeping a first-aid kit with your tools.
Wear proper protection: Adequate eyewear is essential when using power tools. Similarly, watch out for dangerous fumes when painting or lacquering wood – a simple mask can make your project much safer.
Hopefully we've given you some helpful ways to get started on your next DIY project – as well as some key safety tips to make sure there are no unfortunate accidents! While you look after yourself, it's also worth looking after the home you've worked so hard for.
If you've made any DIY changes to your home then it's time to review your home insurance policy. Get a quick home insurance quote in minutes or call us on 13 19 48.
10 Sep 2020
Real Insurance is an award-winning provider of home insurance.