How to get prepared for bushfire season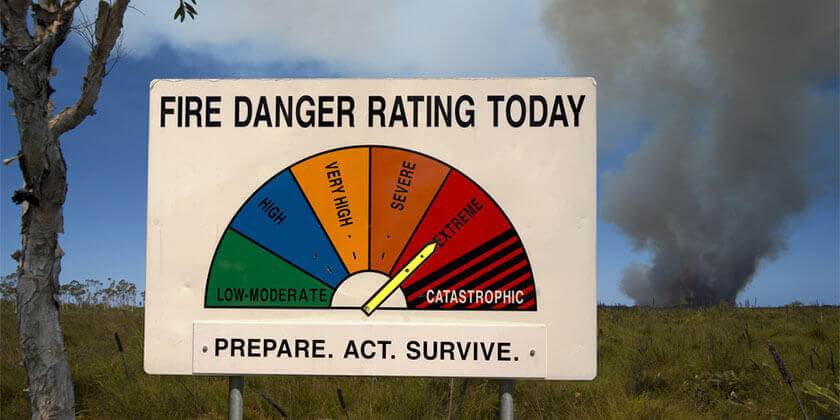 As the temperature starts to rise in Australia, the importance of having your house prepared for bushfire season becomes critical. While you will never be able to make your house 100% bushfire-proof, there are quite a few measures you can take to shore up your defences in the coming bushfire season which increases the likelihood of you being able to save your house and your possessions.
1. Make sure your gutters are cleaned
It's amazing that in a country so susceptible to bushfires this simple measure isn't undertaken more often. Gutters, roof and down pipes tend to get clogged over the winter months with leaves, which make the perfect kindling for embers from a bushfire that is near your house, especially when they've been drying out in the sun. Taking a couple of minutes out of your weekend to clean the gutters doesn't represent a lot of effort on your part, but will make your house significantly safer when bushfire season comes around.
2. Make sure long hoses are easily accessible
Before you get too gung-ho it's important to keep in mind that it's difficult to fight the fire with your standard household hose. But having one handy can definitely make a big difference if there is a fire coming. A hose can extinguish minor spot fires, but more effectively it can be used to hose down your roof and the sides of your house to make them less susceptible to incoming flames. This might not seem as though it will make a big difference, but it can help decrease the chance of embers turning into bigger flames.
3. Make sure any flammable fuels and chemicals are safely stored
This one probably goes without saying, but having flammable fuels and chemicals anywhere near your house during bushfire seasons is ill-advised. Any dangerous fuels or chemicals like methylated spirits and painting solvents should be secured away from the house, ideally in a separate structure like a shed. Also, when you're not using the LPG cylinder for your BBQ, make sure the pressure relief valve is facing away from the house.
4. Make sure your garden and any surrounding trees are trimmed
Again, this is one of those winter chores that can really come back to bite you in the warmer months. Mowing your lawn regularly is important, as the last thing you want during bushfire season is a patch of long, dry, easy to burn grass. Clumps of mulch lying around your backyard is equally as dangerous, and just as troubling are clumps of trees as this vegetation makes the perfect kindling for flames.
5. Be aware of your region's bushfire history
Bushfires aren't exactly like lightning, and they can strike twice. If you live in a region that has a history of bushfires or have trees or shrubs within 20 metres of your house, you need to be aware of this. By being aware of the bushfire history of your region you might greatly increase the chances of getting out of an unfortunate bushfire without harm to you or to those who are most important. Many states and territories have resources available to help, such as past bushfire maps from Forest Fire Management Victoria or the Bushfire prone area Queensland series. Research your own local area or region.
6. Create a family fire plan
There are practical things you can do,and developing a family fire plan will give you the tools you need to act quickly if you find yourself in the direct path of a bushfire. There are many steps to take when creating a family fire plan, detailed in the article How to create a family safety plan for bushfire season but here is a general outline of some of the steps you might take.
Firstly, "discuss". Ensure your entire family (as well as kids) understand the dangers of bushfire season. Next, "prepare". Go through the emergency steps of your plan and nominate an emergency meeting point that is safe and well away from dry and dense bush. Pack a bag of essentials, do a couple of dry runs to practise your escape route. Then, "be alert. Keep up to date with the announcements of your local emergency broadcasters. The final step is to "be informed". Here are some resources to start you off,or find a comprehensive list of family fire plan resources here.
7. Make sure your home and contents insurance has fire cover
It doesn't take a lot of time to access this information and knowing it can fill you with a degree of comfort when you're approaching bushfire season. If you're unsure as to whether your home and contents insurance policy covers you in the event of bushfire, just check with your provider and make sure you're covered. It doesn't take long, but it can give you a lot of peace of mind.
8. Additional measures
Additional measures you can take include:
Making sure flammable items like firewood are safely secured away from the house.
Joining the volunteer fire fighting service or bushfire awareness group.
Repair or cover gaps in external walls, enclose any gaps or areas underneath your house and reinforce the seals around doors and windows to eliminate any gaps.
Put a Static Water Supply sign on your property entrance if you have a pool or a tank so firefighters know they can get water from your place in an emergency.
Have a survival kit packed and ready in your home. This could include:

Battery operated AM/FM radio
New spare batteries
Waterproof torch
First aid kit with instructions
Woollen blankets
Drinking water (enough for 3L per person per day for 4 days)
Canned/dried food to last 4 days
Can opener, cooking gear and eating utensils
Water container
Portable stove/BBQ to cook on, if possible
On the day of an emergency, if you have time you should also grab
Cash, key cards and credit cards
Medications, toiletries and sanitary supplies
Special requirements for infants, the elderly, injured, those with disabilities and pets
Mobile phone and charger
Emergency contact numbers
Extra keys – car and house
Combination/Swiss army knife
Important documents, valuables and photos
Change of clothes
9. Stay informed
It's important that if you are in a bushfire-prone area or if you've heard of a bushfire near your property to keep up to date with the latest information via radio, tv, social media and the authorities. The more you know, the more prepared you'll be in the event that you do have to evacuate. Bushfires don't wait for a time that's convenient to show up at your place, and if you don't ensure you are up to date with the latest information and warnings then you're putting your family at risk.
We're lucky to experience summer in Australia, but the price we pay for these amazing temperatures year round is the responsibility to be aware of the responsibilities of bush fire season.
16 Feb 2016
Real Insurance is an award-winning provider of home insurance.