Your ultimate guide to working from home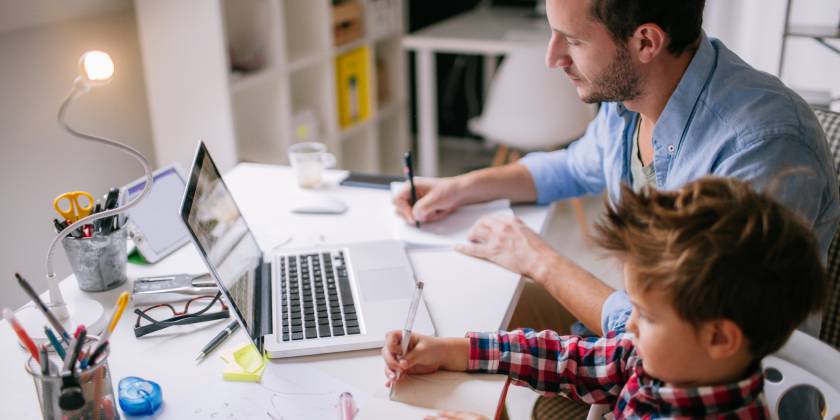 More Australians are working remotely than ever before – particularly due to recent safety advice from the government. In fact, 68% of Australian businesses now support their staff to work from home either part or all of the time, according to a recent study.
While remote working might seem like a great idea at first, there are plenty of considerations to make sure it's a successful transition. If you're about to work from home – or are already doing it – here are some essential tips that can help boost your productivity.
Working from home: 4 tips for success
Depending on your home dynamic, there may be responsibilities or distractions that may impact your productivity levels. Later in this blog we'll discuss how to make working from home possible with your kids around. For now, though, you can get started on your remote-working journey by following these four steps to success:
Create a daily routine: And stick to it! This should involve getting ready in the morning like you normally would, following your usual schedule, and not letting external distractions pull you away from your tasks – in short, pretend that you are actually at the office!
Choose a dedicated work area: It's a no-brainer, but you might be surprised how many people don't have a dedicated work area at home. News flash: it's a fast-track to lost productivity! Instead, set up your remote office in the spare bedroom or in a quiet area of the living room. And if it's a high-traffic part of the house, pop on your headphones and ask the family not to disrupt you.
Cut out social media: It's so easy to open a new tab and jump into Facebook – especially when there's no boss looking over your shoulder! But it's just as easy to lose precious time in your day if you keep letting those birthday notifications distract you. Instead, log out of all your accounts before your workday begins, and you can log back in on your allocated lunch and break times.
Dress for success: It's all good and well to laze around at home on the weekend, but when you're working from home it's easy to fall into bad habits. Some experts say getting dressed up for work can put you in the 'work mindset', which can boost productivity and ensure you don't lose focus.
If you have kids, here's how to work from home successfully
Whether it's school holidays, the weekend or a day off for the kids, sometimes your family will be at home when you're trying to work. It's not impossible to get your tasks done, but it can be challenging if you don't address your work situation with them.
Rather than locking yourself in the spare bedroom and trying to drown out the noise of their playtime with calm music, instead strategise your workday. You can try the following:
Planning activities that don't require supervision: Get them to play an educational game on the computer or watch an informative documentary. Set them up with pens and pencils to create drawings or crafts. Or you can ask them to read a story to themselves.
Prepping food in advance: Nothing's louder than a hungry child, and you don't want them banging down your work door when it's lunchtime and you're still on a deadline. Prepare their snacks and lunch before you start work to avoid any hungry interruptions.
Managing expectations: This goes for both of you. Sit your kids down and explain that you have to work from home, which means you can't be at their beck and call all day. Also, try to manage your own expectations – it's okay to take a break every now and then or spend time with your kids throughout the day. Finally, give your team the heads up that you might miss a phone call or be away from the work chat group for a while if your kids need you.
How to set up your space to work from home
You've set yourself up in a specific area or room all to yourself for remote working, but what else do you need to think about? Remember the three S's: sound, speed and space:
Sound: An employee productivity study found that reducing noise in your workspace equals 50% greater focus and 30% less stress. Whether it's getting the family out of the house while you have an important conference call, or simply popping on your noise-cancelling headphones, try to make sure your workspace is a calm, quiet place.
Speed: Be mindful that if the wi-fi router is at the other end of the house, you're going to be dealing with slow internet all day. To keep your connection going smoothly, make sure all your hardware and software is up to date, and that your router is not placed anywhere which could disrupt the signal (such as in an enclosed cabinet). You also want to make sure your phone is charged and ready for those longer meetings – so keep your charging cable nearby.
Space: Make sure everything you need to stay productive is within your immediate reach. That includes your computer, your phone, your charger, your work schedule and any other essential tools for the job – like coffee! You don't want to be getting up and down 50 times a day.
How safe is it to work from home?
Just because you're at home doesn't mean accidents can't happen. In fact, Safe Work Australia (SWA) recommends that you acknowledge the new risks that will arise when working remotely.
In particular, SWA says there are "physical risks from a poor work environment, such as workstation set-up, heat, cold, lighting, electrical safety, home hygiene and home renovations. There are also potential psychosocial risks such as isolation, high or low job demands, reduced social support from managers and colleagues, fatigue, online harassment, and family and domestic violence."
Yes, working from home may be safer than driving into the office every day or working on a dangerous construction site, but it's not without its own risks. Make sure you are aware of the physical and psychological risks so you can make the most of your new remote-working situation. It may also be a good time to review any insurance policies you might have to ensure you are adequately covered for your new lifestyle.
Health benefits of working from home
People who have never worked from home might joke that it's an easy way to put on weight and never exercise, but in fact the opposite is true for many remote workers. There are actually lots of health benefits of working from home, including:
Lower stress levels.
More time to get up and move – especially during the time you'd usually be stuck in your car or commuting on public transport!
Healthier at-home food options than cafes and fast food shops near the office.
Greater work satisfaction, which can improve your overall wellbeing.
Lower contribution to pollution via your commute – which means a healthier environment!
Working from home comes with plenty of benefits, but it's not without its potential drawbacks. Spend a little time preparing and building routines to turn your work-from-home transition into a successful arrangement.
While you're preparing your new work-from-home lifestyle, why not explore the benefits of home and contents insurance? You never know what the future holds for your career, but you can be sure your home is covered. Whether you are looking to cover your house, its contents or your investment property, Real Insurance has great value options to suit your needs. Find out more about Real Home Insurance.
19 May 2020
Real Insurance is an award-winning provider of home insurance.