6 interesting facts about Father's Day you may not know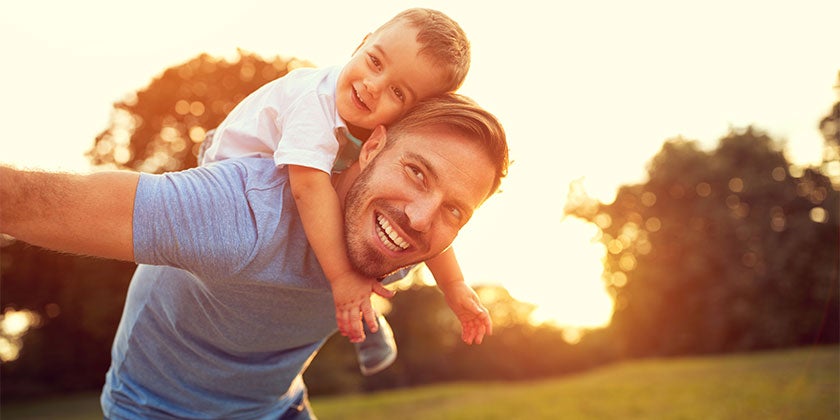 Father's Day is the perfect opportunity to remind the dads and father figures in our lives how much we care about them. But we haven't always had a special day devoted to dads.
Here are some things you may not know about the history of Father's Day.
1. The first Father's Day was inspired by a single dad
Father's Day came about thanks to the daughter of a single dad called William Jackson Smart. A Civil War veteran from Washington in the United States, William's wife died during the birth of his daughter, Sonora Smart Dodd.
William raised Sonora and her five older siblings on his own. With Mother's Day celebrated each year, Sonora felt her Dad – and fathers everywhere – deserved a special day too. She campaigned for first Father's Day and the first one was held in her father's birth month, June, in 1910.
2. Father's Day initially received opposition in Australia
In the 1930s, the idea of a Father's Day started to take hold in Australia, with discussions cropping up each year after Mother's Day was celebrated in May.
Some didn't welcome the idea, though. In 1939, a Sydney newspaper published a piece about Father's Day, including comments from Reverend Rayward, superintendent of the Central Methodist Mission: "There is as yet no Father's Day. Commercial interests endeavour every year during September to initiate such a day, but it always falls flat. In view of the fact that the move is purely commercial, it deserves to do so."
3. Father's Day arrived in Australia in a different month
Mother's Day in Australia lines up with the rest of the world, in May. Father's Day; however, is celebrated here in September while dads in the UK, US and most other parts of the world celebrate it in June.
Most commentators suggest the date was chosen for commercial reasons and to fit around other dates on the Aussie calendar. However, way back in 1911 – only a year after the first Father's Day in the US – another Sydney newspaper reader suggested "seasonal" reasons: "September should be the month in which to hail him king, for, under the Southern Cross, it is in that month Dad's fancy lightly turns to thoughts of love."
4. Father's Day was well and truly alive in Australia in the 1940s
By the 1940s, Australia had embraced Father's Day and celebrated it on the first Sunday in September each year. Indeed, some had become a little too enthusiastic about showing dads how much they care.
On Father's Day in 1945, a discharged RAAF pilot, Maxwell Bishop Holland, took off from Mascot in a Moth plane on a mission. He flew to his father's home in Vaucluse, descended from 3,000 to 100 feet, and threw out sweets with a Father's Day message attached. The mission didn't quite go to plan – although the sweets landed without incident, they were seized by youngsters rather than the dads. And the well-meaning pilot copped a five-pound fine for flying without a civil licence!
Dads in Australia: Fact file
1 in 5 Australians are dads
4.6% of Australian dads are stay-at-home fathers
There are 156,000 single-parent dads
5. We're still celebrating, but dads are changing
Father's Day grows more popular every year, and the dads being spoilt these days are a little different compared with the dads back when Father's Day first gained popularity.
According to social researchers McCrindle, 2.2 million dads have kids under 18 years.
The average age of dads with a newborn is now 33 years, with the age rising steadily since the 1970s when the average age was 26 years.
Stay-at-home dads are (slowly) growing in number. In 1981, just 1.9 per cent of two-parent families had a stay-at-home dad. In 2016, that percentage was sitting at 4.6 per cent.
Dads want more time with their kids. Figures from the Working Parents Report show that 65.1 per cent of fathers not returning to work immediately after having a child are being judged negatively by society. Over four in five (83.2%) say they would have liked to stay home with their child longer before returning to work, and over two thirds (68.4%) wish they had held off on returning to work so they could spend more time with their child during the early years.
6. How we celebrate today
Cards, celebratory lunches and breakfasts in bed are standard gifts. But in the digital age, our search for the perfect present is often made online.
Research shows many of us turn to Google in the weeks before Father's Day, with GPS navigation devices, soccer gear, hardware, outdoors supplies and car merchandise the most popular searches.
And thanks to our position as the odd one out internationally, we can celebrate outdoors in the spring sunshine rather than shivering through a winter's day in June.
Armed with these Father's Day facts, you now have even more reason to appreciate the day we dedicate to dads. And as you celebrate with food or hand over a gift, don't forget to tell the dads in your life how you appreciate everything they do.
Real Insurance is an awarding-winning provider of value-for-money insurance products. Find out more about our life insurance and request a quick quote online now.
23 Aug 2018
Real Insurance is an award-winning provider of life insurance.