How much do boomerang kids really cost?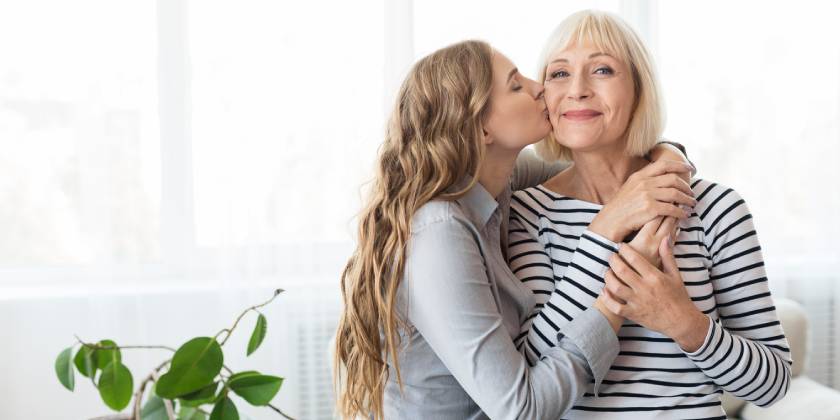 For many young Australians, stepping into the housing market can be really tough. It's unsurprising that the recent Real Concerns Index found finances was one of the top concerns for respondents of all ages. In fact, one thing that under 55s and over 55s had in common was "money worries". 51.4% of under 55s and 53.9% of over 55s felt worried about their finances, which also indicates that getting into the housing market seems out of reach for younger Australians.
Coupled with the rising cost of living, we're seeing an increase of what's known as 'boomerang kids' – adult children returning to (or still) living at home as they try to raise enough money to move out for good. This can have a lasting impact on their parents' resources, who themselves are trying to put away enough money to last through their retirement.
With the Australian Institute of Family Studies (AIFS) finding that more than 43% of 20–24 year-olds were still living with their parents in 2016, compared to 36% in 1981, it's a situation that plenty of Aussies are dealing with right now.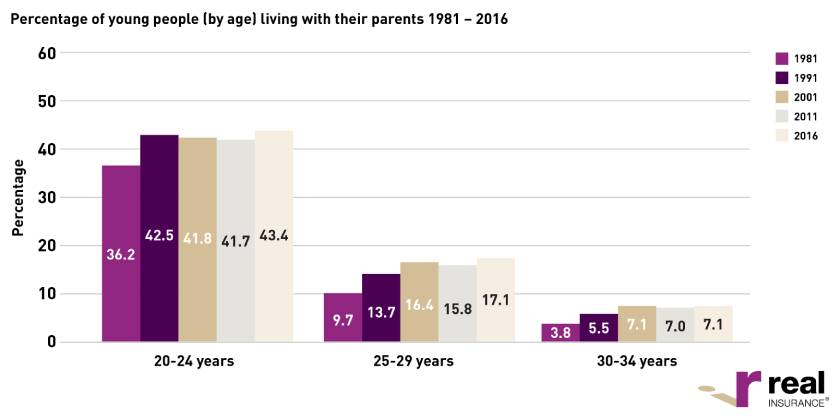 Source: aifs.gov.au/facts-and-figures/young-people-living-their-parents
What is a boomerang kid?
A boomerang kid is someone who has left home for a time but returned to live with their parents, most commonly due to a lack of financial ability to survive on their own. A broader definition includes kids who've not yet flown the nest but have decided to continue living with their parents while they try to raise enough for a house deposit.
While the AIFS study found the vast majority of boomerang kids are within the 20–24 year-old age group, 34.3% of boomerang men were aged 25 to 34, while 18.5% of boomerang women were the same age. So rather than it being a short-term fix, some boomerang kids may stay at home for several months or years.
For the parents, this can be a serious drain on their finances This often means the parents are covering most of their children's living expenses, and in many cases not receiving rent in return.
What are the actual costs of adult kids at home?
Parents understand that they are legally obligated to provide for their children until they are 18 years old. With the rising cost of housing, it's no longer guaranteed that young adults will have the financial capacity to move out straight away.
The average cost for a family of four living in Sydney is close to $5,000 every month (includes costs such as transportation, clothing and shoes, sports and leisure, education, monthly utilities and entertainment). That's before rent or mortgage repayments. Combine this cost with the Real Concerns Index reporting that nearly two in three (62%) Australians admitted they are struggling to keep up with the rising cost of living.
If parents of boomerang kids dip into their parent's savings, or stop extra contributions into their super, this can leave a dent in finances. In more serious cases, parents might take on debt to cover living expenses and this can majorly impact their retirement plan.
Practical strategies to protect your retirement dollars
The good news is there are practical strategies you can employ if your children return to live at home while they build up a savings buffer to move out on their own:
Pay rent: If your child comes back to live in the family home, it's entirely reasonable to ask them to contribute with rent. Rather than allowing them to stay free, consider making them pay 50% of what they would pay on their own, as this will cover some of your costs while allowing them to still have enough for savings.
Cover their own expenses: Daily meals, essentials like toothpaste and toilet paper, and even fuel for family cars can all add up. If your boomerang kid intends to take advantage of all the family home has to offer, get them to contribute a fair amount. If they are short on funds, perhaps they can contribute in other ways, such as taking over the cooking or doing weekly cleans of the house.
Use a financial tracker: Help your child get financially savvy by having them start using a financial tracker. There are lots of online tools that are free, and when used correctly they will reveal where all their money is being spent – for better or worse. Some of the big four major banks now have apps that can track your spending into buckets such as groceries, entertainment, health and dining out.
Introduce them to a financial planner: If you're nearing retirement age and plan on downsizing, there may not be room for your boomerang child much longer. To help get your kid back on their feet, consider getting them some financial counselling. You can find free financial counselling services through community organisations and your local government, while the National Debt Helpline (1800 007 007) may be useful depending on your child's circumstances. From there, your child can become more financially confident and implement savings strategies to help them find their own place in the near future.
Returning to the family home because of high rents, unreasonable house prices and rising living expenses doesn't mean your child has failed. However, you shouldn't have to bear the financial burden on your own – especially if you're preparing to retire.
With all the extra expenses that a boomerang child brings, what would happen to your family if the worst case scenario was to happen? Life insurance can help protect your family's financial future by insuring your most precious asset: your own life.
19 Dec 2019
Real Insurance is an award-winning provider of life insurance.