Aussies reveal their top 3 concerns: The Real Concerns Index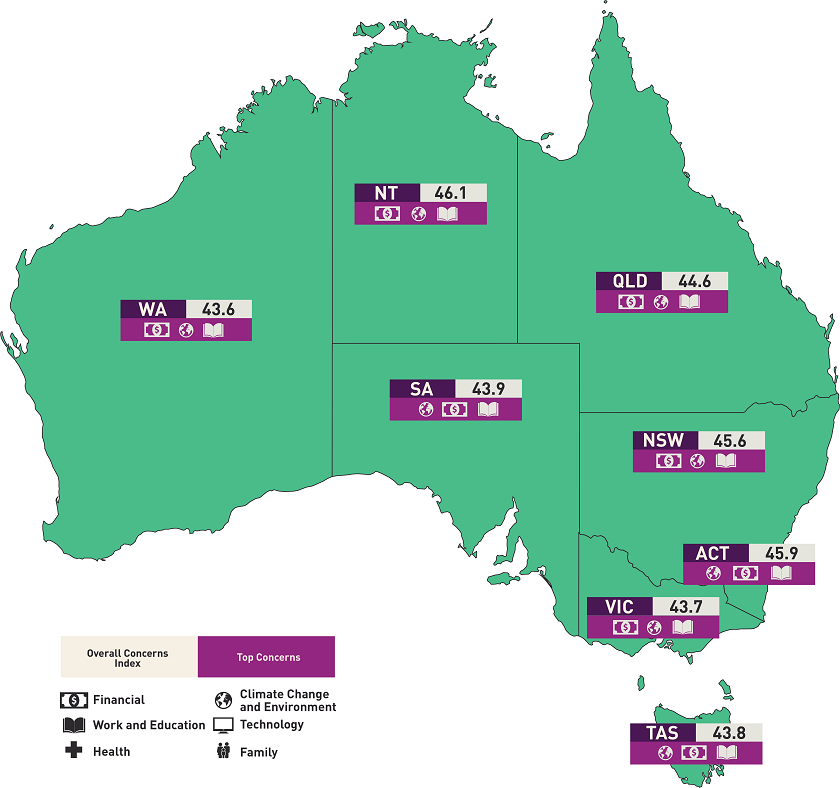 1 Jun 2019
What are the concerns that are keeping you up at night? Perhaps it's remaining in your job, saving enough to bid on a property – or even thinking about starting a family. Whatever you're tossing and turning about you're probably not alone.
In the first annual Real Concerns Index Aussie families rated the concerns of family, financial, work and education, health, technology and climate change and environment out of 100. Top concerns were then identified with an average index score given to each, topping the list we found financial constraints (51.4/100); climate change and environment (49.9/100) and work and education (46.8/100) as the areas we are most concerned about.
When we look nation-wide at the average index scores, the Northern Territory (46.1); ACT (45.9), New South Wales (45.6) and Queensland (44.6) have the greatest concerns surrounding financial, climate change and environment and work and education.
Now let's dig a little deeper into the drivers behind these areas of concern.
More than half of us are concerned with financial constraints
When we decide to settle down and start a family, naturally we want to financially prepare as best we can for those big events in life. Whilst we realise the importance of this, life's daily spending can play a huge part in our ability to save in the long term.
Close to nine in 10 (88.5%) of us admit we're consumed by daily expenses and the burden of keeping up with rising living costs. Our financial concerns also relate to rising energy and fuel prices (78.3%); economic instability in the local economy (56.1%); living pay cheque to pay cheque (63.5%); planning to start or grow a family (32.8%); living healthier becoming too expensive (64.4%) and the cost of tertiary education fees (44.8%).
It's clear we're feeling unsettled with the state of the current economy. On a global scale (60.1%) and at a local level (56.3%). This concern is driven by local job opportunities, security and wage growth (66.1%). On top of this, the impact of the global economic downturn (42.9%) has also contributed to our anxieties with the local economy.
Our future ambitions of home ownership and retiring comfortably have been set aside just so we can keep our feet pedalling through each day. More than half of us (56.1%) feel that home ownership is becoming unattainable and simply cannot afford to get into the property market in its current state.
And what about our ambitions 20 to 30 years from now? Saving enough money to cover the whole of retirement is an increasing barrier, with close to three quarters of us (70.9%) citing this as a key concern.
Close to half of us are concerned with climate change and the impact on the environment
Whether it's our barrier reef, our oceans – or our picturesque landscape, we want future generations to experience the beauty our country offers. It's for these reasons and more that over three in five (64.5%) of us are concerned with leaving an environmental legacy behind for our families.
What's in store for our families in the future? Will they continue to swim and surf, or camp under the stars? Almost six in ten (59.8%) feel the degrading environment will affect our quality of life with pollution (79.6%) and destruction of natural wonders (78.0%) at the heart of what's driving this concern.
Almost half of us are concerned with work and education
Whilst a sustainable lifestyle is important to us, whether it's spending time with family and friends or maintaining our health, more than half (52.5%) are working overtime in fear of losing our jobs. Overall, the top three work and education concerns we have, are with our jobs not paying enough in order to keep up with the cost of living (74.3%), future job security and market stability (60.3%) and the impact of work on life and wellbeing (60.9%).
Here's a breakdown of the top three concerns impacting each state currently.
New South Wales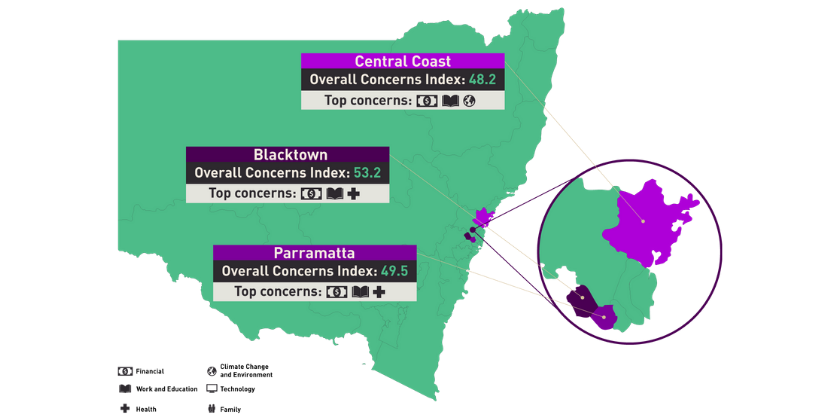 In New South Wales, Blacktown has the highest combined Concern Index score of 53.2/100 – financial, work and education and health are all contributing concerns to this score. Paramatta mirrors Blacktown's concerns with a score of 49.5/100. On the other hand, Central Coast concerns consist of financial, work and education and climate change and environment of 48.2/100.
Queensland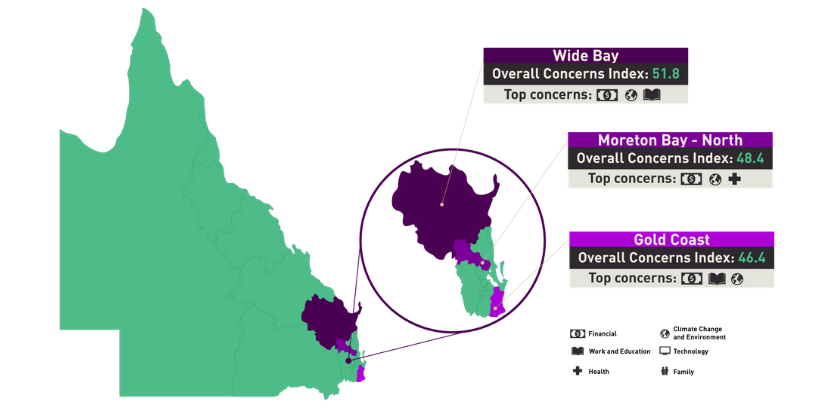 In Queensland, Wide Bay has the highest overall Concerns Index score of 51.8/100 consisting of financial, climate change and environment and work and education, followed by Moreton Bay North with a score of 48.4/100 who shares the same concerns with health in place of work and education. The Gold Coast is the least concerned of the three with a score of 46.4/100. Financial, work and education and climate change and environment all contribute to this score.
South Australia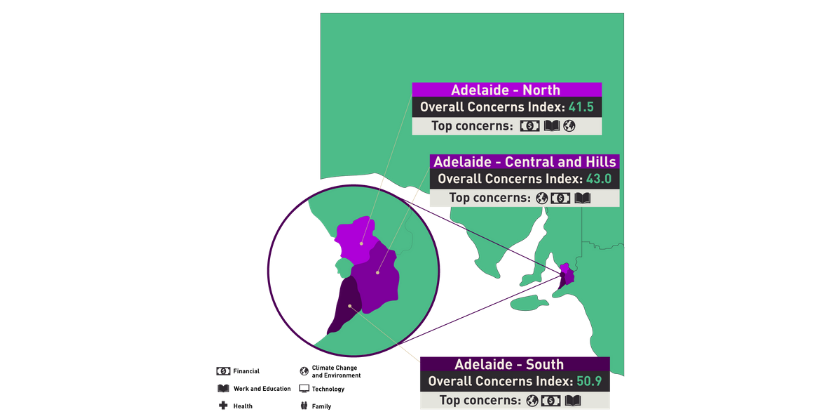 Financial, climate change and environment and work and education all contribute to the overall Concern Index scores in South Australia – South Adelaide has a score of 50.9/100; Central and Hills is 43.0/100 and North Adelaide is 41.5/100.
Victoria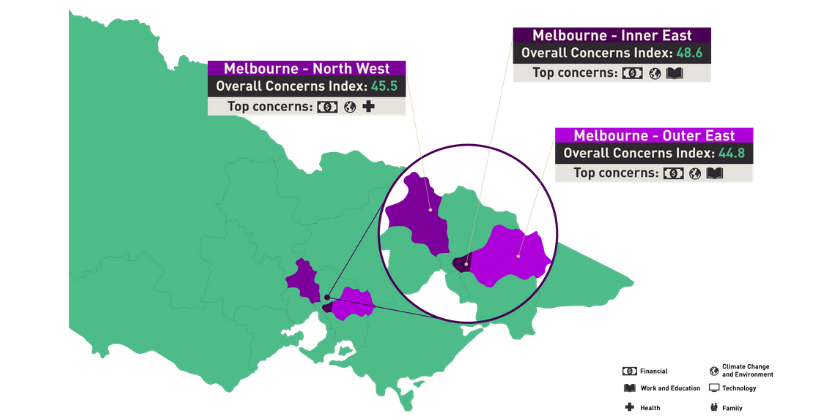 In Victoria, Melbourne, the Inner East has the highest overall Concern Index Score of 48.6/100 with contributing concerns including financial, work and education and climate change and environment. Whilst, Melbourne – Outer East sits at 44.8/100 and has the same concerns. Melbourne – North West is at 45.5/100 and has financial, climate change and environment and health contributing to the core of their Index score.
Western Australia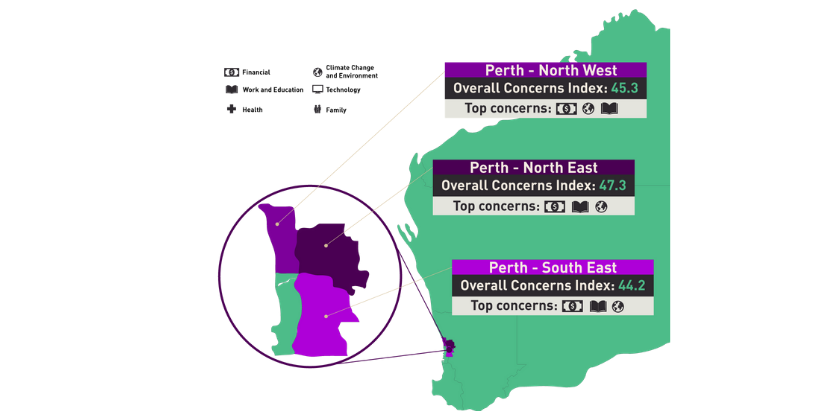 Perth has the lowest overall Concern Index Scores. Perth's North East is the highest in the state with an overall score of 47.4/100, Perth – North West sits at 45.3/100 and Perth – South East is the lowest of the top three at 44.2/100. All state climate change and environment, work and education and financial concerns top their list.
The Real Concerns Index is the first instalment of research that aims to understand the biggest concerns Aussie families are faced with. Stay tuned as we continue to look how these concerns compare year on year.
Download full research report