Unlocking the 2020 Real Wishes of Australians
27 Feb 2020
Whether it's budgeting better, spending more time with loved ones or giving thought as to how we can help improve the environment, the start of a new year is a great time to map out our personal ambitions and goals for the year ahead – and beyond.
We surveyed 5,000 Aussies to understand exactly this – what we're wishing for, now and for the future. From what we want to see for our nation, to what we really want for ourselves. The Real Wishes Report explores this in detail, now let's take a closer look…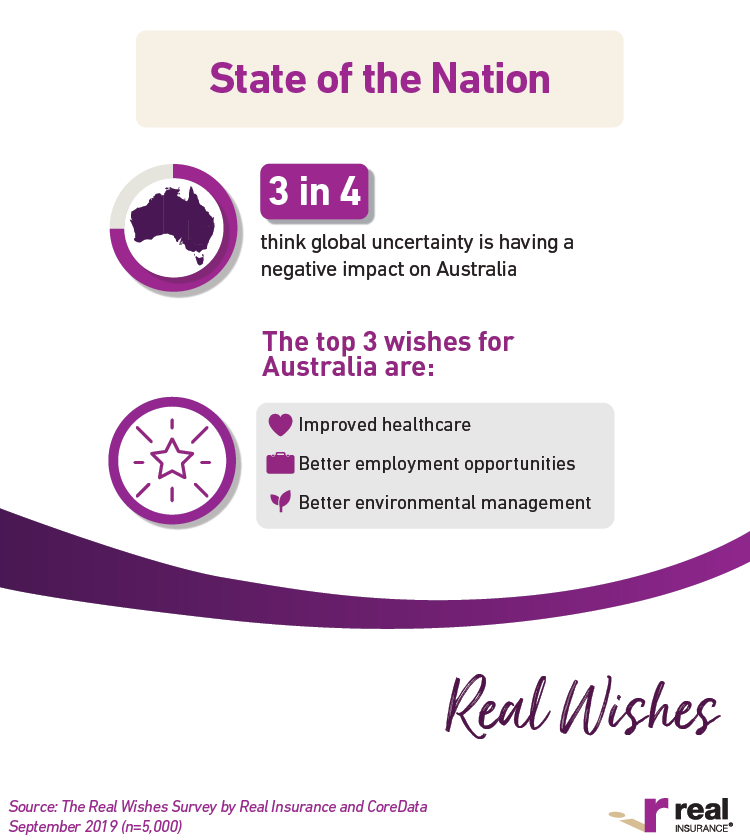 When looking at the state of the nation and what we're wishing for, three quarters of us think global uncertainty is having a negative impact on Australia. As a result, most of us want to see improvements in healthcare, employment and the environment.
The devastating bushfire crisis our nation is currently facing will have long-term implications on our environment, economy and communities.
Now, let's dive deeper into our personal Real Wishes now we've entered a new year, and a new decade.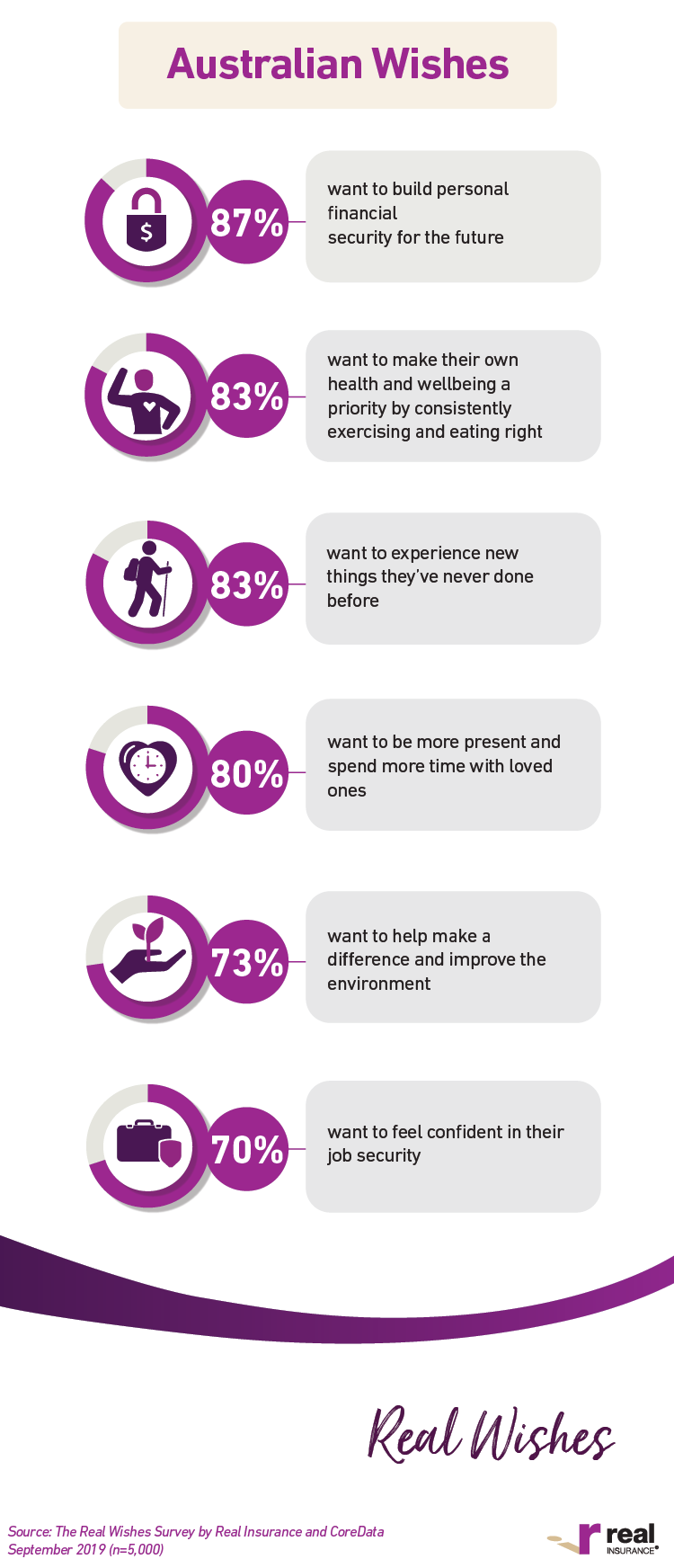 Financial stability is key
Nearly all of us (87%) want to build personal financial security for the future, while eight in 10 of us want to budget better and save more money. Buying that dream property is no longer a major financial desire with many wishing for financial security and to be able to splurge on gifts for family and friends.
Mind, body and soul
There's no doubt about it, improved health and wellbeing always sits high on the list of new year resolutions. This year, most of us (83%) want to prioritise our own health and wellbeing by eating right and exercising regularly.
Experience the unknown
We Aussies are known for globetrotting and adventure seeking, so it's no surprise that travel and trying new things top the experiences wish-list for us. Four-in-five (83%) of us want to experience things we've never done before, including travelling to places we've never been to, or taking a risk and unearthing our inner adrenaline junkie. Make 2020 the year to spend following our passions.
Home is where the heart is
It's hard not to get caught up in the daily grind and the pressures of work and life, and this year, we are going to focus on looking inwards and reflect on how to be our best selves. And not just for ourselves, but for others as most of us (80%) want to spend more time with and be more present for our loved ones.
Go green
Australia boasts some of the most pristine coastlines and picturesque landscapes across the world, and given the current bushfire crisis, the environment is more important to us more than ever. Three quarters (73%) of us indicate a strong desire to help do their bit and make a difference to improve the environment. We also want to invest in sustainable living including solar panels and energy saving devices in our home design.
The importance of job security
The dreaded daily grind is a thing of the past, with more of us (70%) concerned about our careers and wanting to feel confident in our job security. The peace of mind that comes with knowing that we've got a steady income is key to us feeling safe in our careers.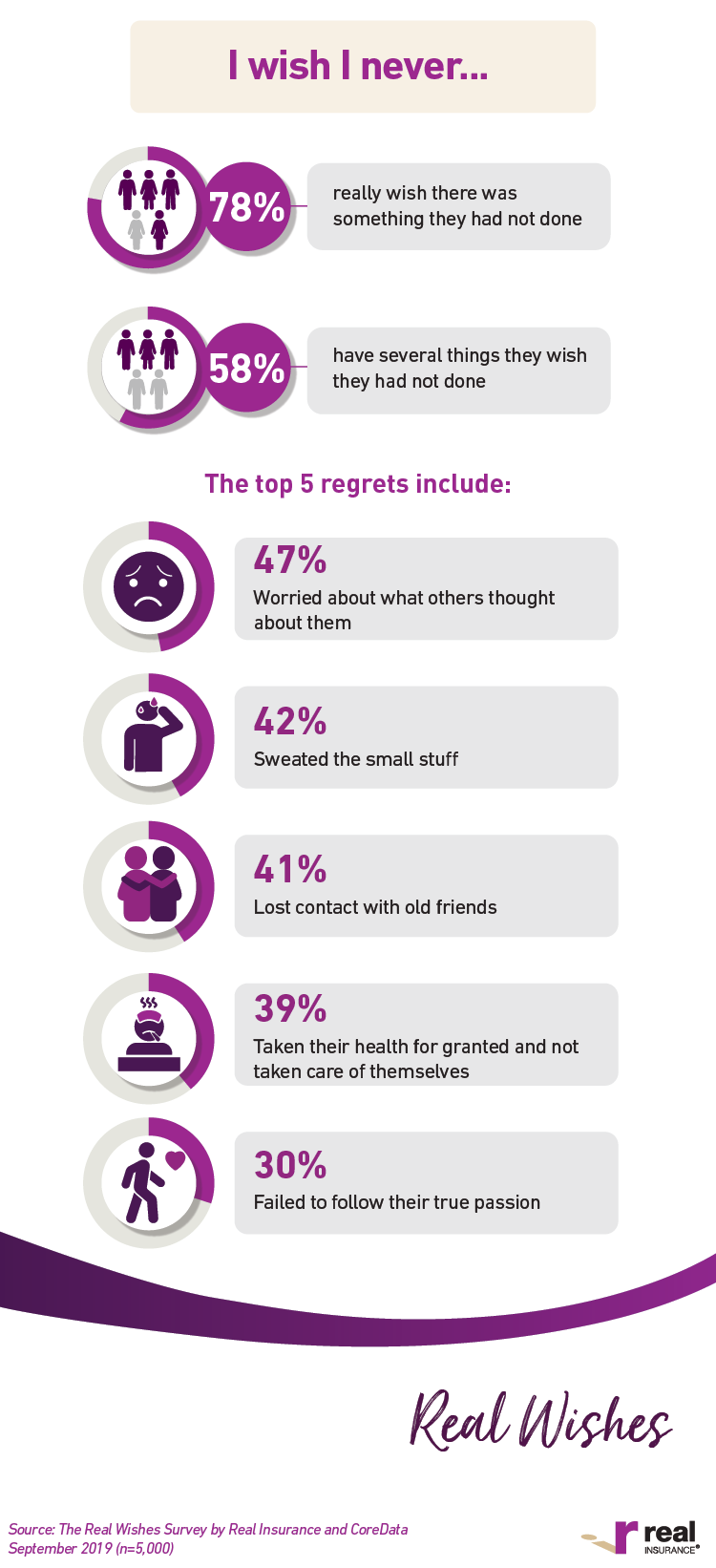 In 2020 we're doing things differently
Looking back, our top five regrets include worrying about what others thought about us so much, sweating the small stuff, losing contact with old friends, taking our health for granted and not taking care of ourselves and failing to follow our true passion. Ultimately, the new year and the new decade is a time to map out goals and support one another to achieve our wishes and assist with motivating action and achieving our dreams.
More of the real deal from Real
Download full research report