Etiquette Series: Guide to walking your dog safely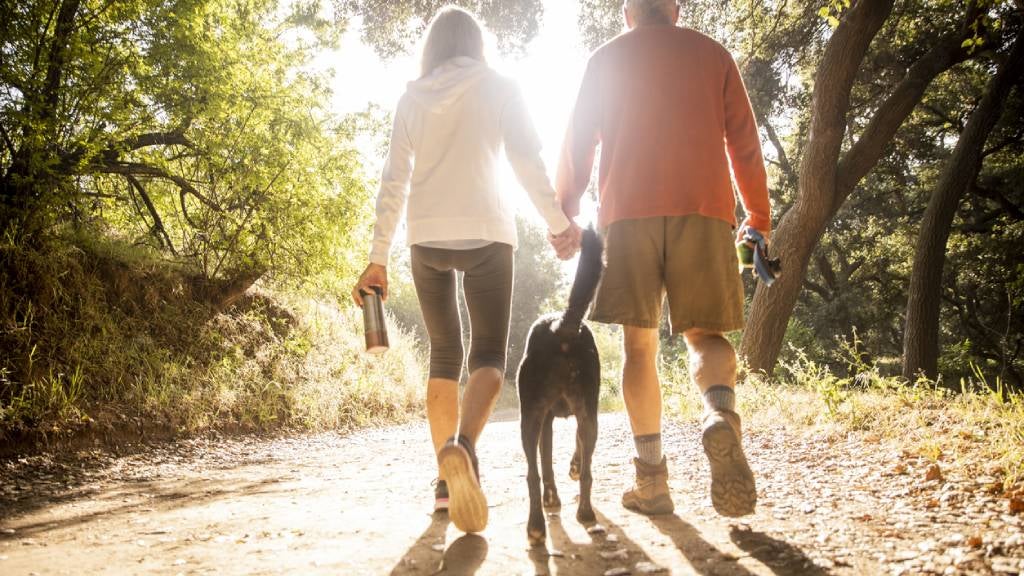 There is no dispute that regular walks and outings keep your pup happy and healthy. Keeping your dog active can also lead to the potential benefits of a lowered heart rate, overall wellness and even the lessened stress levels that we discussed in reasons why a pet is good for your wellbeing, so it's no wonder many Australians simply love walking their furry friends. But what are the general rules around dog walking in your local area, and what equipment do you need to ensure your best mate is safe and comfortable on daily walks? We explain things you need to know.
General (unspoken) etiquette for walking your dog
The number-one rule when out and about with your dog is to pick up after them. Make sure you always have a few doggy bags in your pocket in case they need to stop and do their business. Many parks around the country even have permanent doggy-bag holders installed in case you forget to bring your own.
Also be respectful of other dogs on your journey. While some dogs are extremely friendly and will be happy to greet you, other dogs may be less social or even feel threatened if approached by an unfamiliar animal. Your best bet is to ask the fellow dog owner if they are comfortable having your dogs say hello to each other.
Also be aware of your surroundings. Keeping to the footpath and dog parks means you won't run the risk of accidentally trespassing on private property.
On-leash and off-leash areas
It's important that you are aware of where you need to keep your dog leashed and where you can let them roam free – not only because there are rules in place for a reason, but also for the safety of your dog and those around you.
Most parks will have signage that indicates whether it's a strictly on-leash area or whether you can let your dog run free over the parkland – in some instances, dogs may be banned from the area entirely.
Dog parks are generally off-leash, as they are properly enclosed and designed for the enjoyment of all pups big and small. You may also find beaches that aren't overly busy allow dogs to roam around without needing to be leashed. One simple way to begin your search is to simply type (your Council + off leash dog park) into your browser and to see what comes up, or check out a free, Australia-wide directory such as Aussie Dog Friendly.
Just a leash or a harness instead: What's the right choice for your dog?
Before you head out for your regular walkies, make sure your dog has the right equipment to keep them safe. A collar that is too big or a leash that isn't designed to handle your dog's strength can be a health risk. Speak to your vet or your local pet store to find out what will suit your breed of dog best.
Leather leashes tend to be stronger than nylon versions, and they also allow for better grip and control while you're walking alongside your pooch. Choosing the right flat collar is also important, as you want your dog to be comfortable and not stressed when you're walking around outdoors.
One of the most common choices for pet owners these days is switching from the standard collar-and-leash combo for a harness. Harnesses can provide much better body support for your pet while allowing you to control hyperactive or more aggressive dogs without injuring their necks. You can choose from front-attaching and back-attaching harnesses, and there are sizes to suit all breeds – from the smallest Toy Poodle to the biggest Great Dane.
Getting outside with your dog is not only great for your dog's physical and mental wellbeing, but for you as well! Just make sure you get them a leash or harness that is comfortable and secure, and practise good dog-walking etiquette so everyone has a good time.
Make sure your best friend is covered
Pet insurance can make an expensive – and unexpected – visit to the vet much less stressful, and Real Insurance makes it easy to get cover. If you haven't done so already, make sure you consider cover against unexpected illness and injury with pet insurance.
26 Oct 2021
Real Insurance is an award-winning provider of pet insurance.