These home office items are dangerous for pets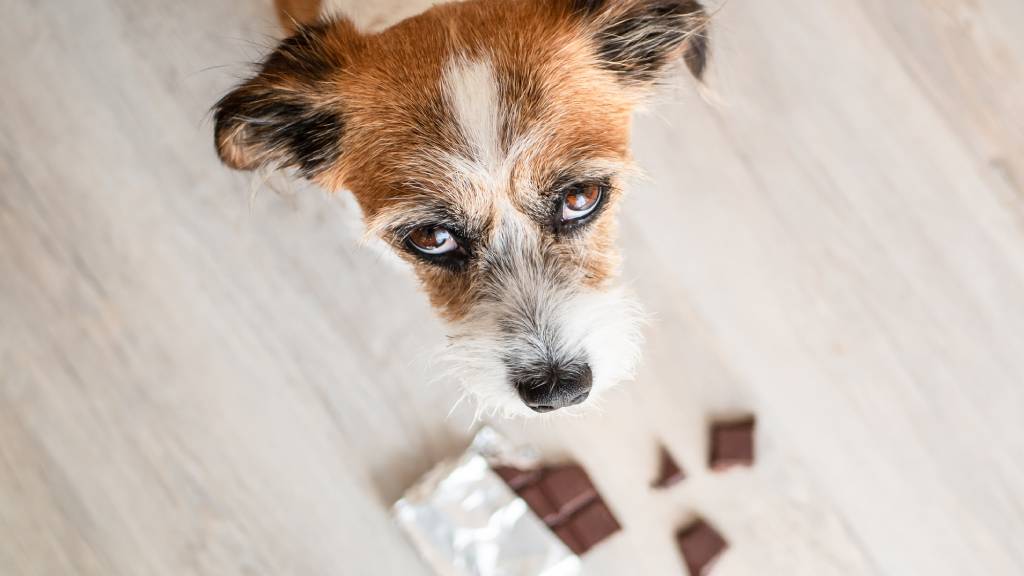 Pets probably think the COVID-19 pandemic is the greatest thing to happen to them – ever. Their owners are spending more time at home, they get more walks than usual, and they are probably enjoying a few extra treats.
But with so many Australians now setting up a home office to work remotely, this presents a few new potential dangers to our furry friends. Here's what to look out for if you've brought the workplace home.
Are pets being exposed to more dangers now that we're more at home?
It's important to remember that just because you're at home more, that doesn't mean your pet is completely safe.
While you get into the work rhythm in your new home office, it's easy to forget that lots of items at your job could actually be potentially harmful to your furry friend. From pet-unfriendly food to falling objects, here are some harmful things you should be aware of.
Energy snacks and morning coffees at your desk
Just because Rover is whining at your feet during your lunch break, that doesn't mean it's a good idea to give him a taste of your human food. While there are lots of good foods that dogs can eat – such as carrots, green beans and broccoli – most of the snacks you keep at your desk are a big no-no.
Mixed nuts and trail mix, for example, can be deadly to your pet. Almonds can cause digestive distress in cats and dogs, while macadamias and walnuts are toxic for animals and can cause deadly seizures.
Likewise, chocolate, coffee and even tea are extremely dangerous for dogs because they all contain methylxanthine. We know these are workplace favourites, but if you must have them then maybe leave your pet outside your room.
How to avoid an accident: Are you a constant snacker throughout the day? Make sure any food on your desk stays in a sealed container!
Heavy electronic devices
Stepping away from your desk for just a second could be at your pet's peril. Cheeky pups and curious cats have a way of playing with things they're not supposed to. It may be all fun and games until a computer falls off your desk and injures your pet. Aside from the financial damage of a broken device, your pet may also be seriously injured.
How to avoid an accident: If you have a portable laptop, pack it away when you're done for the day or make sure it's in a place that your pet can't reach. For larger devices like desktop computers, keep the door to your home office closed whenever you're not using it.
Indoor plants
Making your home office truly productive takes a bit of work, but even the smallest addition can boost your mood and increase your productivity. In fact, research shows that adding a plant to your desk can improve concentration, productivity and wellbeing by 47%, and give your memory a positive injection by up to 20%.
Unfortunately for your furry friends, those indoor plants can actually pose a deadly danger if eaten. A number of common indoor and outdoor plants are deadly to dogs and cats, so it's important to think twice before adding that pot plant to your home office. Here are a few of the most popular – and most dangerous:
Lily
Hydrangea
Aloe vera
Azalea
Tulip
Hibiscus
If you want to keep greenery around your home office, make sure it's well out of reach of your pet. Even better, choose a plant or flower that isn't deadly to animals, such as camellias, ferns and bottlebrush. And when all else fails, go for a trusty fake plant – it'll last forever, and you won't have to water it!
It's true that spending more time with your pet during the day can be great for your mental health and for your pet's happiness, but there are dangers to their health you need to be aware of. A quick spot-check before starting work and monitoring your pet can put your mind at ease.
Getting a pet insurance policy can also put your mind at ease and help to reduce the financial impact of vet visits due to illness or injury*. Call Real Insurance on 1300 377 325 to find out more.
19 Jun 2020
Real Insurance is an award-winning provider of pet insurance.