How much does it cost to own a dog in Australia?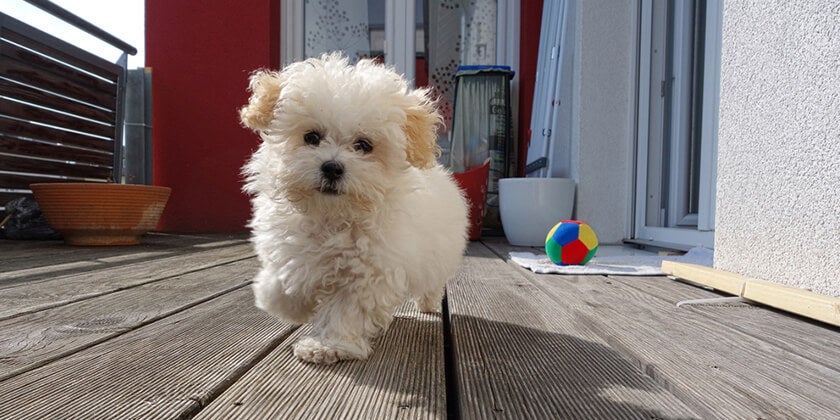 Our canine companions give us joy, unconditional love and plenty of laughs, but providing the best care for them can lead to high costs over the years. So, how much does it really cost to own a dog? And what can you do to protect yourself against unexpected expenses while ensuring your canine family member gets all the health care he or she needs?
An overview of costs
Initial Outlay
When first purchasing a dog there will be a lot of initial expenses to cover, including everything from purchasing fee to vaccinations. A full breakdown of average costs can be found here.
| | |
| --- | --- |
| Item Description | Average Cost |
| Purchase price – this will be dependent on where you get your pet from, the age and the breed. | From $0–$3,500+ |
| Initial vet expenses – including microchipping, vaccination, de-sexing, vet check-ups etc. | Up to $1,000+ in the first year |
| Accessories – Collar, harness, leash, car restraint, bowls for food and water, bedding, toys etc. | Up to $500+ in the first year |
| Other services – including obedience training, local council registration, etc. | Subject to business prices |
The estimated total costs for the first year, totals $3,000 to $6,000 on average.
Ongoing Expenses
Feeding and caring for our canine family members over the years isn't cheap. It costs around $1,500 a year for one dog, which includes food, grooming, vet, boarding, and health products.
| | |
| --- | --- |
| Item Description | Average Cost Annually |
| Food | $622 |
| Vet care | $397 |
| Health products | $248 |
| Grooming | $129 |
| Accessories (as above) | $100+ |
Over a lifetime, the total cost per canine family member comes to an average of $25,000. The RSPCA estimates the first-year-ownership cost to range between $2,350 and $5,220. These costs demonstrate the investments families are willing to sacrifice to have a furry friend, and yet it's surprising that only one in four dog owners have Pet Insurance.
Statistics on Pet Insurance
Australia is a nation of dog lovers. 39% of Aussie households have a canine family member, and there are 19 dogs to every 100 people in Australia. When it comes to insuring our pets, at 5% of all our pets being insured we're ahead of our US counterparts (2%), but behind our UK friends (25%). Aussie dog owners are insuring their dogs in greater numbers than in the past (from 2013 to 2016), but only around 30% of households with dogs have pet insurance. This mean the majority of dogs (and their families) aren't protected by insurance and may be exposed to unexpected, high medical bills.
Rising health-care costs and premiums
Pet health care and treatment costs are rising, and pet-insurance premiums have been rising in accordance. Animal obesity, osteoarthritis, hypertension, and diabetes are some of the growing claims categories by value, and this could be a reflection of how Aussies are increasingly regarding our pets as family members.
Advancing diagnostics and treatment options
At the same time, the types of treatments available for our pets have increased, and this might also be driving the growth in claims. Diagnostics have become more sophisticated, with more blood tests and other tools available to vets. This means dogs could have more treatment options available if they do become ill or injured, and it underscores the vital role Pet Insurance can play by helping pet owners fund treatment options for their dogs.
Welcoming a dog to your household can be one of the best decisions you'll make. Our canine family members boost our psychological and physical health while giving us unconditional love. Whether it's accident or injury, as a loving dog owner you'll want to make sure you can pay for the treatment your dog needs. Pet Insurance is one way to provide you the peace of mind you are covered for if your dog suffers an illness or specified accidental injury.
Older dogs
Like senior humans, senior dogs are more likely to develop health issues. From arthritis and gum disease to kidney disease and cancer, various chronic conditions requiring treatment can afflict older dogs. If insurance is purchased from an eligible age and there are no breaks in cover, you may be able to ensure coverage continues for your senior dog, and you can continue to obtain the best possible medical care and quality of life for your canine family member. If insuring your pet at a later stage in life be aware that any pre existing conditions may not be covered and that some insurers have an age limit on taking out new cover.
Benefits of Pet Insurance
One of the most important advantages of having Pet Insurance is it covers you for unexpected medical costs arising from illness or specified accidental injuries. In these situations, you'll want to ensure your dog gets the level of care it needs in a timely manner.
Emergencies and life-threatening conditions – Unexpected medical bills can arise when you least expect it, and sometimes the injury or illness requiring treatment can be serious or life threatening. While we'd prefer not to think about it, it can happen. In the event it does, you'll want to be able to get your dog the urgent medical assistance it needs.
Certain Accidents – Accidents might include burns, snake bites, and falls. Depending on your policy, it might cover you also for routine health care such as teeth cleaning and worming.
Most of your treatment costs – Your insurance cover may pay for all or a part of your treatment costs.
Annual benefit limit – Policies vary, but generally you'll have an annual benefit limit you can use as required on any type of covered treatment under the accident or illness category.
Extra benefits – Your Pet Insurance may cover you for extra benefits such as emergency boarding for your dog if you as the owner and sole carer has to go to hospital. It might give you overseas cover if you're travelling with your dog.
The benefits of owning a dog
Welcoming a dog into your household provides significant psychological and physical benefits.
Stay active – Dog owners get more physical activity under their belt than those who don't own dogs, and they enjoy on average 23 minutes more exercise.
Stay active in winter – In winter, dog owners are more likely to be more active than those who don't own dogs.
Health benefits – Pet ownership might be linked to physical health benefits such as better heart cardiovascular health, fewer visits to the doctor, stronger immunity, and less missed school days due to illness in kids.
Psychological benefits could include higher empathy, self-esteem, and positivity. Pet owners could be more resilient and capable of coping with stress, loss, and grief. According to experts, the unconditional love and companionship we get from our pets can lead to psychological benefits.
Real Insurance offers pet insurance policies to help you protect your dog if the need arises. Contact us today for an obligation-free Pet Insurance quote.
4 Jan 2018
Real Insurance is an award-winning provider of pet insurance.