Pet travel regulations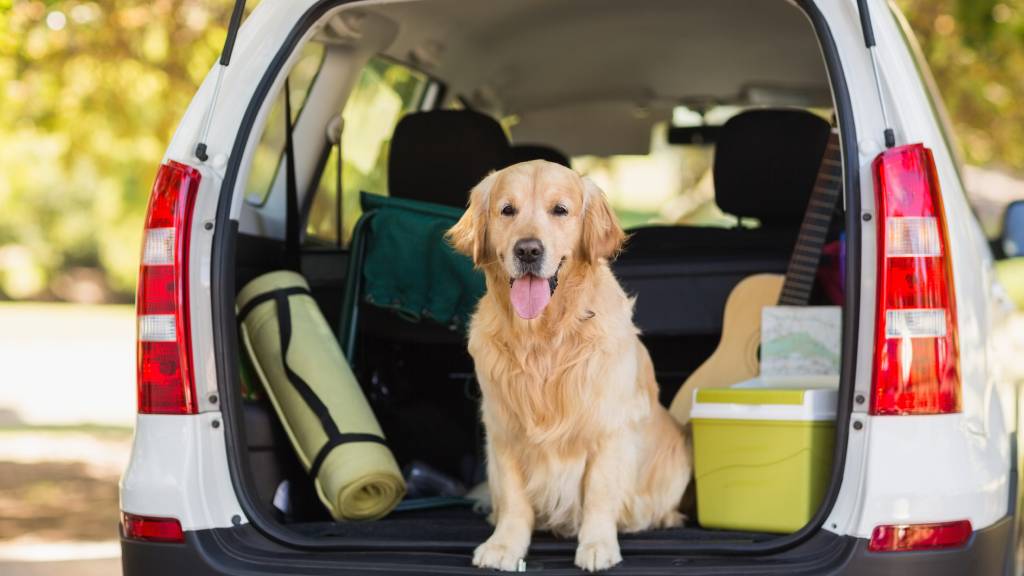 In Australia, we absolutely love our furry family members. In fact, almost nine in ten Aussie families consider their pets just as much part of the family as their human companions (The Real Pets Survey 2018). So, it stands to reason that we want to spend as much time with them as possible. That often means taking them with us in the car, and it's fair to say most of our pets enjoy this nearly as much as their daily walks!
However, there are some rules and regulations around having pets in cars. Don't fear, it's definitely legal to take your furry friends in the car with you, but for their safety and yours, each state has a few rules to follow.
Pet travel by State
The rules governing pets in cars do vary slightly from state to state, as do the penalties for breaking these laws. It's important to note that every Australian state requires animals riding on utes to be restrained safely so they can't fall off.
Below is a list of all states and a link to further information.
New South Wales
If you're driving in New South Wales, you or any vehicle must not lead an animal, including by tethering, while the vehicle is moving. Animals should be also seated or housed in appropriate areas, according to the New South Wales animal travel rules.
Drivers also can't drive with an animal in their lap, and this includes motorcyclists.
Victoria
In Victoria, you're also not allowed to drive a vehicle with an animal on your lap, or while you or a passenger is leading a vehicle. This includes having an animal tied to any part of the car.
There are no specific laws about securing animals in Victoria, however there are strict animal welfare laws. So, if you're not driving safely with your pets, you could be breaching animal cruelty rules.
Queensland
In the Sunshine State, you could be risking some hefty fines if you're caught driving with an animal in your lap. The same goes for leading an animal from a car. There's a little quirk in Queensland, however.
Once again, we see the 'no animals between the rider and handlebars' rule for motorcyclists, but this doesn't apply for distances less than 500m on a road designated for farming activity!
South Australia
We know that dogs need plenty of exercise, however leading them behind a car isn't the right way to do it. Like other states, this will get you a fine in South Australia, and it also applies to bicycles. You and your passengers also can't carry any of your furry friends on your lap.
Northern Territory
The Northern Territory's traffic regulations aren't super specific about animals, except that you're not allowed to drive with one on your lap. They do, however, recommend ensuring all pets are correctly restrained using a secured carry box or pet seatbelt. Most of their rules are about maintaining a clear view of the road and proper vehicle control, which we could all agree is difficult without a properly restrained pet.
ACT
According to the ACT road rules, no animals riding in your lap, or being led by a moving vehicle. The law is also quite prescriptive for motorcyclists. An animal must not travel between the rider and the handlebars, or any other position that could obscure the rider's view.
Tasmania
Tasmanian law specifies all dogs must be significantly restricted whilst inside a vehicle, so they are unable to leave the vehicle or harm any person in the car. Similarly, Tasmania also follows the rule of not allowing motorcyclists to share the front driving space with their pets.
Learn more about the driving offences and penalties in Tasmania here.
Western Australia
Over in the west, the laws are much the same as other states, so there's no driving with animals on your lap or travelling on a motorbike in a way that obscures your view. When it comes to driving with animals on utes, they consider our pets the same as any load, which means they must be secured.
Keeping you and your furry friends safe
In the same way you'd regularly check for signs of tyre wear, it's a good idea to always re-evaluate how you're driving with pets. Road travel can be unpredictable, especially for our furry friends who don't have specially designed seats like we do! Swerving and sudden braking can result in injuries to pets if they're not restrained. While it may not be a legal requirement to restrain all pets within a vehicle, the safest way to travel with a dog in your car is using a well-fitted harness.
Here at Real Insurance, we're all about helping you stay safe on the roads, especially when travelling with your furry friends. From handy advice on car safety to personal car insurance, we're proud to look after your whole family!
9 Dec 2020
Real Insurance is an award-winning provider of pet insurance.