Get smart at home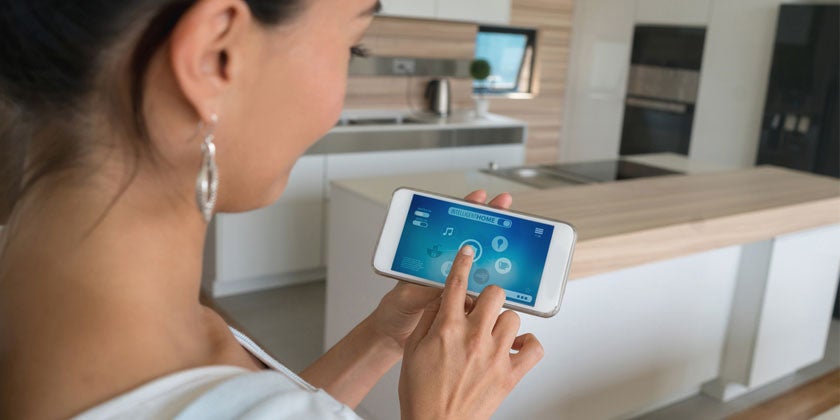 Smartphones have revolutionised the way we live and drive. This technology can also streamline our homes in new and exciting ways. Real Home Insurance reviews some of the ways you can add value, comfort and security to your home through the use of smart home apps and devices.
Smart lights
If you're keen to smarten up your home, smart lights are a great first choice. These clever bulbs screw into your standard light fittings but are operated via controller hub through Wi-Fi and your smartphone. Choose a 'cool' white light in the morning to get up and moving, and switch to a warmer white light in the evening when it's time to unwind. Coloured LED bulbs add another layer of possibility to your home lighting. Increase your comfort at home and reduce your energy bills with smart lights.
Smart plugs
Smart plugs have revolutionised the way we use appliances at home. Once installed (by a licensed electrician), use Wi-Fi and the plug's smartphone app to control any linked 'dumb' appliances with a simple tap! Smart plugs come with a range of features including the super handy 'Away' mode that switches lights on and off to when you're not home. A great burglary deterrent! With our phones never far from reach, turning off unnecessary lights and appliances just got a whole lot easier. Available at leading electrical stores. Your power bill – and the environment – will thank you.
Smart doorbells
A smart doorbell lets you see and hear visitors to your home no matter where you are. Great for apartment dwellers, and those in rambling mansions, these next level video intercoms can notify you via smartphone alert when someone's at the door. The ultimate peephole, you can see who's there, let them in (when linked to a smart lock) or simply chat with your visitor if you're not home, via the two-way talk option from anywhere! Callers can also leave 'missed calls' videos for you to watch at any time. Market leaders in smart doorbells include Ring and Nest. Available at leading hardware or electrical stores.
Wireless sound systems
Once upon a time, we celebrated being 'wired for sound' but today it's all about being wireless, especially when it comes to entertainment. A smart home sound system solution is a must for music lovers and home entertainers of all ages and gives you the freedom to control volume and track selection with ease from your smartphone. There are a great number of wireless sound systems on the market from makers like Sonos and Sony, offering smart, hands-free operation which is perfect for when you're cooking up a storm and need to turn up the volume! Most systems integrate with music streaming providers like GooglePlay, Apple Music and Spotify, giving you a whole world of music at the tap of a screen.
Smart speakers
A cross between a mini – but powerful – speaker and a virtual home assistant, these devices allow you to perform a range of tasks using voice activation. Make a shopping list, shop online, play music and even control other compatible smart appliances in your home. Some of the big names including Amazon Echo, Google Home, and Apple Home Pod each offering a suite of 'skills', 'actions' or 'abilities' to allow you to streamline your digital life and multi-task like a boss.
Wi-Fi boosters
Of course, most smart tools and apps work via your home Wi-Fi connection so to make sure you can get the most efficient operation of smart technology throughout your home, you may first need to invest in a new router or booster. Boosting the Wi-Fi signal means that there will be no dead zones in your house so that all your linked appliances and apps will work efficiently. Talk to your internet service provider or local electrical store.
Smartening up your home involves an initial investment but offers many returns on that investment including reduced energy consumption through custom controlling of appliances, and increased home security through the use of monitoring devices and timers. Time to get smart?
26 Feb 2019
Real Insurance is an award-winning provider of home insurance.