Interesting facts about Mother's Day & its history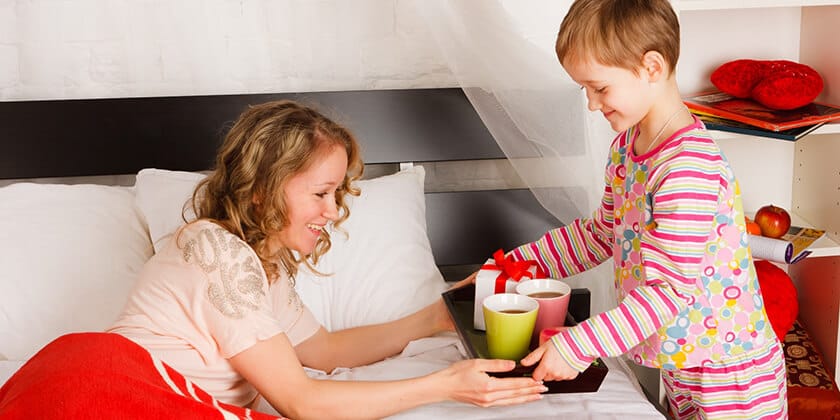 Mother's Day is an integral part of Australian culture, being a day the whole nation acknowledges mothers and mother figures for their work, love, and commitment to their family.
But have you ever wondered where the idea for Mother's Day came from, and how it came to be part of our national calendar? We've taken a closer look.
The global honouring of mothers throughout time
There is a long history of various cultures celebrating mothers and their role in society, going back to ancient times. Ancient civilisations commonly celebrated a 'mother goddess' who they thought of as the mother of all.
The multi-day Durga Puja festival has been celebrated for centuries in India, honouring the 'Mother Goddess' Durga annually who defeated a demon called Mahishasura. It is often closely associated with the celebration of Mother's Day in India, and is considered to date back to ancient times.
In Ethiopia, Mother's Day is traditionally celebrated at the conclusion of the rainy season, when families return home to enjoy a feast spread across several days of celebration. It's a time when mothers and daughters rub butter into their skin and sing songs.
When Christianity spread in the UK and Europe, it incorporated ancient traditions into new celebrations. One such celebration was 'Mothering Sunday', now known as Mother's Day, which originated from the act of people returning to the church they were baptised at (or where as children they attended church services) during Lent. This resulted in families who may have moved away from their childhood home being reunited as adults.
The gift-giving component began when young people who worked as servants in large houses were given the fourth Sunday of Lent (Mothering Sunday) off to visit their own mothers. They would often take a gift of food or hand-me-down clothing from their employers. Today the UK continues to celebrate Mother's Day on the fourth Sunday of Lent, and similarly families give gifts, cards and flowers to celebrate.
America declares Mother's Day holiday
Mother's Day was first celebrated in the US in 1908. However, this was not the first time a day for mothers was suggested. In 1870 during the American Civil War, Julia Ward Howe hoped to create a special day to encourage mothers to come together in peace and encourage their sons to cease fighting. As this was only relevant during the war period, this version of Mother's Day only lasted a few years.
35 years later, American Anna Jarvis held a memorial for her mother in 1905 in West Virginia, which snowballed into a campaign to make Mother's Day – a celebration and recognition of mother's everywhere – acknowledged across the US. Her mission was to honour her mother by continuing the work she had begun as a peace activist during the US Civil War, and by setting aside the second Sunday each May to honour mothers.
Mother's Day was officially recognised in the US as a national day by President Woodrow Wilson in 1914, however it would be 10 years still before Australia would begin its own tradition of Mother's Day.
Mother's Day is born in Australia
In Australia, the gift-giving tradition of Mother's Day is credited to Janet Heyden of Leichhardt, NSW. In 1924, Janet Heyden began a tradition of giving gifts to lonely mothers at the Newington State Home for Women. She did this with the support of local school children and businesses who provided the gifts the children distributed.
Each year following she raised continuing funds from local Councils for the project, which over time expanded further around the country.
Interesting facts about Mother's Day in Australia
According to the Sydney Morning Herald, Australians spent as much as $2 billion on Mother's Day in 2017, with up to $200 million on flowers alone.
Second only to Valentine's Day, Mother's Day is said to be one of the biggest days in the year for the restaurant industry. Compared to a normal Sunday, the average increase in bookings for Mother's Day is 70 per cent according to restaurant booking service, Dimmi.
The Mother's Day Classic is a charity based fun run organised across Australia to raise funds for breast cancer research.
Celebrate with your mum this Mother's Day
Mother's Day is an opportunity for Australians to show their mum just how much they appreciate her and everything she has done for them. How are you going to celebrate with your mum this Mother's Day?
23 Apr 2018
Real Insurance is an award-winning provider of life insurance.