10 simple hacks to make back to school easier [Checklist]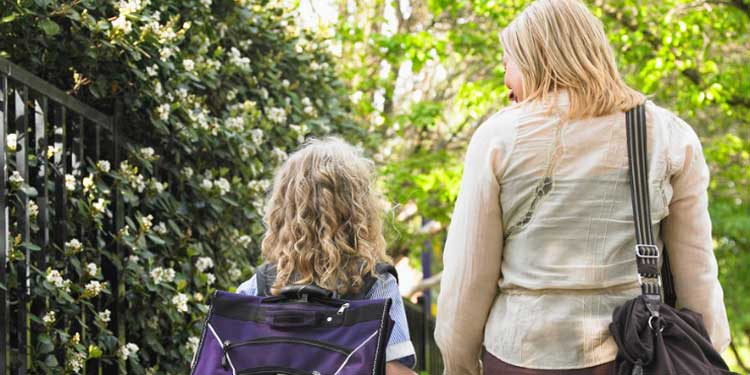 Working Australian families are feeling the pressure more than ever.
In recent years, it has been found that households in Australia spend as much as 3.1% of their total weekly expenditure on education costs – and that figure is growing quickly (up from 2.5% a few years earlier). Getting the kids back to school now seems more costly and complicated than ever to the average parent, so many are now looking for hacks and solutions.
Parents are finding that one of the three most difficult aspects of raising a family and working is missing spending time with children. Because finding spare time to spend with your family is so important, we have put together a list of hacks to help make your life easier when prepping for back to school.
1. Avoid the crowds
Want to avoid the crowds when you do your back-to-school shopping? Roy Morgan Research shows that Mondays and Tuesdays are your best bet for a quieter shopping day, while Saturdays should be avoided, when almost triple the number of shoppers flood to stores.
2. Become a lean, mean, cleaning machine
Hard-to-remove stains don't have to be time-consuming, or even expensive, to deal with. In fact, you probably already have all of the ingredients at home to get some of the most common stains out of kids' school uniforms before the school year begins.
Grass: Pour white vinegar onto stains and rub vigorously. Leave to soak in a bowl with extra vinegar for 30 minutes then wring out excess liquid. Create a paste by mixing baking soda and white vinegar to a thick consistency and use a toothbrush to scrub into the stain.
Grease: Pour cola-flavoured soda over the stained item and leave covered in a bowl. Soak for 30 minutes then wash as normal
Ink: Spray liberally with hairspray (best to do outside). Carefully blot the stain with a damp cloth – do not rub. Repeat several times until the stain is lighter then spray a final time before washing as normal.
3. Backpack safety and comfort
If you're shopping for a new backpack for your child, consider safety and comfort before looks. Choose a backpack with wide, padded shoulder straps and a padded back (you may want to opt for a rolling backpack if your school allows it). Allow your child to try on the backpack before purchasing to ensure it's the right fit – adjust it so the bottom of the pack sits at your child's waist.
When packing the bag for their first day of school, remember to pack light and pack heavier items closest to the centre of the bag for even weight distribution, and to avoid having the bag drag on their shoulders.
4. Simplify snacks
Devote a couple of hours on a weekend to preparing a variety of school snacks for the week, and let the kids pick what they want to eat each morning.
Good Food has put together a guide to 17 healthy lunchbox snack ideas you can make at home to ensure variety and nutrition. And don't fret if you can't do it all yourself – nutritionist Amanda Clark has provided a list of the best healthy store-bought snacks for kids.
5. Make homework work
Designing a kid-friendly work-space will make your lives a little easier and help them get into good habits. Scholastic recommends setting up a homework calendar with a lot of space for writing, and colour-coding events, such as red for project due dates, and green for milestones leading up to it.
Make it both look cool and work efficiently by using sites like Pinterest to get inspiration and to kickstart your creativity.
6. Create school stations
Make the morning rush less chaotic by creating stations by the door! Assign a box or station to each of your kids with their things in them, such as sport clothes and hats, and have them take responsibility for grabbing the right stuff each day.
You can also create bag nooks in the house so the kids can leave and collect their bags each day – and you can make sure that they are cleaned out! Uber-mum The Organised Housewife has collected a number of different ideas to make functional nooks look cool, from using the first letter of your child's name to displaying their artwork above the hooks.
7. Get on the same page
A big calendar with everyone's commitments on it will make sure you remember who needs to be where, when. It can be as simple as a sheet of cardboard divided up into days each month. Get the kids involved in being organised by decorating and adding events as they arise.
8. Involve the kids
Some crafty YouTubers have come up with funky ways to make everything from stationery to backpacks. Let the kids shine by trying some of these ideas, such as DIY glitter pens and colourful backpacks, to personalise their things without shelling out for expensive brands.
9. Click and collect
Online shopping can not only save you time, but money too. Many of the big chains now have click-and-collect shopping options where you can select what you want online and then collect the packed items so you don't have to pay the shipping cost.
10. Every nook
These simple hacks will help make the back-to-school preparation, easy, stress-free and exciting for your kids. Read more family and lifestyle tips.
Download our free Back to School Checklist
Real Insurance has put together a comprehensive downloadable back to school checklist to ensure that you don't forget anything on the first day back to school.
10 Apr 2019
Real Insurance is an award-winning provider of life insurance.