10 ways to tackle money issues as a couple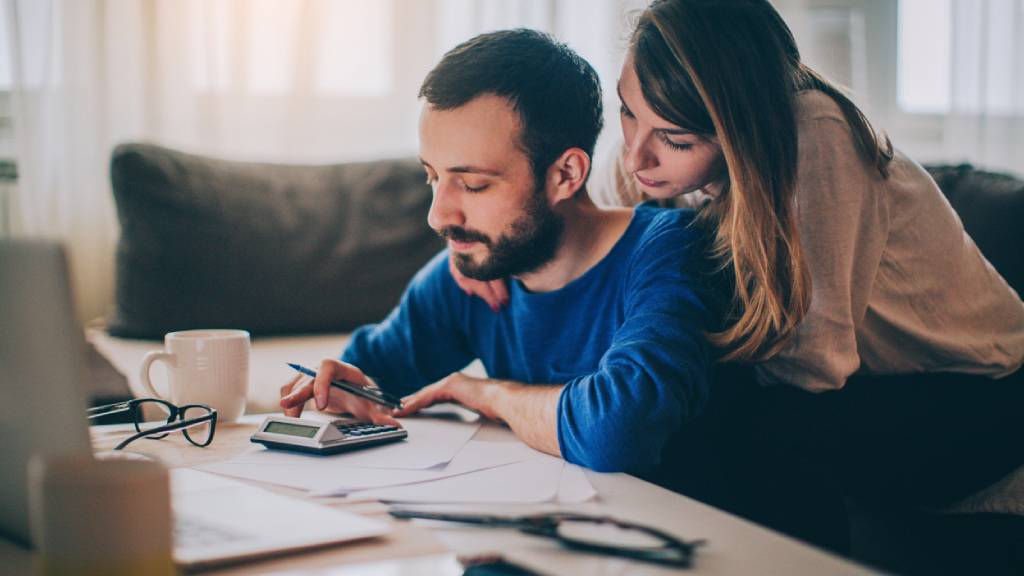 Money problems and financial pressures are often referred to as the number one cause of relationship arguments. Job loss, illness, unexpected expenses and spiralling debt are all known factors that can put a great strain on personal relationships.
Some people will have completely different outlooks and attitudes towards money, including its importance and how it should be managed. Differing pay packets or if only one person is working in the relationship can contribute to the imbalance of financial power between couples. Perhaps it is not "who wears the pants" but "who pays the bills" that ultimately determines who has financial control over a household.
So how can a couple tackle money issues together as a team, reduce stress and achieve a positive outlook financially? The following gives you some ideas on how managing money as a couple can be achieved:
1. Have an open discussion
It is important to have an open non-judgmental discussion to learn everything you can about each other's attitudes on money and individual financial goals. This should not be an argument but an opportunity to learn and understand each other, and work out each other's outlook and opinion about money. Some people are natural savers, others like to live for the moment. Understanding who we are when it comes to money is the key to working on a plan together.
2. Have a plan
Once you have established an open line of communication, set out some goals that you want to achieve as a couple. Where are you heading together? Are you looking to save for a deposit on a new house, pay off a debt, save for a holiday or new car? Get on the same page and perhaps write individual wish lists and then prioritise based on which goals are shared.
3. Save for a rainy day
Unexpected expenses are a part of everyone's life. Having some money that you can access quickly, without having to use credit cards, can save you money in the long run. The first goal of your joint savings plan should be to have a savings account specific for "rainy days". This may start at $1,000 or be at least one month's worth of rent or mortgage repayment. This can be used for unexpected fines, car repairs, medical expenses or home repairs.
4. Reduce unnecessary waste
Everyone has that thing that makes them feel good. It may be that daily coffee, or weekly magazine, the dinner nights out or that outfit you just can't pass up. This is where you need to find ways to cut back on unnecessary spending and expenses without finding another reason to nag or constantly bug your partner. Firstly, review the last three months of your bank accounts statements. Look at where you are spending money and determine your biggest unnecessary expense. Discuss ways that you can reduce spending. Set budgets for socialising and general spending and think of ways to reduce waste. Remember there has to be some freedom for each individual, preventing unnecessary tension.
5. Plan for your budget over the year
Make a list of all of your known expenses such as your mortgage, rent, car payments and registrations, insurances, bills, birthday gifts, Christmas spending, holidays, school fees, weekly groceries, sports activities and other regular spending. These will add up quite quickly and it will be easy to get an overview of your spending habits. Set a budget for Christmas spending and have a set price for what you spend on gifts. Plan to go to restaurants that offer set price menus for groups and BYO. There are plenty of apps and tools to help you with budget planning and management.
6. Set up the right bank accounts
Having the right bank accounts is a great way to manage money. Individual accounts can be perfect with automatic payments from each person into a high interest savings account. Make sure your have the best value accounts – savings accounts should offer the top interest rates, every-day accounts should have low transaction fees and credit cards should have good rates. Make it a practice to call your bank every year to check you are on the best option rates for all of your accounts – you will be surprised on what your bank can offer.
7. Get professional advice and ask for help
If you are struggling with paying your bills, make sure you contact each of the suppliers and let them know you are experiencing a time of financial difficulty and ask for a payment plan. If you are looking for longer term advice on how to grow your financial success, make an appointment with a financial planner or speak to your bank and work out a savings or investment plan. Be sure to get advice on how to maximise your superannuation payments and be sure to locate and merge any multiple super accounts you may have.
8. Be responsible
Sometimes prevention and planning can save you lots of money in the long run. Regular dentist check-ups can prevent expensive treatments. Adequate insurance for cars, home and contents and even your life can provide assistance and support when you need it the most. Be responsible, active and organised in managing your finances – create folders, keep receipts, make diary alerts for renewals and keep on top of your tax returns. In most relationships there is one person who is more inclined to manage finances, however it is in both party's best interest to understand and be aware of spending and finance status.
9. Manage your debt
Getting into debt these days is easy, getting out of it can be difficult. Try and break the habit of spending on credit. Work towards saving for new purchases rather than putting them on credit cards or loans and building a mounting credit card debt. Reduce the balance amount limits for credit cards. If you have a credit card with a $10,000 limit, it is easy for that balance to sneak up over time. If you keep it at $3,000, it is easier to keep a tap on credit purchases. Beware of new PayPass features that automatically put spending onto credit cards.
10. Act as a team. Talk about it
No matter how well you organise things, stuff comes up, things happen and life isn't always easy. It will only be harder if you are arguing about it. Try and approach things with a kind approach and talk together without questioning accusingly. Try and encourage each other to stay on track with your joint goals and be supportive rather than critical. Sometimes it is the tone of the voice and not the question or comment that puts people offside.
11. Earn extra income
Every year, living in Australia becomes more expensive and in most cases salaries are not going up at the same rate. So if you are stuck on a set wage, you may be heading backwards. Consider your options for bringing in extra income by taking on another job, doing some freelance work or asking for additional hours at work.
22 Jun 2015
Real Insurance is an award-winning provider of life insurance.