Childproofing your home: when and what do you need to do?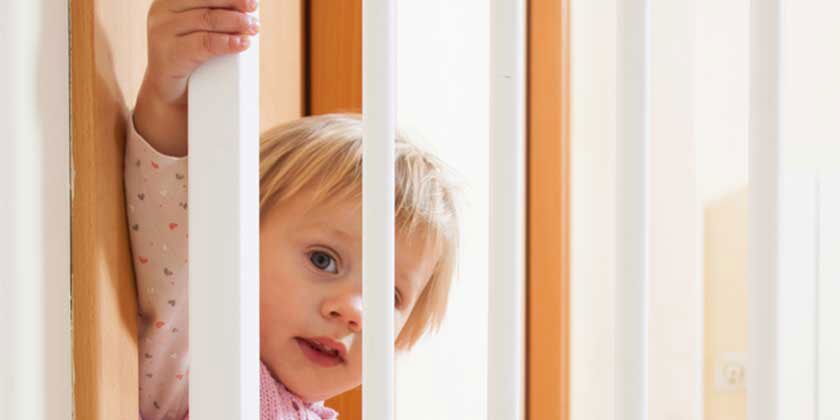 We take our home's interior spaces for granted, but from a child's point of view the home can be fraught with unexpected dangers. Curious bubs and deft little fingers can get stuck in the unlikeliest spaces and there will be more risks to consider as your child starts crawling, walking and exploring. To childproof your home, take a fresh look at your spaces and try to see them from your child's perspective, then act to reduce access to possible hazards.
When to childproof and the importance of supervision
Childproofing your home should start before your bundle of joy arrives and continue beyond the toddler stage. Most babies start crawling between seven and ten months on average and your child could start getting mobile around the house earlier than that, which means that when they are five months old it's a good time to upgrade your childproof measures.
Once your child becomes a toddler and starts walking the list of potential hazards grows to include driveways, doors, stoves, and other threats. This is another stage when you might need to upgrade your childproofing to your baby's new level of mobility.
Keep in mind that no childproof measures can take the place of supervision, which, along with helping your child learn about risks and safety, is core to keeping your child safe.
Nursery
Make sure you childproof your nursery before your baby arrives, and continue to upgrade these measures as required when your baby starts to crawl and walk.
Furniture and equipment: Ideally baby furniture and equipment, such as mattresses, cots, and highchairs, should carry the Australian Standards mark. Tables and gates won't bear the mark so you will need to assess these individually for safety features. Avoid cots with widely spaced slats as your baby's head could get stuck between them. Furniture items should be stable and firm in construction with smooth surfaces without sharp protrusions. Keep cots away from windows, heaters, wall decorations, lamps, and climbable furniture.
Blankets and pillows: Keep blankets, pillows and stuffed animals away from the cot as they can pose a risk for suffocation.
Mobiles and toys: Once your baby can sit upright by him or herself, remove anything with hanging parts such as mobiles. Buy age-appropriate toys and remove all packaging before you give them to your baby. All toys should be kept in open toy boxes to avoid the risk of baby fingers being injured by lids or drawers. Damaged toys should be thrown away immediately.
Baby monitors: Choose a wireless baby monitor or make sure you keep cords wound up and out of reach of your baby.
Carpets and mats: Apply non-stick carpet grippers or pads to reduce the risk of tripping as you are carrying your baby.
Kitchens and laundry
The kitchen and laundry can pose a lot of risks for kids. Once your baby starts crawling, walking, or even climbing, secure these areas with a range of locks and guards.
Choking hazards: Fridge magnets can be choking hazards so keep these out of the reach of your child. Similarly, plastic bags can be dangerous for small children so make sure these are packed away in the cupboard. Dry pet food is another potential choking hazard and should be kept out of reach – ideally in a locked cupboard.
Locks: Use locks or anti-opening devices on ovens, microwaves, fridges, dishwashers, washing machines, and dryers. It's also a good idea to keep drawers locked so you can keep sharp objects such as knives and forks out of reach. Use protectors on switches to prevent your child turning on these kitchen appliances.
Appliances: Secure appliance cords with cord organisers so they are not left hanging over benches and tables where your baby can pull on them.
Stove guards: Use stove guards to protect your child from hot oven doors and stove tops.
Cleaning products: Keep dish detergent, laundry powder and other cleaning products in high cupboards or secure lower cupboards with locks and latches to prevent access.
Poison hazards: If you store any dangerous substances in your house you should consider moving them to the garage or keeping them in a well-locked container or cupboard.
Bathrooms and hot water
Bathrooms are another area to watch out for as the hot water and wet environment poses risks such as slips and burns.
Hot water: Always use warm water on your baby and test the temperature before bathing your baby. Use a thermometer if you have any doubts; the water temperature should be between 35 and 37 degrees Celsius. To be extra careful, consider installing anti-scald devices on your bathroom faucets.
Slips: Use a non-stick bathmat in the tub as soon as your baby is old enough to sit in the tub. Use non-stick mats on the bathroom floor to reduce the risk of falling when you are carrying your baby.
Appliances: Pack away bathroom appliances such as hairdryers every time. Make sure cords are well out of the reach of your baby, whether they are in the water or not.
Balconies, stairs, and windows
Falling is another common risk for babies and young children around the house. Balconies should have high balustrades and access should always be supervised.
Use well-fitted gates at the top and the bottom of stairs. Snap-lock gates are best as they self-lock.
Likewise, windows should be fitted with safety glass or window locks to reduce the risk of falls. Fly screens don't prevent falls, so if your windows aren't secured, always supervise your baby around window areas and keep furniture items well away so your child can't climb close to windows.
Other areas of the house
Furniture and fixtures: Use bumpers on furniture items to minimise the risk of injury from sharp corners. Use screws or brackets to affix furniture items like bookshelves to the wall so they do not fall. Keep the television secured against the wall with brackets or a guard.
Electrical sockets: Basic outlet plugs can be choking hazards, so look for plugs that twist for child-lock or outlet covers that slide over the whole socket. If you don't already have a safety switch installed on your switchboard, have a licensed electrician install one.
Heaters and other fire hazards: Access to fireplaces, heaters and radiators should be blocked off with guards. Make a habit of keeping matches and lighters out of reach of your baby and preferably locked away in a high cupboard.
Curtains and cords: Use safety toggles on blind and curtain cords, or use cord shorteners or wrap-around cleats to keep cords well out of reach.
Houseplants: Keep any houseplants out of reach since babies can be tempted to munch on the leaves or even eat the soil in the pot.
Doors: Use door stops to prevent baby fingers from being injured on shutting doors.
Always keep a watchful eye on your child and continue to review your house for any possible risks as your baby becomes more mobile.
For new parents, our eBook 50 Hacks for New Parents provides some great time saving tips to tricks to help you get tasks done quicker once the baby arrives.
20 Apr 2017
Real Insurance is an award-winning provider of life insurance.