Easter egg hunt guide for kids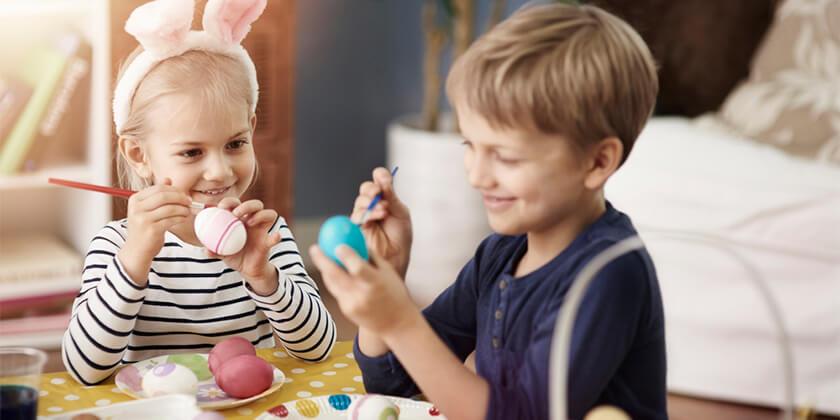 Easter is a wonderful time for families and children, with Aussies spending around $3 billion each year on holidays, food and drink, and of course, chocolate! Australians love to enjoy Easter eggs each during the Easter period, but for little kiddies, that might be too much sugar to be healthy.
Luckily, there are many alternatives to milk chocolate eggs, helping parents to make Easter a fun yet healthy time full of games and excitement.
Limiting sugary treats and lollies
You don't have to cut out all Easter eggs, but it's a good idea to have a limit in mind before the Easter holiday period so you can plan and negotiate with older kids on their chocolate intake.
Choose smaller eggs and allocate the same number of eggs to each child. If a child finds more than their allotted quota during the hunt, they can share their extra eggs with other kids.
Alternatively, you can assign a colour or symbol to each child and mark individual eggs with stickers or wrapping paper to make sure every child has the same number of eggs.
Use delicious and healthful alternatives to chocolate eggs
You can also encourage kids to eat less sugar by providing delicious alternatives to the tempting array of chocolate bunnies, chocolate eggs, lollies, and other sweets available during Easter.
Some great ideas that can be included in the Easter egg hunt or as part of a festival meal include the following:
Easter bunny veggie tray – Cut out different types of bread to make a bunny, and fill with a tasty dip or decorate with herbs and raisins to make a cute bunny face. Surround the bunny with bite-sized vegies for dipping.
Bags of treats – Fill clear plastic bags with healthful vegie sticks, bunny crackers, or wholegrain biscuits and tie with colourful ribbons. Use these bags of treats instead of chocolate eggs in the egg hunt.
Hardboiled eggs – Use hardboiled eggs painted with natural food dyes instead of chocolate eggs.
Easter devilled eggs – Make Easter-themed devilled eggs and wrap them in foil to use in place of chocolate eggs.
Egg-shaped icy poles – After the hunt, reward kids with egg-shaped icy poles made from fruit juice or frozen yoghurt.
Other food ideas include homemade crème eggs, peppermint patties, sweet potato truffles, and chocolate cake pops. All of these can be wrapped in foil and colourful ribbons and used for the Easter egg hunt.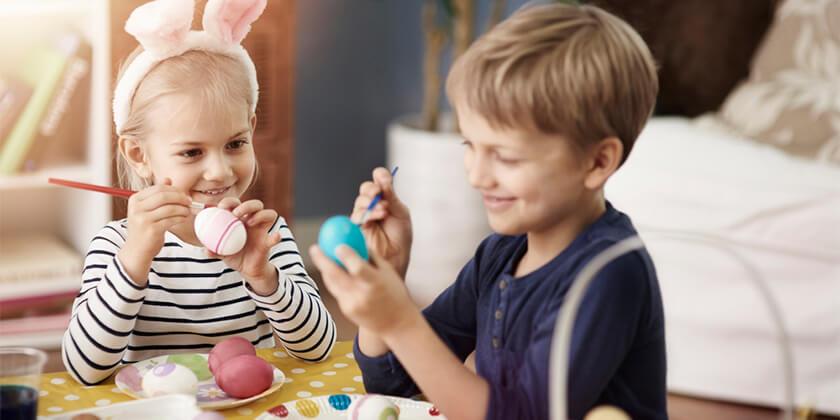 Celebrate with toys and other trinkets
Emphasise toys and other small trinkets to turn the focus away from traditional chocolate eggs. Some ideas include colouring books and crayons, or hollow plastic eggs filled with small toys or healthy snacks like dark chocolate, nuts, and dried fruit.
You can fill hollow plastic eggs with stickers, temporary tattoos, coins, erasers, ribbons, whistles, jewellery, bouncy balls, rubber stamps, toy figurines, and other small trinkets that will make the hunt more fun.
One fun idea is to buy a big jigsaw puzzle and separate the pieces into different plastic eggs. At the end of the hunt, have the kids put together the jigsaw. An alternative is to fill little baskets with these small trinkets and use these as part of the treasure hunt instead of chocolate eggs.
Incorporate exercise into the hunt
Getting kids moving is a good way to help them burn off the extra sugar they'll probably be ingesting during the Easter holidays. You can get kids moving by incorporating lots of physical activity into the hunt. For example, you could hide plastic eggs filled with an exercise description (such as 10 star jumps or 2 cartwheels) and have the child that finds the egg do the activity outlined in the egg.
Another idea is to include a pre-hunt relay race with fun activities such as bunny hops, egg rolling, and bear crawling. Another way to incorporate more activity into the day is to have every child perform some sort of activity (such as dance to their favourite song) before they can head out to find another hidden treasure.
Other kid-friendly activities for Easter
Keep the kids entertained after the hunt without more sweets by planning for some other activities. Kids will enjoy decorating paper baskets or making their own baskets from felt, which can be used as part of their egg hunt. You can also have them paint Easter buckets and fill them up with goodies, or hang Easter cones and fill these with eggs before the hunt begins.
Another fun Easter activity is to hide seeds in plastic eggs for the hunt and have all the kids plant an Easter garden (with lots of carrots and bunny-friendly food, of course) after the hunt. You can also download our Easter Egg colouring in activity for your kids to enjoy.
Download and print out this Easter Egg coloring in activity for your kids today!
Download now
17 Mar 2016
Real Insurance is an award-winning provider of life insurance.