5 Family fun ideas for working parents [Infographic]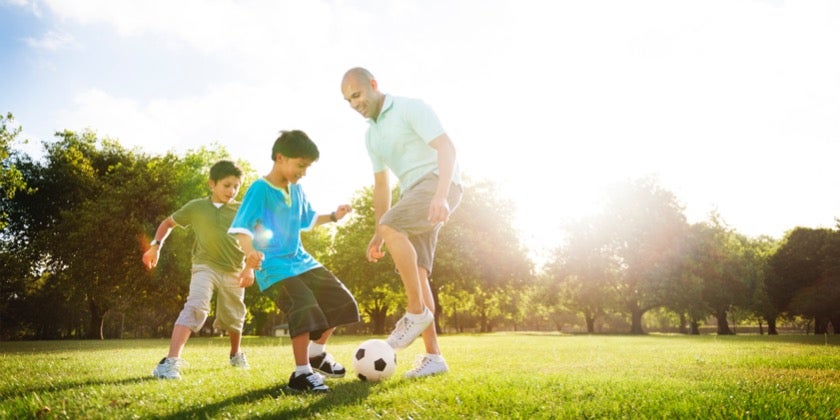 It's not uncommon for both parents to be working these days, with the cost of raising kids being one of the main factors that drive parents to return to work after having children. Research from the Real Insurance Working Parents Survey suggests that around 71% of parents work during the evening and at nights, so finding time to switch off and spend as much time as a family as you can is sometimes challenging.
Fortunately, no matter how much you're working these days, there are plenty of ways to enjoy quality time with your kids. Here are some fun ideas for family activities!
1. Turn 'boring' into bonding
Some things just have to happen every day, like driving to work or doing the washing. Changing how you think about these otherwise 'boring' times can turn them into opportunities for bonding with your kids.
Start your day together: The morning commute is a great time to go over each child's day – what's coming up, what they're looking forward to or worried about. If you have a longer commute, sing along to their latest playlist together or listen to a different audiobook each day so you can chat about the characters and themes with them afterwards. Being stuck in traffic is the perfect opportunity to get in more family time!
According to the Real Insurance Family Values Survey, the top three family values identified by Aussies were:
Unconditional love
Taking care/watching out for each other
Spending time together as a family
Get fit together: Why pay for a gym when you can run around with your kids at the local park? After work, grab a ball, the dog, scooters or bikes and head for the closest park. Half an hour out in the great outdoors makes everyone feel good and doesn't cost a cent. Better yet – it will get your kids away from their screens, with nine out of ten parents agreeing that it's just as important to balance their kids' screen time as promoting a healthy diet!
Cook together: Kids love to be involved. Expand their culinary skills by involving them in weeknight dinners. Get younger kids chopping veggies and teenagers making family favourites with you. It's an easy way to turn the 'everyday' into an opportunity for spending time with the family.
Eat together: Not only does eating together feel nice, this simple practice has a whole scientific community behind it. Research has shown that sharing a family meal is good for the spirit, brain and health. Check out The Family Dinner Project for meal ideas, conversation starters and ways to make dinner time extra special.
Snuggle together: Unplug before you go to bed and spend a few minutes with your kids for a cuddle and chat to make sure even the most hectic days end well.
2. Plan ahead
With a few minutes' online research every month you can plan fun activities for your family that won't cost a lot – if at all. Council and community websites are a great place to start, along with sites like Groupon, Wotif, Scoopon and Adrenaline.
You can create a family calendar that allows each member to nominate one activity of their choosing each month to keep everything fair and square.
3. Think like a tourist
Have you done all the fun stuff in your region? Think like a tourist and pick a free or low-cost tourist attraction to visit each month. At the end of the year give the kids a scrapbook to make an album of their local adventures featuring ticket stubs, photographs, postcards and any other trinkets you've picked up along the way.
4. Outdoor family games and activities
Nature buzz: National parks are a great choice for the school holidays. During term time you could find a new park or walkway every weekend. The pet rock craze is still going strong. Set your kids up with rocks and paint and take them to the park to hide their tiny artworks for others to find.
Plant a garden. Raised beds, pot plants, recycled container gardens – you can make a kids' garden for next to nothing out of almost anything! Take them along for a visit to your local nursery so they can pick out a range of their favourite vegetables and flowers to plant.
On your marks… Set up an outdoor obstacle course or water park in the back yard with sprinklers, hoses, brooms, buckets and planks. Go!
On your bike: Cycle trails are an excellent way to build confidence without worrying about cars and are a healthy outdoor activity for kids who may not be into team sports. Spend a day on a cycle trail with a backpack full of home-made treats for a picnic at the end of a long ride.
5. Free fun at home
There's plenty to do at home when the weather isn't playing ball.
Start a new hobby: It's as easy as starting out with mobile phone photography or something crafty. If you're stuck for ideas, Pinterest has thousands of craft ideas for kids with everyday materials.
Create a home cinema: Turn your lounge into a cinema and settle in for a Netflix afternoon with popcorn and ice-cream. A great indoor activity for kids when it's raining outside.
Day spa: Most teens and tweens love to experiment with cosmetics so turn your bathroom into a mini day spa with manicures and pedicures – the works! TIP: Look online for simple recipes for natural face masks, hair treatments and scrubs.
Wardrobe makeover: Before you head to the outlet stores and op shops, give each one of your kids a budget and challenge them to see who can put the best outfit together for the least cash! This is also a great exercise in budgeting and spending.
Weekend room reno: A simple clear-out or a major rearrange can give a room an instant lift. Take it one step further with a budget room makeover, using only what you already have at home. Get the kids involved making artworks for the walls or painting old furniture.
Bake-off: Pick a much-loved recipe or something new and have a family bake-off. Share the goodies as a thank you to the family and friends who look after your kids. It's often the little things that kids remember, so enjoy making the little things count. Whether it's going for a bike ride, cooking dinner together or simply enjoying each other's company, family time should be a key part of your lifestyle. Check out some of the other articles in Life Spotlight for more family fun ideas and lifestyle tips that you and your loved ones can enjoy.
30 Jul 2019
Real Insurance is an award-winning provider of life insurance.