What you should consider when starting a family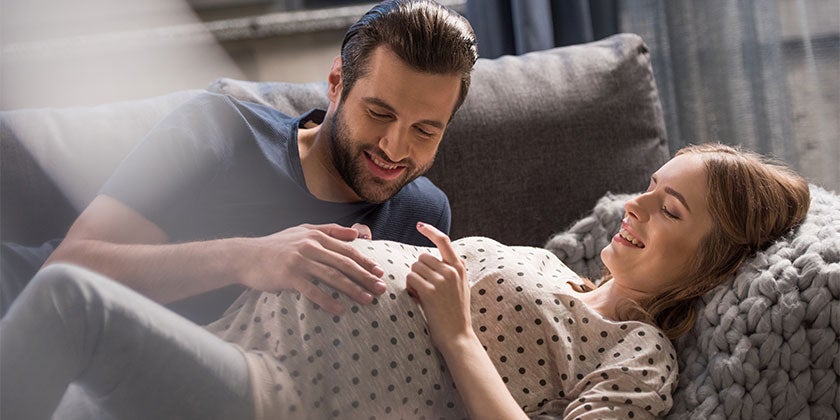 Making the decision to expand your family unit from a couple to parents of a child is an exciting one! Sometimes the decision is made for you, which can be a surprise, but once the initial reaction has worn off you can move into the excitement phase.
Along with the excitement, it's likely you will need to begin making practical considerations regarding finances, mental preparedness, and career pathways. So, it doesn't matter if you're still weighing up whether now's a good time or you've committed to starting your family, use these key considerations to inspire discussions and reflections between you and your partner before the new family member arrives.
Can you afford it?
Knowing you're ready to expand your family isn't the same thing as finding out for sure you can afford it. Without doing the numbers, it's possible you're underestimating how much it costs to have a baby.
Here are some elements to consider when assessing the cost a new family member will add to your budget.
Space: do you have enough space in your current home, or do you need to look for a new rental property or house to buy in order to accommodate a baby?
Income: if you or your partner will be taking considerable time off work for maternity and/or paternity leave, will you be able to manage on a single income or no income for that period?
Medical costs: the medical costs associated with having a baby quickly add up, as you'll have hospital bills, obstetric appointments, and then once your child is born you'll have pediatric doctor consults.
Baby care costs: this includes everything from nappies, infant formula, nursery furniture, baby clothing and toys. If you and your partner plan on returning to work, you may also have to consider budgeting for childcare services too.
MoneySmart provides a calculator to assist you with budgeting for a new family member.
Adoption
Getting pregnant isn't the only way to start a family. Choosing to give a child without a loving home a new family and future through adoption is a wonderful way to expand your household.
If you're adopting, consider how you'll be raising your child, and how you'll make them aware of their adopted status.
You should also discuss with your partner the age of the child you'll be adopting, as the financial requirements involved will differ.
Being an adoptive parent is as rewarding and challenging as becoming a birth parent, so preparation is essential.
Are you ready?
Becoming a parent and expanding your family comes with rewards and challenges, so make sure you and your partner are both ready and on the same page. Your relationship is ideally stable, and you're hopefully not seeking to have a baby to repair trust or intimacy issues.
Having a baby is a lifelong commitment to being a parent. The commitment encompasses everything from multiple night-time feedings in your baby's early months to financial outlays for when your child starts school and beyond. You'll have less time for yourself and for your relationship with your partner.
Speak honestly and openly with your partner about whether you're both ready to have a baby and start your family. If you're ready and capable of providing a stable foundation for your new family, then you may be better prepared for the future.
Planning your career break
Having a child can mean a career break for one or both parents. Whether it's a few months off for maternity or paternity leave, a few years or longer, consider your career pathway and how you'll share childcare responsibilities.
Consider factors like paid parental leave, along with your own readiness for a career break and how it fits in with your long-term plans for work. You should also do some research into your rights to return to work.
Benefits and entitlements
As you plan your budget, explore all the benefits and entitlements you and your partner are eligible for.
Entitlements
Look into the government regulations for paid parental and adoption leave, total special leave for things like prenatal appointments, and paid and unpaid leave for parents and primary carers. Check your employment contract for the fine print, and ask your employer if you have any doubts. Flexible work might be a possibility depending on your workplace and employer.
Benefits
Familiarise yourself with potential government benefits you may be able to claim such as Parental Leave Pay, Family Tax Benefit, and Dad and Partner Pay.
Every little bit can help when you have a new baby, and these benefits are designed to assist you with making it a bit easier.
Insurance
Look into how your current health insurance policy will protect you and partner during both pregnancy and parenthood.
Other insurance cover such as life insurance is also important to consider when becoming a parent. Insurance can protect you and/or your loved ones against financial hardship if anything unexpected were to happen.
Expanding your family and bringing a new child into your home is an exciting and demanding time, and the practical considerations are important for the future. By making these considerations now, you will be better prepared for the personal, professional and financial changes that come with parenthood.
Real Insurance provides cost-effective insurance products that help protect Australian families. Learn more about life insurance or contact our award-winning service team for a chat about your insurance options.
19 Jul 2018
Real Insurance is an award-winning provider of life insurance.