6 ways to kickstart your spring fitness routine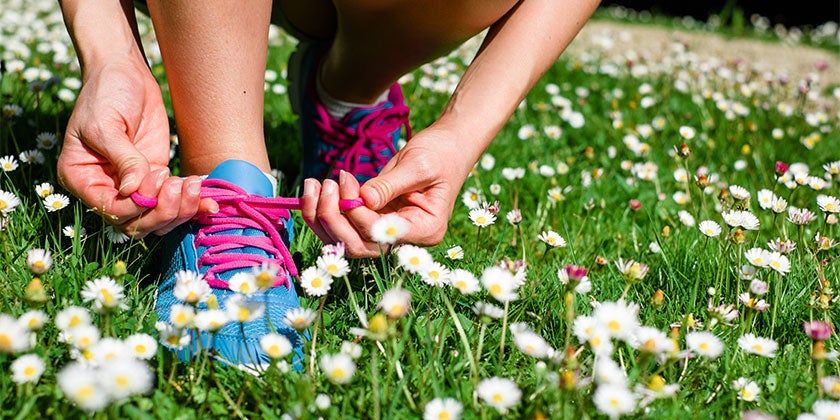 As we say goodbye to brisk winter mornings and limited daylight hours, it's the perfect time to say hello to a new fitness routine. Spring is a great time to shake off those winter cobwebs and start new healthy habits.
It's time to stop thinking and start doing
Do you often think about improving your fitness, but feel too busy to bother?
There are many reasons to take the next step and dedicate time to focus on your health and wellbeing. Experts suggest regular exercise can:
reduce your risk of a heart disease
help you better manage your weight
encourage a lower blood cholesterol level
lower the risk of type 2 diabetes and some cancers
encourage lower blood pressure
lower your risk of falls
make you feel better by boosting your energy levels, improving your mood, encouraging relaxation and helping you sleep better.
It really is a no-brainer when you consider the benefits. So, let's get started.
6 ways to get started with your fitness plan
1. Set some goals
Having a vision and setting goals can be all the motivation you need to get started and help you stay on track.
Write down what you want to achieve or how you want to feel in three, six and 12 months, whether it's sleeping better, shedding some weight or taking more than 10,000 steps each day.
2. Make it a team effort
Join a sports team and make your fitness goals a team effort. This creates increased accountability – you won't want to let the team down.
Netball, soccer, hockey, cricket, water polo, basketball, beach volleyball – the list is endless if you want to become a team player to meet your fitness goals.
3. Create a mind–body connection
Activities like yoga and Pilates are win-win, working both body and mind at the same time.
For those who feel constantly busy, this option can improve your overall wellbeing as you work on those overwhelming feelings that seem to seep into every area of your life.
4. DIY at home
If you don't have time for team sports or can't commit to regular weekly classes, there's still no excuse for neglecting your fitness goals in the digital age.
Apps can bring fitness regimes directly to you. Check out these popular options:
5. Think fun
Fitness doesn't have to be about sweating it out at the gym or exercising when you'd rather be doing something else. A fun fitness program will not only be easier to stick with, it'll also add extra happiness and laughter to your life.
So, what's your idea of fun?
Perhaps you can take advantage of the warmer weather and go on a walk with friends rather than meeting them for drinks? Choose enjoyable activities like gardening, rock climbing or belly dancing.
6. Change the little things
Simply changing your everyday habits can help boost fitness levels. Taking the stairs at work, walking for part of your lunchbreak or getting off the train a station earlier than normal can boost your daily steps without having to attend a class or the gym.
Habits can sometimes be hard to change, so consider using a habit-tracking app such as Productive Habit Tracker or stickK to help you make these small but significant changes.
No matter which option works best for you, the hardest part is getting started. We've made it easier for you with these ideas – all you have to do is start! Once you're enjoying the benefits of improved fitness levels and wellbeing, your new routine is likely to be a welcome part of your life.
No matter how healthy you are, life can surprise you with a financial bump in the road. Secure your financial future with Real Life Insurance. Request a quick quote now.
6 Sep 2018
Real Insurance is an award-winning provider of life insurance.