Why running is better with buddies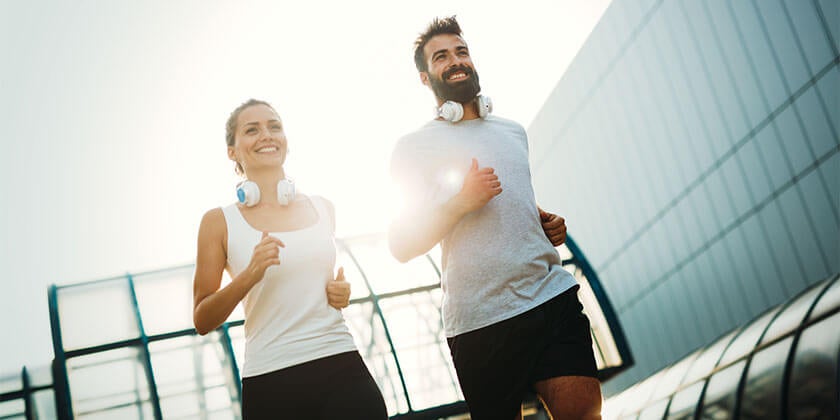 The great thing about running is you can do it any time, any place and on your own. However, if you want to improve it's good to meet up with friends occasionally and run together. Here are some of the reasons why.
1. You'll turn up!
Most of us have to try and fit our run in at the beginning or the end of the working day when we're tired and often lacking motivation. Knowing you have a mate waiting for you provides the drive you need to lace up your shoes – especially on those cold, rainy mornings and nights. A running partner will also stop you taking it too easy or cutting the run short.
Research led by Anglia Ruskin University studied people who walked in groups and those who walked alone. By the end of the six-month study, those who walked in groups were far more likely to have kept their exercise goals on track and also showed significantly improved scores in quality of life outcomes.
2. You'll get faster and fitter
Try to run with a group and chances are there will be someone just a little bit faster than you, and you'll be surprised at the extra effort you'll make. Running with a group can also open the doors to greater challenges such as interval training and hill running. Those sessions can be hard but they're less of a struggle if you've got people offering encouragement and support.
Still not convinced? The tracking app Strava looked at a year's worth of data on more than 90 million runs from all over the world and found the average pace of a group run (involving at least two runners) was five seconds per kilometre faster than an individual run. On average, group runs were also 2.1 km longer than the average solo run.
3. You'll enjoy social contact
While social media accounts may be booming, real social connections are dwindling as we become more reliable on technology, but getting outdoors with a running buddy may help.
A study of more than 1500 peer-reviewed research papers on sport and health found being an active member of a sports club could;
Improve self confidence
Benefit well being and mental health
Result in people feeling more content with their lives
Provide fun and friendship which encouraged participation in even more sporting activities
Reduce the incidence of dementia
4.You'll stress less
Running through the bush can be an amazing experience with wonderful benefits, research by the Japanese Forestry Ministry has found it boosts our immune system, reduces stress hormones and blood pressure and improves mood, ability to focus, energy levels and sleep!
Some people don't like to run where there's no-one around in case of a fall or getting lost so it makes sense to take a mate.
5. You'll be less bored
There are times when your only training option is laps around an oval or through a dull suburb. Having a mate who'll chat alongside you or challenge you to race to the next lamppost will help make the kilometres fly by.
6. You'll pick up advice
If you're running in a club, there's usually a coach who will give you new ideas for training so you're not wasting your time with junk kilometres. They'll also stop you over-training and injuring yourself! Clubs will tell you about other races and routes and share advice on anything from the best place to buy gear to how to improve your technique. If the Real Insurance Sydney Harbour 10k or 5k is your first race, you may even be able to ask questions like what to expect, how to get there, and how to prepare.
7. You'll get encouragement
Interestingly, research from the Universities of Aberdeen and Zurich found that whilst running with others was shown to increase the amount of exercise people do, the encouragement rather than the practical support was key.
8. You'll improve your self-confidence
Seeing someone your age, your build and with your abilities running the distances and times you aspire to, strengthens your belief that you can do the same thing and means you're more likely to stick to your training regime.
9. You can share worthwhile goals
Lots of people use their run to raise money for charity and if there's a group of you, it's much easier to raise awareness and funds. This year, the Real Insurance Sydney Harbour 10k & 5k is supporting OzHarvest, so why not get together with your running buddies and raise funds for this worthwhile cause!
Real Insurance is proud to sponsor the Sydney Harbour 10k and 5k race, to take part in this spectacular event register now.
24 Jun 2019
Real Insurance is an award-winning provider of life insurance.