What you need to know about buying Life Insurance direct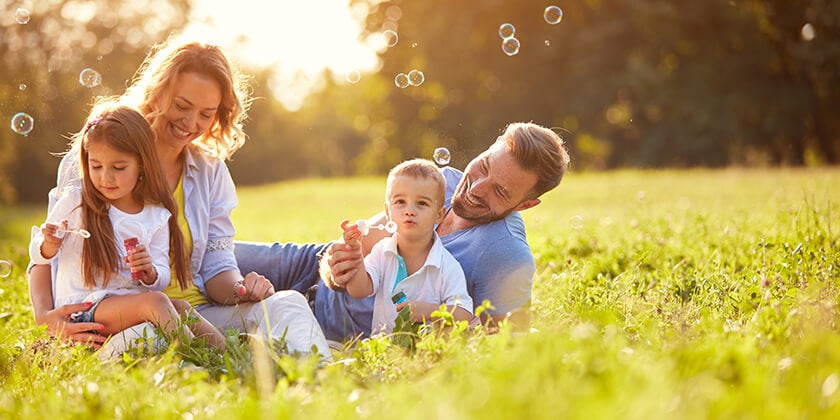 Life Insurance is one way to protect your family and the lifestyle you've worked hard to build, should you pass away or are unable to work due to illness or injury. Australians source life insurance to protect what's most important to them through three main avenues:
Direct life insurance provider
Superannuation
Local financial adviser
According to recent Roy Morgan research, buying Life Insurance directly from an insurer is leaving Aussies more satisfied. We explore the pros and cons of each option to help you decide which route is best for you.
What is Direct Life Insurance?
Direct Life Insurance is insurance you can buy direct from an insurer as opposed to going through a financial adviser or your super fund. Direct Life Insurance is often sought out by customers who know what they're looking for in a Life Insurance product, and are seeking a quick and easy process to get it.
Common myths about Direct Life Insurance
Direct Life Insurance can make it easy to get cover that suits your individual needs, with applications often made over the phone or online. With a growing popularity and demand for it in the Australian market, common myths have risen. These include:
It's more expensive
There are more exclusions or unfair terms, particularly concerning exclusions for pre-existing conditions
Advertising is misleading
Premium rises are poorly explained
There are long claim periods and high rates of claim rejections.
Contrary to these myths, research shows holders of risk and life insurance who purchased their insurance in person from an insurance company have a much higher level of satisfaction (76.4%) than those using all other methods. Purchasing directly from an insurance company online (74.9%) or by telephone (71.9%) also boosts satisfaction levels.
A Code of Practice across the life insurance industry also ensures products provide genuine benefits to customers, advertising is accurate and suitable for its audience, and claims practices meet certain minimum requirements including a maximum time period for assessment.
Why buy Life Insurance direct from an Insurer?
Direct Life Insurance offers you greater control over your policy with the ability to adjust your cover as your needs change over time, without the need to undertake onerous approval procedures involving medical assessments. Direct insurance policies also offer some flexibility when it comes to finding the right benefit amount, tailoring a policy to suit your stage in life, and finding a flexible payment option that suits your budget. Optional add-on benefits such as Serious Illness Insurance, Total & Permanent Disability Insurance, and Children's Insurance may be available to add to your main life insurance policy to ensure you're covered for what you want and need.
You may find an opportunity to save with Direct Life Insurance, because you won't need to pay a financial planner to construct a full financial plan for you. The recently released Family Protection Survey indicates affordability as one of the top reasons to taking out direct life insurance.
Direct Life Insurance may make your application process fast and easy. You can often get immediate responses to questions and quote requests with no tests or forms required. The Family Protection Survey also revealed one in two Australian parents would want to spend less than an hour applying for Life Insurance, with two in three preferring no medical exams or blood tests to be involved.
Consulting with a financial adviser may take more time when it comes to researching products, contacting insurers on your behalf, and getting back to you after the application is assessed by an underwriter.
Working direct with an insurance provider also offers direct access to information and support when it comes to understanding all details of the policy.
According to the Real Deal on Family Protection Survey, 73% of Australians believe direct life insurance provides easier to understand policies, 78% believe it's more affordable than going through a third party, and 72% have stated direct life insurers provide the best support when it comes to understanding your policy.
Life Insurance through superannuation
Most people have some form of Life Insurance included in their super, but depending on the type of super you have, you may find it's slower to pay to your beneficiaries; and the life component expires at a certain age, or after a certain time if you're between jobs.
Life insurance premium payments made through your super fund are funded from your superannuation balance. As this comes from concessionally taxed contributions, this can be an effective way of minimising the cost of cover.
Relying on your super for Life Insurance may seem like an easier and cheaper option – because premiums are automatically deducted, and super funds purchase insurance in bulk to keep the price lower – but it does often reduce your super balance for retirement, and potentially leaves you underinsured.
And be aware if the beneficiary receiving your life insurance payment is a non-dependent, they may have to pay tax on the benefit.
Buying Life Insurance direct from an insurer can be used to top up your current level of super cover, too. If you check in on your super's benefit and find it won't cover your family's needs should you pass away or be unable to work, you can explore an additional safety net with insurance through a direct provider.
Life Insurance through a Financial Adviser
The main benefit of obtaining Life Insurance through a Financial Adviser is being assigned with one local expert to work with directly, as opposed to dealing with a call-centre member. A good Financial Adviser will incorporate your insurance needs into an overarching financial plan that is specifically tailored to your needs and risk profile. When considering your insurance needs, they can often minimise red tape for you, and represent your interests when it comes to making a claim; but be aware of fees. You will generally be expected to pay for the preparation of the Statement of Advice and there may be other fees for implementing the advice. Furthermore, not all advisers are independent, and you may find that your adviser will provide access only to products from one or a few product issuers.
Not all Australians can afford to pay a financial planner to construct a full financial plan with Life Insurance included, so without the option of obtaining Direct Life Insurance, they could remain uninsured.
Roy Morgan research also found satisfaction with risk and life insurance purchased through insurance brokers is below average, at just 67.1%. It notes this is a concern as brokers are a major channel for purchasing this type of insurance, and would be assumed to have a sound knowledge on the topic to best meet their clients' needs.
With ample access to technology and the internet, Australians are becoming increasingly confident in doing things themselves they previously wouldn't have considered such as shopping online and arranging their insurance directly. And with research showing Australia is one of the most underinsured nations in the developed world*, Direct Life Insurance offers a flexible, easy, and fast option for Australians to help protect their families and lifestyle should the unexpected happen.
Learn more about Life Insurance, or call 1300 377 325 for a quote with no medical or blood tests involved.
22 Nov 2017
Real Insurance is an award-winning provider of life insurance.