How to protect your family at home & online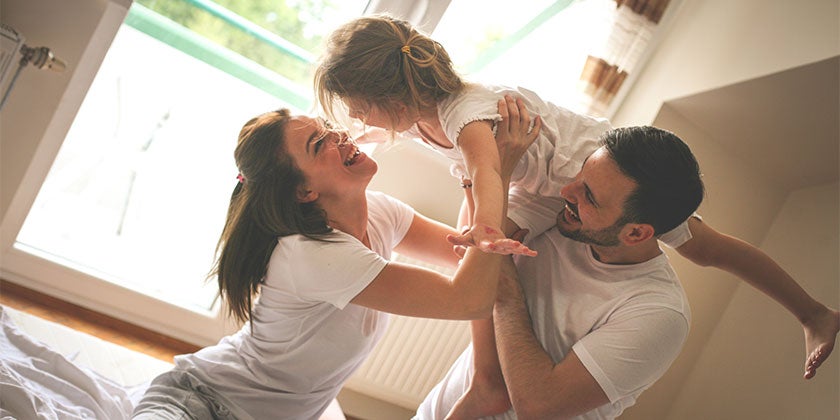 As parents, you do all you can to keep your loved ones safe and secure. In particular, making sure your home is protected and the online spaces your family inhabits are safe are top of mind.
Securing your physical home protects your family as well as your valuables; while smart online safety can safeguard the well-being of your children, secure your private data, and keep dangerous material out of reach. The potential risks are out there, so it's important you take time to help keep your family safe online and at home.
How to protect your family online
Stay safe on wireless networks
Here are some general tips to stay safe on a wireless network:
Avoid using public wireless networks or Wi-Fi for sensitive transactions like banking and shopping online.
Make sure you log off after using public networks, and always ensure the websites you're visiting on public networks are secure (addresses should start with https).
With your home Wi-Fi, make sure you change the default router settings to create a new, secure password. This reduces the risk of someone hacking into your connection and stealing your data.
Set your router to use the most advanced encryption standard available, and turn off the SSID broadcasting so your Wi-Fi becomes invisible to others unless you have shared your Wi-Fi log-in details with them.
Stay safe on your devices
Your digital devices – computers, tablets, and mobile phones – likely contain a lot of private information about you and your family, so take measures to safeguard them.
Keep your operating system up to date on all your devices so they have the latest 'patches' for identified vulnerabilities. Turning on automatic updates is an easy way to make sure your devices have the latest versions of their operating systems.
Use malware and antivirus software, and switch on automatic updates for these too.
Avoid going online when you're signed in as an administrator, as you'll have full access and all administrator privileges and any malware would have the same level of access.
Learn about phishing scams and avoid opening emails from people you don't know or clicking on suspicious email links. Emails can also be distribution channels for malware and other malicious attacks. Note: scams can also originate with SMS and on other channels like social media, so take extra care with these and be alert to the risk of attacks.
Activate your spam filters so you can block spam before it reaches your inbox.
Supervise and guide children online
Play an active role in supervising and guiding your children's online activities. You can do this by warning them about possible risks, and teaching them how to make smart choices about what they do online.
Here are some ways to do this:
Spend time online with your children by visiting sites together and discussing the content.
Guide your children on how the internet can be an effective research tool when used the right way.
Look into technology tools such as filtering software that will help block unwanted sites, and consider positioning the computer in an area of the home it can be supervised.
Talk to them about dealing with untrustworthy or even disturbing material. In the process, you can benefit from learning about what young people are doing online whether it is blogging, chatting, or using platforms like Instagram.
Make sure your kids know about potential risks including strangers in chat rooms, illegal and disturbing content, and sharing too many personal details.
Teach your kids about safety and security tools like spam filters and malware. Encourage them to delete cookies regularly and to create secure usernames and passwords.
Set up your own social media accounts. This means you can track what your children are doing on social media platforms, understand what is happening, and talk to them about sensible use of social sites.
Set boundaries for using devices and supervise your children when they're online by encouraging them to use devices where you can see their screens. Set parental controls on devices to limit their use.
Talk to your children about cyberbullying as soon as they start going online. Make sure they're comfortable confiding in you or another trusted adult if it ever happens to them. Let them know how you will deal with cyberbullying, whether it is blocking the cyberbullies or reporting them to the school.
Support your children in developing skills that help them interact with others respectfully and safely online. With serious cases of cyberbullying, it may be necessary to consult the police and have your child see a therapist.
How to protect the family home
Physically secure the property
Keeping your home and family secure is just as important as staying safe online. Here are some suggestions on how you can achieve this:
Keep doors and windows locked and closed when appropriate, and use security lighting as well as a home alarm.
Use deadbolts and/or security grilles on doors and windows.
Avoid risky practices like leaving keys under mats and pot plants, and keep your spare key well away from the home by leaving it with a trusted friend or family member who doesn't live in the same house.
If you're going away on holiday, divert your home phone calls and use automatic timers for lights to make it look like someone is home.
Read more about how to avoid a home break-in.
Stay financially secure in the event of loss
There are two key areas of loss you could consider being protected from: the loss of physical property and the loss of life.
Loss of physical property
Home & contents insurance is for anyone who has possessions that would be costly to replace if damaged or stolen. For example, if your home was vandalised, home insurance would cover the cost of repairing the damage. And if someone were to break-in to your home and steal your television, contents insurance would cover the cost of replacing the item.
Loss of life
Life insurance is a risk-management option often overlooked when it comes to safeguarding your household, but it is a way to ensure your family's lifestyle will be protected if something unexpected happen to you or your partner. With life insurance, your family can receive a lump sum payout to help cover regular bills and maintain their lifestyle without significant financial hardship.
Protect your family today
To safeguard your family, you need to address both online and physical risks. By having a solid strategy to protect your devices, guide your children in the online environment, and secure your household, you can relax and enjoy the lifestyle you have worked hard to achieve.
Want more information on how Real Insurance can help financially protect your family? Contact us today to find out more about our range of insurance options, to cover you, your family, and your assets.
15 Oct 2018
Real Insurance is an award-winning provider of life insurance.