Life insurance with super vs direct vs via broker
In Australia, there are currently three main ways life insurance is distributed:
1. Direct
This popular 'DIY' approach lets you research and compare all the life insurance policies yourself. This means you need to take the time to understand exactly what you are getting and be able to compare every policy on the market.
2. Financial Advisor/Broker
Also known as retail. You call in the help of a financial professional to find the policy that best suits your unique needs and lifestyle.
3. Super
Also known as group insurance, your superannuation fund may offer some level of cover.
Distribution channels for Life Insurance in Australia1
Want to learn more about all three options? Here's a breakdown of everything you need to know when choosing life insurance.
1. Direct life insurance
This is the 'DIY'method. Many policies are quick and easy to apply for, and can usually be completed either over the phone or online. It's the simplest method out of the three as you are purchasing the product directly from the insurance company, or one of their affiliates.2 However, this method does not come with any advice so you need to take steps to make sure you understand the cover and make your own judgement about whether it is appropriate for you.
You could start by conducting research using one of the many comparison websites available. Be mindful that all of the comparison websites are limited in scope so you should be aware of the brands and insurers they can provide you information about. You may want to get a few quotes online or call to speak with a sales consultant or sales agent.
Once you have received a quote that fits your needs, you should look a little closer at the product, by reading the Product Disclosure Statement, so you are clear about what it includes and what it doesn't. Some companies may also issue a Key Fact Sheet on the product which is a shorter document that spells out the basics to you. Once you are happy with the policy and cover level, you can apply for coverage.
You might be surprised to know that although this method of purchasing life insurance gives you the greatest choice, the Family Protection survey shows just over 50% of people claim they purchased their cover through their superannuation.3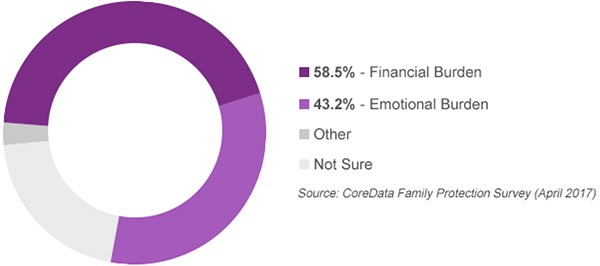 Direct life insurance is an excellent option if you want to set up a policy quickly, desire to take control of the application and approval process yourself, and you are comfortable setting up the policy yourself.
However, there are some pros and cons to consider when taking out cover with a direct life insurer provider. The following table addresses a few of the most common ones:4
| Pros | Cons |
| --- | --- |
| The application process is quick and easy and can be arranged online or over the phone. | For the most part, any advice given is general in nature and should therefore not be considered professional advice. |
| You have complete control of your policy, which means you can choose the cover to suit you and your family's needs, lifestyle and budget. | If you choose the first policy instead of 'shopping around', you may not get the best policy for your needs. |
| Usually no medical examinations or blood tests. | As your health status is not verified medically when you apply, you need to be accurate when answering any underwriting questions, as incorrect answers may result in an adverse outcome when you lodge a claim. |
| You can use comparison websites to compare the different insurers and policies. | Too many choices can sometimes get confusing without outside advice. |
| With some insurers you can have access to optional benefits not available with superannuation, like Children's Insurance and Serious Illness Insurance. | Cost of premiums may be higher and cannot be paid out of pre-tax dollars. |
2. Financial advisor/broker-assisted life insurance
A large number of life insurance policies for sale in Australia are only available through advisers or brokers and there are a number of reasons for this.
(For clarity and consistency, the term broker will be used to indicate a professional who is either a financial advisor or an insurance broker who acts on behalf of a customer to provide personal advice to them about purchasing insurance.)
By distributing through brokers, life insurers can sell more complex products, with the expectation that a broker will take the time to educate their customer and ensure that the cover is suitable for them. There are often a lot more options on these products which allow brokers to specify which set of options are appropriate for their customers, which they do through the advice process.
While the cost of cover through brokers or direct is comparable, it is generally a much longer process to obtain cover through a broker. That is because they need to undertake a full advice process and they will issue you a statement of advice, which is a legally required document that sets out the advice they are providing for you. The nature of the advice can be range from limited advice that is specific to the type of insurance policy you are interested in, all the way up to a complete financial plan. It's important to be clear with your broker at the beginning about what kind of advice you are after so that you don't end up paying for services that you never intended to acquire.
This is probably a good time to discuss the difference between an insurance agent and an insurance broker.
Insurance agent

Works for the insurance company or an affiliate of the company. They are the company's representative, so it's their job to sell policies of just that company.

Insurance broker

Does not work for any specific insurance company. It's their job to gather quotes and other relevant information and then provide expert financial advice about what policy entails. They will then advise you on which ones will best suits your needs and lifestyle.
Should I use a broker?
Ultimately the decision comes down to a few key questions. Ask yourself the following:
Do you understand key concepts about insurance? Or do you need a broker to help you understand?
Do you have a good idea about the types of cover you need? Or do you need a broker to assist you to identify your requirements?
Are you happy to deal directly with the insurer for your insurance needs? Or do you want to have a broker deal with them on your behalf?
Are you comfortable to make financial decisions for yourself based on information provided to you by an insurer? Or do you want some personal advice to assist you?
Are you willing to pay for the services of a broker?
5 most common mistakes to avoid

1. Not doing your research

Don't settle for the first policy you come across. Do your research until you find the policy that best suits your unique needs. Consider your life stage, any major life events, your family size and requirements, and the premium structure of the policy.5

2. Choosing cost over policy value

Focusing only on the cost undermines the real value of any insurance policy, but especially life insurance.6 Remember the main reason you are setting it up – to protect your family's financial future.

3. Not reading the PDS

It's important to read your PDS all the way through to ensure you know exactly what you are and aren't covered for.7

4. Waiting too long to buy

Life insurance is generally not available after you are diagnosed with serious conditions, or where it is available it is likely to be very expensive and have significant exclusions that undermine the benefit of it. Life insurance is designed as a risk management tool, and you should consider purchasing it where you identify that you or your family would be at significant financial risk if you were to die. Often this risk is at its greatest when you are young and in the peak of your work-life. As you get older and your financial assets grow, you may no longer have as much need for it. But so long as you are below the maximum age, you can take up a life insurance policy at any time.

5. Not covering a non-working partner

Are you or your partner a homemaker or stay-at-home parent? Have you ever sat down and crunched the numbers to determine exactly how much that is worth? Although you or your partner doesn't get paid a wage, you ought to consider how these tasks will be completed and whether you need to factor in the costs of paying someone else to do those jobs in the event of your death, serious illness or injury, or total and permanent disability.8
3. Life insurance through super
Most people have some form of life insurance in their super. However, a recent Finder study of 1,500 Australian superannuation members found that as many as one in five didn't realise their fund included life insurance.9
Most super funds will offer a minimum level of cover in the event of death or total and permanent disablement as well as cover for income protection. These are automatic inclusions, however you can call your super fund and cancel them if you do not wish to have this cover.
As cover is usually provided under one group policy and is purchased in bulk, this helps keep the costs low and they are also deducted directly from your super account. It also means that default cover is usually provided without the need to answer underwriting questions. However, be aware of the limits of life insurance cover within super and whether it covers a standard default amount, or whether you are able to select an amount you require.
Now that you know your super fund provides you with a basic life cover, you might be thinking that's all you need to do and leave it at that. Even if you were previously aware of this cover, you may still be tempted to just tick your 'I have life insurance' box and move on.
However, to ensure you have adequate cover for you and your family, you should ask yourself if you need more than the default amount of cover in super. If you do, there are a number of options you can take, including increasing the level of cover you have through super, or by talking directly to an insurer or through a broker. When making this decision you should consider some important factors. These factors include:
Are you covered for a specific level of cover, or does your super fund have a set amount?
Is this amount enough to cover your current needs?
If you chose a specific level of cover, is it still an adequate amount for your current needs?
Can you increase the amount in super and, if so, how do you do it?
What are the expiry conditions? For example, does the life element stop once you reach a certain age or retire from the workforce?
Are the terms and conditions on the policy in super consistent or better than the terms and conditions you can obtain in cover outside of super?
That's certainly a lot to think about!
Remember that most people join a super fund as soon as they join the workforce and then simply let it roll over, even when they move on to another job. Your circumstances may change over the years. That means you should review your policy at least annually to ensure you have adequate life insurance to cover your future needs.
Below is a table listing some pros and cons. You can use it to help you decide if your life insurance through super alone will be enough to cover your family's needs.
| Pros | Cons |
| --- | --- |
| Premiums tend to be cheaper than market life insurance and are automatically deducted from your super account. | Premiums are deducted from your super balance, reducing the money available for your retirement. |
| You pay for it with pre-tax dollars. Depending on your situation this could make it significantly cheaper. | Default income protection may be limited to 2 years. This may be able to be increased, requiring answering underwriting questions. |
| It may also include total and permanent disability (TPD) and income protection. | As you are paying for the cover out of your retirement savings, this may over a long period have a significant impact on your retirement balance. |
| Depending on your situation, you may be eligible to salary sacrifice to cover the premiums. This can be very tax effective. | Depending on your age and other circumstances, you may be paying for cover that you don't need. |
| If the cover is insufficient you can generally apply for more cover, but you will need to undergo underwriting for this. | Where you don't nominate a binding beneficiary, the super fund trustee has absolute discretion over who receives your death benefit. |
| Cover is usually automatically included with your super. | Serious illness (or trauma) insurance may not be available as part of your cover and will need to be purchased separately. |
| Default cover is usually provided without the need to answer underwriting questions. | |
4 life insurance myths busted
Most life insurance claims are declined

Not according to the 2016 ASIC report, which stated that 90% of life insurance claims were paid in the first instance.

It's too expensive

As with many insurance policies, the focus is on the cost and not the value the policy offers. For as little as a few dollars per week, you can have peace of mind knowing your family's lifestyle will be protected should you no longer be able to provide for them. How can you put a price on that?

Getting life insurance is a too confusing and a hassle

The internet has simplified many things, with insurance being one of them. You can use comparison websites to research, compare and check out reviews of various insurance companies and the policies they offer.

I'm single so I don't need life insurance

It may be the case that your need for life insurance is lower as a single person, but you should still consider the financial impact your passing may have on those you care for. And, perhaps more importantly, how you would fund your needs if you became permanently disabled.
Like all the most important things in life, getting the right life insurance policy is something you need to consider with great care. After all, one day it may be there to help your family maintain the lifestyle you worked so hard to provide for them.

The choice is always yours – whether you take the DIY approach or contact a broker for advice. And if you feel the life insurance in your super is enough for now, that's up to you as well.

For a few dollars a week, you can not only secure your family's financial future, but you can also have peace of mind knowing all will be well should the unthinkable happen.

If you're ready to get that peace of mind and want to find a life insurance policy that meets your needs, you can get started by requesting a quote with Real Insurance today.