Income protection myths busted [Infographic]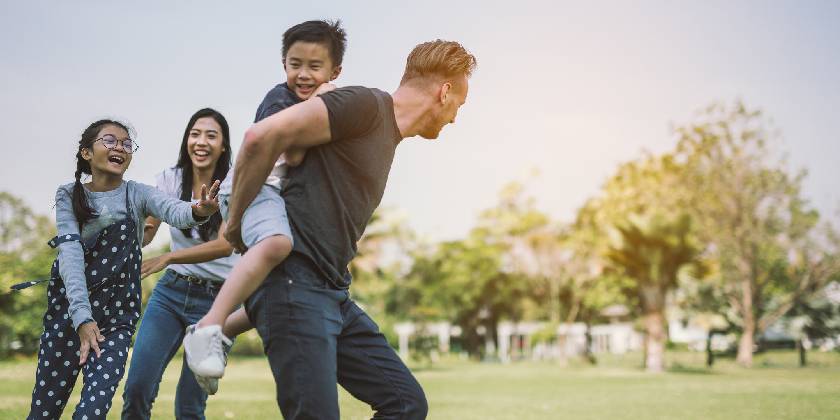 You might know a little bit about what income protection is and does, but how many myths have you also heard? It's a question many Australians wished they had pondered earlier: What would happen if your income, or your partner's, suddenly stopped? The regular amount that appears in your account every week, fortnight or month keeps the wheels moving on your family's life. It likely keeps food on the table, clothes on your backs and a roof over your heads.
You can't protect against all causes of income loss, but income protection can assist in situations where illness or injury may prevent you from working for a prolonged period of time.
While affordability is a key barrier to taking out life insurance, it's possible that a further barrier exists for income protection insurance with various myths surrounding this type of insurance. Here at Real Insurance, we're breaking down the various myths and misconceptions you may have heard about income protection – here, we set the facts straight.
Four in five Australian parents say they worry about protecting their family, and one in four of us admit to spending an hour or more each day worrying.
Myth 1: I don't need income protection insurance if I have life insurance
Life insurance is not a substitute for income protection insurance. While many people think they are similar, they're very different forms of insurance with very different features and practical implications.
Life insurance assists your loved ones financially if you develop a terminal illness or die. Income protection insurance, on the other hand, continues to pay a portion of your income if you are sick or injured and unable to work for an extended period, as MoneySmart suggests:
Income protection insurance replaces the income lost through your inability to work due to injury or sickness. It is especially suitable for self-employed people, small business owners or professionals whose business relies heavily on their ability to work.
Both life insurance and income protection insurance provide financial security for your family – though in different sets of circumstances.
Myth = BUSTED!
Myth 2: I am young and healthy so I don't need it
Although it may be less likely, you are still at risk for various illnesses or accidents during your younger years. According to SafeWork Australia, a young person is injured in an Australian workplace every 4 minutes and 24 seconds.
Income protection premiums are calculated according to age, so any reduced risk of illness or accident is reflected in your premiums.
This myth is clearly… BUSTED!
Myth 3: I already have private health insurance to cover my bills if I get sick so I don't need it
Private health insurance covers only certain bills related to medical treatment. Hospital policies generally cover treatment as a private patient in either a public or private hospital. If you also have an extras policy, you may be covered for certain optical and dental costs and other treatment from non-medical or allied health services. Private health insurance may also pay for any ambulance bills you receive.
However, Private Health Insurance will not address any loss of income you sustain while you are in hospital and recovering. During this time, many of your normal expenses and commitments will need to be paid. Unless you have a significant amount of savings set aside or a large pool of leave entitlements with your employer, this could have a devastating impact on you and your family financially.
Myth = BUSTED!
Myth 4: I'm covered through my super so I don't need it
It's true that some superannuation plans include income protection insurance, so it pays to check whether it's included as part of your super.
Research shows that more than 70% of life insurance is held within superannuation, yet the average level of income protection cover meets only 17% of Australian's needs.
For some people cover through super will be sufficient. But it's important to check the limitations and conditions that apply to any income protection that comes with your super fund. Remember that if you change super funds or cease employment, the cover may stop.
Myth = Partly BUSTED!
Myth 5: It's not essential or too expensive
It's easy to think of insurance as too expensive or not necessary – until you need it. It's worth sitting down and devoting just 10 minutes to considering your options a little more carefully.
As part of your overall financial planning you should have a plan for what happens if you were injured or ill for a significant period of time and were unable to work. The two basic strategies are to have an emergency fund of cash which you can access, or having access to income protection insurance, or it could be a combination of these two. The key question to ask is how long could your cash reserves last you, taking into account any leave entitlements you have. And are you comfortable with the answer you come up with?
If not, you should consider income protection insurance as a way of addressing this risk and giving you some peace of mind.
Asking these questions, and thinking about the answers, may change your attitude to insurance and the important role it can play in your financial planning.
The amount you pay for your cover, referred to as the 'premium,' may not be as expensive as you think. Your premium is generally determined by factors like:
age (a 30-year-old won't pay as much as a 55-year-old)
existing health issues (if you're currently fit and health, you'll pay less)
occupation (a low-risk office job will bring premiums down)
lifestyle (if you don't smoke, for example, you can expect to pay less)
Myth = Firmly BUSTED!

Like private health insurance and life insurance, income protection insurance has the potential to play an essential role in protecting your future income and lifestyle. It could also take an enormous amount of stress away from an already-distressing situation if you can't work due to illness or injury – and give you peace of mind right now!
Real Insurance is a leading provider of income protection insurance to Australians, offering cost-effective income protection. To find out more, explore Real Income Protection Insurance or request a free quote online.
16 Aug 2019
Real Insurance is an award-winning provider of income insurance.