How does life insurance work?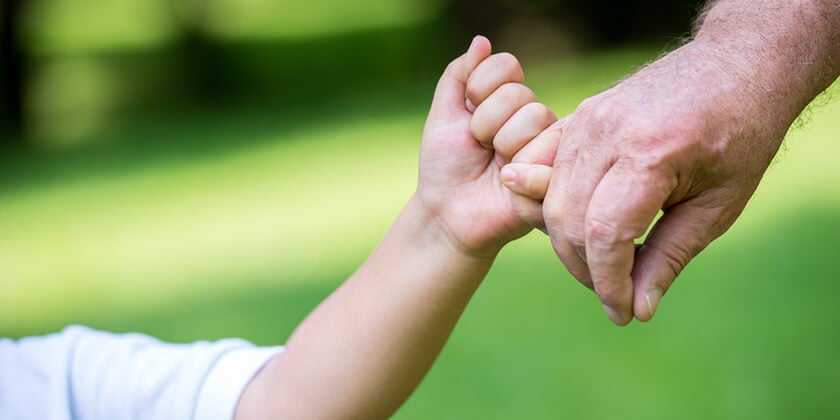 Imagine what life would be like if the unexpected happened and the breadwinners in your family were unable to work? Whether it's an accident, death, ill health or some other unforeseen occurrence, the loss of one or two income sources could lead to financial difficulty, uncertainty, and significant challenges for the rest of your household.
Life insurance can offer protection for your family in these challenging times, but how does life insurance actually work? In this article, we take out the mystery and look at some of the details you need to know about life insurance.
What is life insurance?
Life insurance encompasses a range of cover types. Depending on your circumstances, you may want to have one or a combination of life insurance policies:
Life cover – Life cover is also known as life insurance or death cover. This type of coverage pays out a specified lump sum upon death. The money is paid to beneficiaries nominated on the policy.
Total and permanent disability cover – Total and permanent disability cover can often be added as an optional extra to your life insurance (sometimes also offered as a standalone policy). This type of cover pays out a lump sum to help with living expenses and rehabilitation if you're totally and permanently disabled.
Serious Illness cover – Serious illness cover is also known as critical illness cover and can also be either an additional optional cover to a life policy or sometimes a standalone policy. It pays you a given amount if you develop certain types of illnesses or conditions. Generally, the types of conditions covered are major ones that affect your life significantly such as malignant cancer or a heart attack of a significant severity.
What are the benefits of life insurance?
We'd all prefer not to think about the unexpected events in life, but having a risk-mitigation strategy could help give you piece of mind especially if you have dependants. Some of the benefits of life insurance and the associated additional cover options include the following:
Preserve living standards – Life insurance can allow you to maintain your living standards if your household loses a main breadwinner.
Cover costs of care – If you're terminally ill or become permanently injured, the right type of life insurance can cover the costs of care and rehabilitation, which can be significant.
Provide for your family – Life insurance can give you peace of mind that your family will be provided for if the unthinkable happens. For example, you might be able to ensure your children's childcare and education costs are covered, and your family will be able to live comfortably.
Meet ongoing financial obligations – Life insurance can allow you to meet your ongoing financial obligations, such as your mortgage and other loans, if you're diagnosed with a terminal illness, or (if you have total and permanent disability cover) become permanently injured and can't work.
What's involved with getting life insurance?
It's easy to research your life insurance policy over the internet or on the phone. Explore the types of cover available and pick the one(s) you think are right for your situation. You can compare the different types of life insurance cover before deciding.
Once you have a good idea about the policy or combination of policies right for you, request an online quote. Your quote will give you an indicative idea about what you'll be paying in premiums. Check out the relevant product disclosure statements for more information.
If you have any further questions, you can always contact the provider directly or request a call back before finalising your insurance policy.
Who needs life insurance?
Life insurance can be a valuable option to consider for anyone from singles to families. If you have dependants, life insurance could be one way to help minimise potential financial hardship from unexpected events. Even if you're single with no dependants, an option such as total & permanent disability insurance could be valuable in ensuring you can remain independent if you are unable to work due to a permanent illness or injury. In short, life insurance is a relevant consideration for everyone, as you never know what unexpected events may occur.
Deciding how much life insurance you'll need
No hard and fast rule applies for how much life insurance you'll need. This is dependent on each individual's circumstances. Consider key factors like your debt obligations, monthly household spending, and number of dependents. Use this simple life insurance calculator to help work out what you'll need.
Consider your life stage, any debts or bills required to be continued to be paid after you're gone, any education costs, child care, mortgages or credit cards and then also factor in how much your family would receive from, for example, super, savings, the sale of any investments, your paid leave balance, and support from your extended family.
Australians are underinsured
Recent data has found there's a significant underinsurance gap between what life insurance levels Australian families have and what life insurance levels they would need to maintain their current standard of living if affected by death or disability.
As well as this, underinsurance can be a problem on a wider social scale as it becomes a direct cost for the government because of additional social security costs to the taxpayer, and particularly affects those Australians that are on lower or modest incomes.
This can be exacerbated due to chronic diseases being common amongst Australians. In fact, 47% or almost half of Australians (over 11 million people) were estimated to have 1 or more of the 10 selected chronic conditions in 2017–18 according to the Australian Bureau of Statistics, and reported on by the Australian Institute of Health and Welfare.
According to Lifewise, an initiative of the Financial Services Council, Australia is one of the most underinsured populations in the developed world, and we rank 16th for life insurance density and penetration. In fact, only 4% of the population with dependent children have suitable levels of life insurance.
When should you review your life insurance policy?
Major "trigger" events can be opportune times to review your life insurance or to buy if you don't have it. Buying a new house, whereby you're committing to a mortgage, can be a good milestone to check you're adequately covered through life insurance. If you're a new parent or adding another member to the family, your financial situation will change, and so it's also a great time to review your life insurance policy to ensure your dependents will be covered.
Other trigger events include getting married, getting a raise at work, buying an investment property, and any other events that affect your financial circumstances and responsibilities.
Life insurance can help protect you and your family in case of unexpected serious illness or death. It's vital to review whether you have adequate life insurance particularly during major milestones such as getting married and buying a new house.
Real Insurance offers award-winning, affordable life insurance for singles and families. Find out more on our website or apply for a quote online today.
19 Dec 2017
Real Insurance is an award-winning provider of life insurance.