Do you need both life insurance & income protection insurance?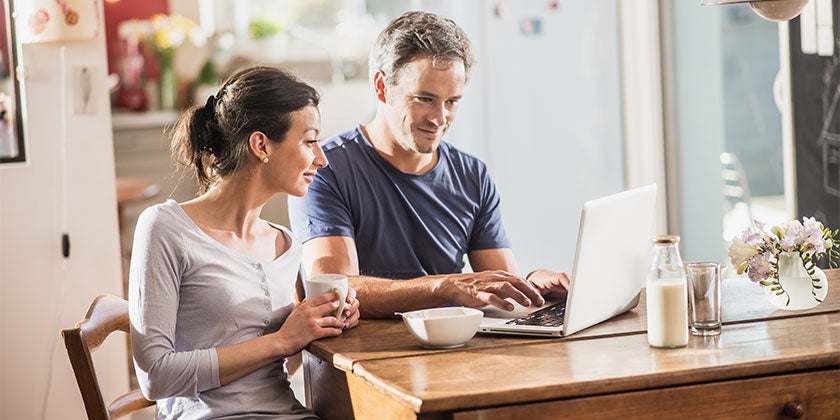 Life insurance and income protection insurance are designed to safeguard you and your family's financial situation in different ways. They offer cover for varying situations, so it's important to understand how they work. And if you're wondering whether you could benefit from having both, it's important to start by understanding what each one covers. Considering your individual financial needs is also a vital part of the decision-making process.
Understanding the difference
Life insurance
Life insurance, also known as term life insurance or death cover, pays your beneficiaries a fixed sum of money if you die or are diagnosed with a terminal illness. This money can be used for anything your beneficiaries choose, such as mortgage repayments, school fees, holidays, or daily living expenses.
Income protection insurance
Income protection insurance pays out periodic payments of generally up to 75% of your current pre-tax income capped at a monthly limit, for a given period of time if you're unable to work due to sickness or injury. This period of time could be months or even years depending on the benefit period you choose in your policy.
Unlike life insurance, it's designed to protect you from financial hardship and help you manage your expenses while you're unable to work. Income protection insurance can help you meet your financial obligations and pay for daily living expenses while you take time to get back on your feet.
Income protection insurance covers you for injury or sickness even if it's not work-related, unlike workers' compensation which only covers you for work-related injury and sickness.
Do you need both?
Anyone who relies on their salary and wants to protect their family may benefit from having both. Having one type of insurance is unlikely to overlap with the other type, so one way to approach this question would be to consider whether you need them on an individual basis.
Income protection insurance
To assess whether you need income protection insurance, consider your current expenses on a monthly basis. Do a budget estimate for your household expenses (including bills and groceries), mortgage or rent, debt repayments (car and credit card), insurance, school fees, and entertainment costs.
Once you have an estimate for all your outgoings, consider how much extra money you'd need to have to cover healthcare, recovery, and rehabilitation costs if you were to get sick or become injured. It's important to note health insurance won't cover your living expenses, and may not cover all healthcare and rehabilitation costs.
The next step to consider is whether you have other types of insurance, such as total and permanent disability, trauma insurance, or serious illness cover. Would these policies pay out enough to cover you if you were unable to work for months or even years due to illness or injury?
After reviewing, you may decide you would benefit from income protection cover even if you already have life insurance cover. If you have debt or you're the main breadwinner in a single-income household, income protection could be even more vital for you.
It's also worth considering taking out income protection insurance even if you have it included with your super. This is because your super policy may not provide a high enough level of cover for your individual needs, or you may be unable to specify the type and level of income protection insurance with your super.
You may also benefit from having income protection insurance if you have optional cover such as total and permanent disability under your life insurance, because this is designed to pay out a lump sum benefit amount only in the event you're permanently disabled, can't work again due to illness or injury, suffer the loss of limbs or sight, or become totally dependent on others.
Life insurance
Have you considered what would happen to your family if you were to become terminally ill or pass away? How much would it cost to pay off your debt and to ensure your children's living expenses and school costs are taken care of? Even households without dependants could protect their partners and other family members from financial hardship with life insurance. Your beneficiaries can receive a lump sum payout, which they can use to keep up mortgage payments, cover living expenses, or use however they wish.
To work out how much life insurance you may need, calculate how much money your family would need should the worst happen. Take into account your outstanding debt such as mortgage, as well as recurring bills such as childcare, school fees, and house bills.
As with income protection insurance, your superannuation policy may offer you the default level of cover; however, taking out your own policy gives you the freedom to specify your preferred benefit amount. It also gives you extra scope to take out optional covers that provide insurance for total and permanent disability, serious illness and children.
Income protection insurance and life insurance can assist with protecting you and your family if the unexpected happens.
Real Insurance is a leading provider of award-winning, affordable life insurance for singles and families. Our life insurance and income protection products are designed to protect the financial security you've worked hard to build. Request a quick quote today.
5 Jun 2018
Real Insurance is an award-winning provider of life insurance.